Auke Visser´s Esso Belgium Tanker's site
|
home




De aanvaring met de "Seawitch" 1973 - Part -1

Op 2 juli 1973, nabij Stapleton in de haven van New York werd de "Esso Brussels (2), terwil het voor anker
liggende was, door het Amerikaanse containerschip "Seawitch" (1968 - 17.902 B.R.T., aangevaren
en in brand geraakt.
Hierbij kwamen 13 personen op de "Esso Brussels" om het leven.
( Zie lijst onder deze pagina ).
Op de "Seawitch" verloren 3 man het leven.
De "ESSO Brussels (2)" was aangekomen van Bonny (Nigeria).
Ze werd in Gravesend Bay aan de grond gezet (13).
De "Esso Brussels (2)" werd verkocht en op 8 November 1973 naar Piraeus gesleept.
Is te Piraeus aangekomen om te worden hersteld.
The Collision.
( AP-Wire photo )
NEW YORK, June 2, 1973
BATTLING THE BLAZE
Fireboats and other emergency craft qo to work early Saturday morninq on two ships that collided in New York Harbor and burst into flames. In background is the American container ship Sea Witch. In foreqround, a fireboat pours water on the Belqian tanker Esso Brussels. At an early hour, at least six persons were reported dead.

The Collision.
Enkele foto's genomen nadat de brand op de "Esso Brussels (2) was geblust.
"Esso Brussels (2)" na de brand.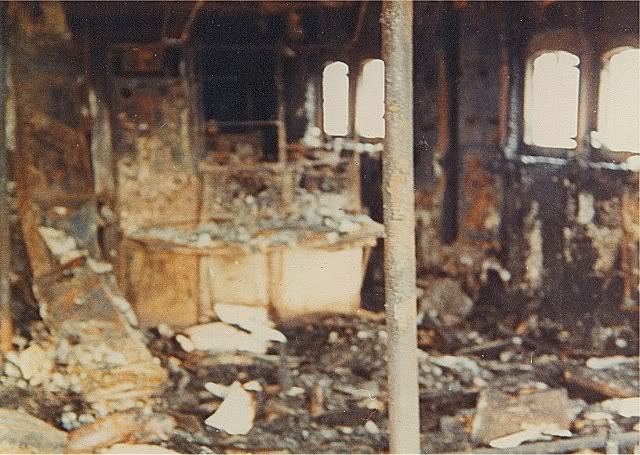 Interieur van de "Esso Brussels (2)" na de brand.
The burnt-out container ship SEA WITCH lies off Staten Island, NY in June 1973, after she lost steering and rammed the anchored oil
tanker ESSO BRUSSELS. The resulting fire and explosion sent fireballs up to the roadway of the Verrazano-Narrows bridge as the two
vessels were locked together and drifted into Gravesend Bay.
Eight men were killed instantly and eight more are missing and presumed dead.
The ill fated American Export vessel Sea Witch, which would be largely destroyed by fire in her collision with the tanker Esso Brussels.
Seen from QE2 on an Atlantic crossing in July 1970.
The stern part of the ship was salved and with a new fore part became the Chemical Pioneer.
Slachtoffers bij deze ramp:
SS ESSO BRUSSELS :
Constant Robert DERT - Master, Belgium
Laidi Ben Lachmi TAJI - Fourth Engineer, Belgium
Leo BEELAERT - Fifth Engineer, Belgium
Alois Maria Lodewijk PEETERS - Boatswain, Belgium
Francisco OUBINA PORTAS - Pumpman, Spain
Manuel LEIS CANLE - AB - Wiper, Spain
Francisco MARTINEZ RIVAS - AB - Wiper, Spain
Jacob Johannes Pieter WILLEMSEN - AB - Wiper, Belgium
José VlElRA NOVO - AB - Wiper, Portugal
Bertil Alaim Marie OTTO - Steward, Belgium
Gisele AUBERTINAY-ROME - Stewardess, France
Rene Jean Victor ROME - Firsth Steward, Belgium
Francisco VILLAVERDE PEREZ - Steward, Spain