Auke Visser´s EISB Tanker's site
|
home




Esso Freeport - (1987-1992)


Build in 1974, by A.G. Weser, Bremen, Germany as "Esso Saba"in 1974, she became in 1987 "Esso Freeport".
Sold in 1993 as "Moscliff". 2002 converted to a FPSO tanker, renamed "FPSO Brasil".
"Esso Saba", seen here as "Esso Freeport", departing Europoort, Rotterdam, March 23rd, 1993.
( Photo met dank aan Teun vd Zee )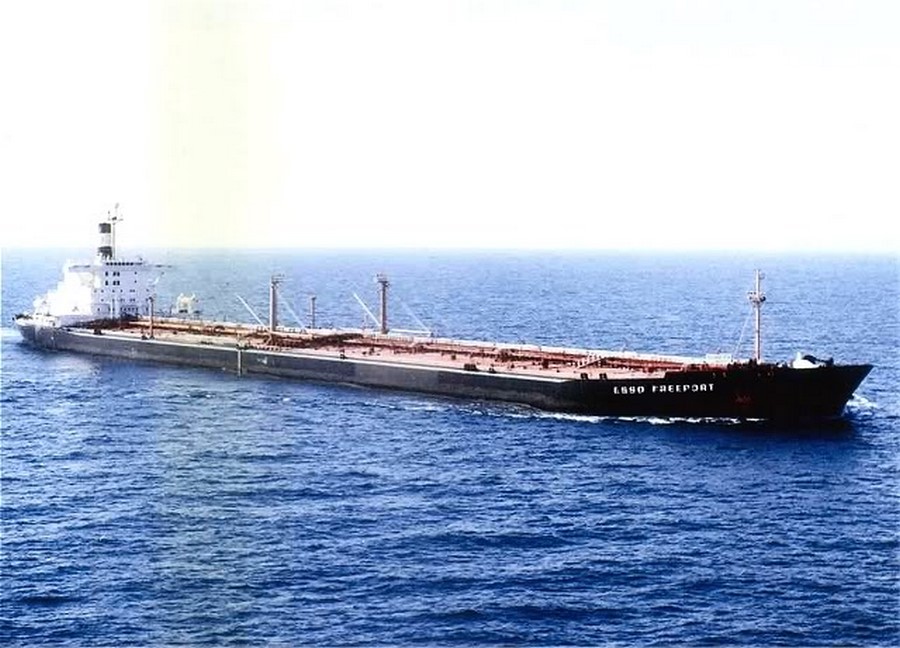 "Esso Freeport"
"Esso Freeport", ex. "Esso Saba".
"Esso Freeport", ex. "Esso Saba", a wire photo.
Dubai.
The Gulf, Nov. 16 th 19??. The Exxon owned tanker "Esso Freetown", pictured thirty miles (30) off Ras al-Khaimah
Monday after it had been attacked by Iranian gunboats. The 260,851 ton tanker was steaming towards the Straith of
Hormuz with minor damage after four or five rocket propelled grenates had been fired at it. Only one hit was vissible
in the hull, but the hit had not pierced the ship. The "Esso Freeport" was one of three merchant ships to be attacked
in two days in apparent retailiation for twelve Iraqi attacks on Iranian oil exports.
( Photo + Text The Morning Call )

The Miramar Ship Index for

ESSO SABA

IDNo / IMO

7360849

Year

1974

Name

ESSO SABA

Flag

ANT

Owner

Esso Tankvaart Nederlandse Antillen NV

Type

Tanker

Tons

126943

DWT

256740

LOA

347,80

LPP

329,20

Beam

51,90

Dept

25,61

Draft

20,45

Machinery

1ST-15.5

kW

23872

ShipDesign

VLCC

Builder

A. G. Weser

Yard

Bremen

Yard No

1378

Country built

DEU

Keel

11.1973

Launch

28.03.1974

Completed

23.05.1974

Subsequent History

1987 ESSO FREEPORT - Esso International Sg (Bahamas) Co., Ltd.

1993 MOSCLIFF - Thornhope Sg Co., Ltd.

1997 MOSCLIFF - Mosvold Tanker One Ltd.

1993 MOSCLIFF - Moscliff Investment Ltd.

2002 Converted to FPSO tanker, 120545 grt, engines removed.

2002 FPSO BRASIL - Single Buoy Moorings Inc.

End

2015

Disposal Data

Scrapped at Zhoushan 28.01.2015. [ By Zhoushan Changhong Intnl.