Auke Visser´s ESSO Tankvaart Mij. Site
|
home




Woensdrecht - (1940-1941)

Het schip dat ook een Esso tanker zou worden, als opvolger van de verloren gegane "Den Haag" in 1940.
The ship that also should be an Esso tanker, as a replacement for the lost "Den Haag" in 1940.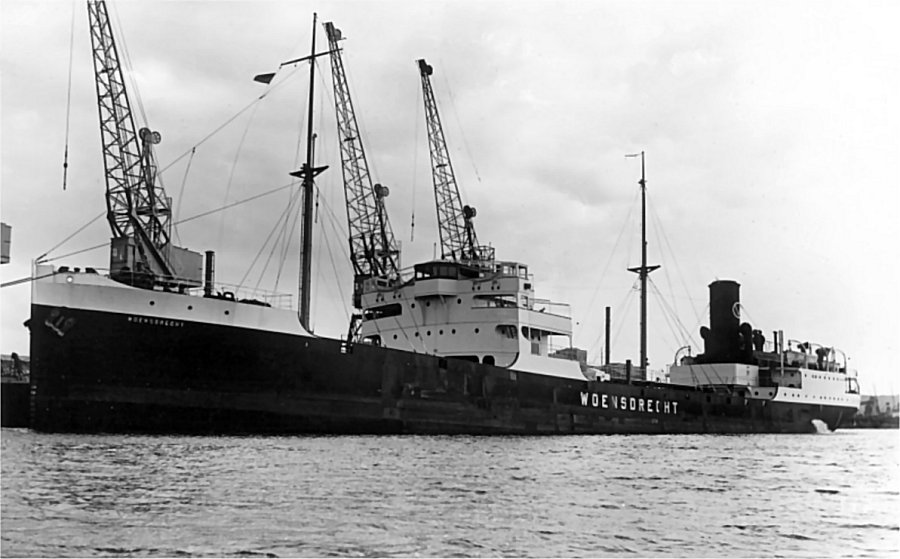 The "Woensrecht" was build in 1926 for Van Ommeren Shipping Company, Rotterdam.
She was lost during WW II.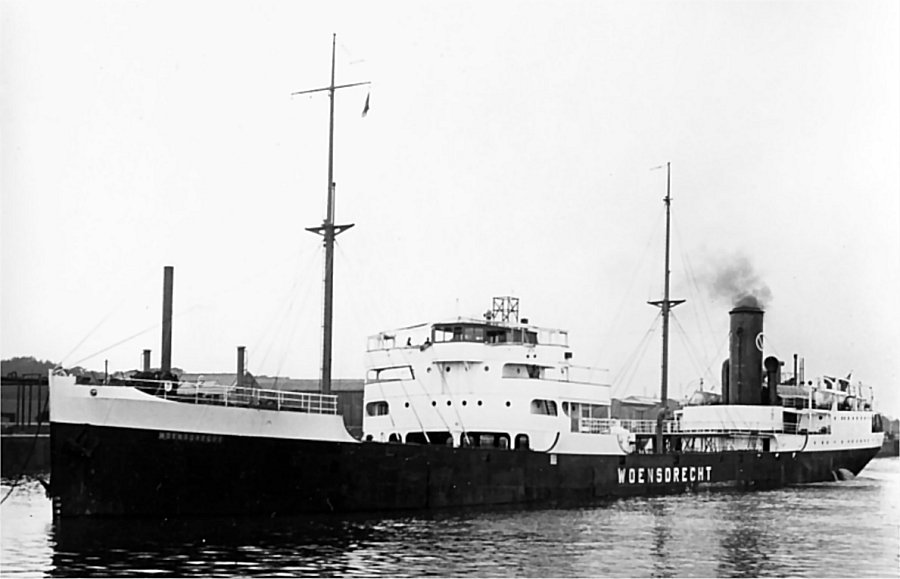 "Woensdrecht".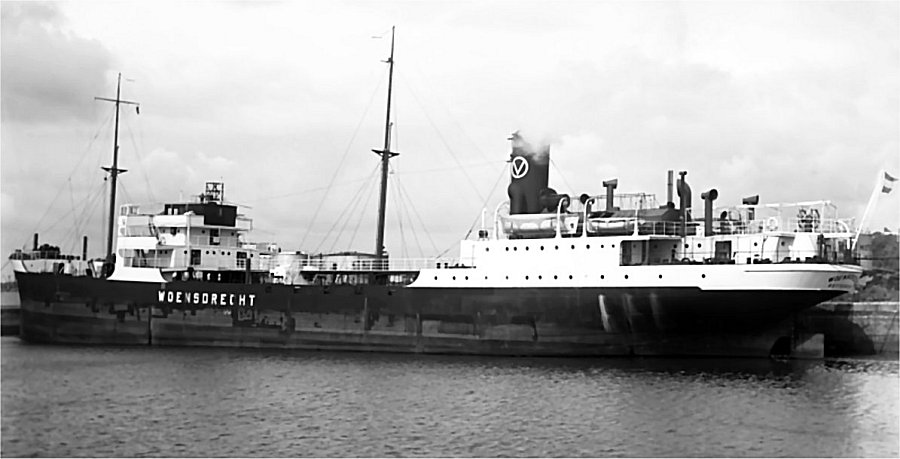 "Woensdrecht".

"Woensdrecht".
Het Vaderland - Dinsdag 16 April 1940 ( Avondblad).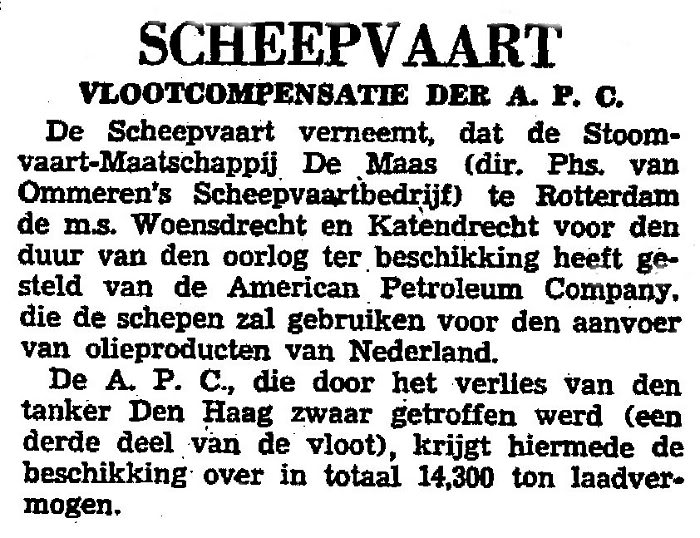 Rotterdamsch Nieuwsblad d.d. 16-04-1940.

12-04-1940-. Verkocht aan Petroleum Industrie Maatschappij, Den Haag (Esso), zou in MARIA worden hernaamd maar door het uitbreken van de oorlog ging de overdracht niet door.

12-09-1942: De tanker ms 'WOENSDRECHT' (1926) van N.V. Maatschappij Motorschip Woensdrecht, op weg van Matadi en Takoradi naar Trinidad en varende in ballast, onder kapitein J. Fenenga, wordt op de Atlantische Oceaan 45 mijl ten zuidoosten van Galera Point door de Duitse onderzeeboot 'U 515' getorpedeerd op positie 10.27° N / 60.17° W, waarbij het schip zeer zwaar beschadigd raakt. Het voorschip kan nog wel naar Trinidad worden gesleept, maar is niet meer te repareren.

The Miramar Ship Index for

WOENSDRECHT

IDNo / IMO

5606495

Year

1926

Name

WOENSDRECHT

Flag

NLD

Owner

NV Stoomvaart Mij "De Maas"

Type

Tanker

Tons

4668

DWT

6840

LOA

???

LPP

112.85

Beam

16.2

Dept

8.49

Draft

7.015

Machinery

1D-11

Power

1850 BHP

ShipDesign

2020

Builder

Maatschappij voor Scheeps- en Werktuigbouw Fijenoord N.V.

Yard

Rotterdam

Yard No

301

Country built

NLD

Keel

????

Launch

26.11.1925

Completed

00.03.1926

Subsequent History

1933 WOENSDRECHT - NV Mij m/s "Woensdrecht"

End

1942

Disposal Data

Torpedoed twice broken but salvaged 10.27 N / 60.17 W on 12.09.1942,

but the ship was declared a total loss and was later scrapped.

Info from the Starke & Schell Shipping Registers :
WOENSDRECHT - 1926 Netherlands, 1M (aft), (11)
4,668 Grt for N.V. Stoomv. Mij. "De Maas" (N.V. Phs. Van Ommeren's Scheepv. Bedrijf), Rotterdam, 370.0 x 53.3
Tanker build by Mij. Fyenoord, Rotterdam, (3), #301
1933 - N.V. Mij. m/s "Woensdrecht" (s/m)
Torpedoed by U 515, 12 Sep 1942, in 10.27 N - 60.17 W, voyage Takoradi - Trinidad, in ballast,
towed into Trinidad 19 Sep 1942, heavily damaged, CTL, sold for scrapping.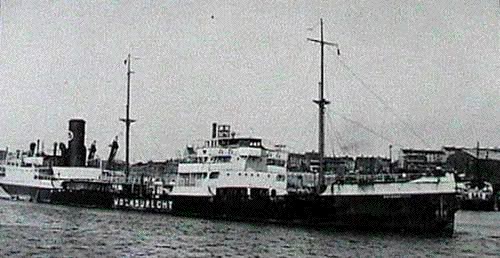 "Woensdrecht".
Additional information from Uboat.net :
Name: Woensdrecht
Type: Motor tanker
Tonnage: 4.668 tons
Completed: 1926 - NV Mij voor Scheeps-en Werktuigbouw ´Fyenoord´, Rotterdam
Owner: NV Phs. van Ommeren´s Scheepvaartbedrijf, Rotterdam
Homeport: Rotterdam
Date of attack: 12 Sep, 1942
Nationality: Dutch
Fate: A total loss by U-515 (Werner Henke)
Position: 10.27N, 60.17W - Grid ED 9992
- See location on a map -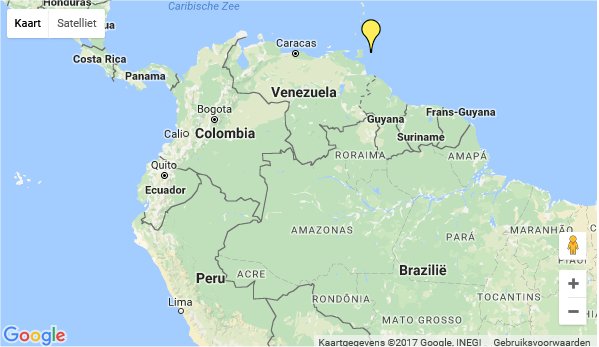 Complement: 73 (1 dead and 72 survivors).
Convoy: -
Route: USA - Port of Spain, Trinidad
Cargo: Ballast
History: -
Notes on loss:
On 10 Sep, 1942, the Woensdrecht picked up 36 survivors from the British motor merchant Cressington Court,
sunk by U-510 on 19 August. At 10.41 hours on 12 Sep, 1942, the tanker was torpedoed by U-515. A piece of debris
killed one crewmember of the Cressington Court and the ship stopped. The U-boat surfaced a few minutes later, but
immediately dived again, when she was taken under fire with the 4-inch gun. The crew abandoned the ship and were
eventually picked up by two American patrol vessels the following night.
Later the Woensdrecht was torpedoed again (alltogether four torpedoes hit the tanker) and broke in two. The
forepart was towed to Trinidad, but the ship was declared a total loss and was later scrapped.