Auke Visser´s ESSO Tankvaart Mij. Site
|
home




Brabant - (1891-1892)

Zie ook / See also :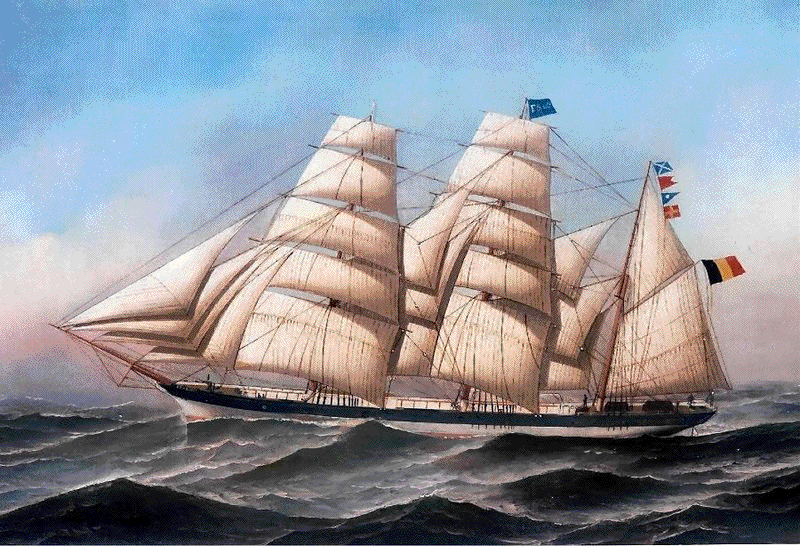 2 beautiful paintings of the "Brabant" by A. Jacobsen, notice the differences !
Painter Antonio Nicolo Gasparo Jacobsen (1850-1921).
De "Brabant" was een 3 mast Bark, gebouwd in 1863 als "Martha Jackson", door J. Loung, Sonderland, Uk,
voor Hargrave & Helon, Liverpool.
Aangekocht in 1886 door Frederic Speth & Co., te Antwerpen, als "Brabant".
In 1891 toegevoegd aan de A.P.C.
Verkocht in 1892 als "Man-Zu" naar Duitsland.
Kapiteins op de "Brabant" waren : G. Eckhoff en S.J. Gerdes.
MARTHA JACKSON - 1863
Official Number: 45902
Master: Captain Walsh
Rigging: iron Barque; 2 cemented bulkheads
Tonnage: 502 tons
Dimensions: 156 feet long, 26 foot beam and holds 17.6 feet deep
Construction: 1863, Laing in Deptford
Owners: Hargrove & Co.
Port of registry: Liverpool
Port of survey: Liverpool
Voyage: sailed for India


The Miramar Ship Index for

MARTHA JACKSON

IDNo / IMO

1132619

Year

1863

Name

MARTHA JACKSON

Flag

GBR

Owner

Hargrave & Hellon

Type

barque tanker

Tons

502

DWT

1760

LOA

49,17

LPP

????

Beam

8,00

Dept

5,26

Draft

????

Machinery

Sail

kW

????

ShipDesign

Iron Sailing Vessel Barque

Builder

Laing

Yard

Deptford Yard

Yard No

258

Country built

GBR

Keel

????

Launch

04.04.1863

Completed

01.05.1863

Subsequent History

1879 MARTHA JACKSON - Gavin B. Millar, Glasgow

1886 BRABANT - Frederic Speth & Co., Antwerpen

1892 MAN-ZU - J.H.L. Wilekens, Hamburg

1901 MAN-ZU - Acties Bark Man-zu´s Rederij (J.C. Svendsen), Xiansund.

End

1911

Disposal Data

1911 komt niet meer voor in de LLoyds Registers

1911 Deleted from Lloyds Registers