Auke Visser´s ESSO Tankvaart Mij. Site
|
home




Esso Amsterdam (1) - (1947-1959)

Zie ook / See also :

Launch April 1945 of the "Santa Fe Hills", the later "Esso Amsterdam (1)".
Launched at 8 April 1945. Built in 65 days and 4 hours.
Contract Price : $2.686.140,00, Final Price: $1.732.889,47, savings : -35.49%.
Sponsor, at the launch, Mrs.Richard F. Grambow (wife of naval architect at Marinship).

"Esso Amsterdam (1)'', ex. "Santa Fe Hills" eerste keer in Rotterdam.

"Esso Amsterdam (1)'', ex. "Santa Fe Hills".
The Miramar Ship Index for

SANTA FE HILLS

IDNo / IMO

2247709

Year

1945

Name

SANTA FE HILLS

Flag

USA

Owner

U.S. War Shipping Administration

Type

Tanker

Tons

10441

DWT

16613

LOA

159.6

LPP

153.3

Beam

20.7

Dept

11.93

Draft

9.20

Machinery

1TE-15

Power

6000 BHP

ShipDesign

T2-SE-A1

Builder

Marinship Corp

Yard

Sausalito

Yard No

80

Country built

USA

Keel

19.02.1945

Launch

08.04.1945

Completed

2504.1945

Subsequent History

1948 ESSO AMSTERDAM - Petroleum Industrie Mij NV

1958 ESSO AMSTERDAM - Esso Tankvaart Mij NV

1959 MOELV - I/S Moelv

End

1959

Disposal Data

Explosion at Gothenburg 17.12.1959 & Scrapped Blyth 22.02.1960/ [ By Hughes Bolckow Ltd.]

The entire construction cycle of a tanker was enacted in a single day on April 25, when workers at Marinship Corporation, in Sausalito, took part in a keel laying, a launching, and a delivery - all within six hours.
Keel was laid for the Navy oiler USS Conecuh at 5:00 p.m., just a short time after the merchant tanker Paloma Hills had been launched from the same way at 12:30 p.m. The tanker Santa Fe Hills had been delivered.
Source : PACIFIC MARINE REVIEW, Volume 42, June1945.

SANTA FE HILLS
04.1945
1948: ESSO AMSTERDAM (1).
1959: Sold to Norway for use as an electricity generating plant. Renamed MOELV. 17.12.1959: Turbines exploded and disintegrated while in use as a generating station at Gothenbuig. CTL. Sold.
13.2.1960: Left Gothenburg in tow of tug ENGLISHMAN, bound for shipbreakers.
19.2.1960: Towrope parted during a gate in the North Sea, vessel adiift. Tug later recon-nected with tow.
22.2.1960: Arrived Biyth and scrapped the following month.

Painting of ''Esso Amsterdam (1)'' by R.J. Koch.
Painting by courtesy Esso Historisch Archief.

"Esso Amsterdam (1)", ex. "Santa Fe Hills".
De T2-tanker "Esso Amsterdam" (1945, 10.952 brt) werd in November 1947 door de Nederlandse regering
aangekocht en in Mei 1948 bij de Petroleum Industrie Maatschappij ( Esso v) in dienst gesteld.
"Esso Amsterdam (1)''.
"Esso Amsterdam (1)''
"Esso Amsterdam (1)''.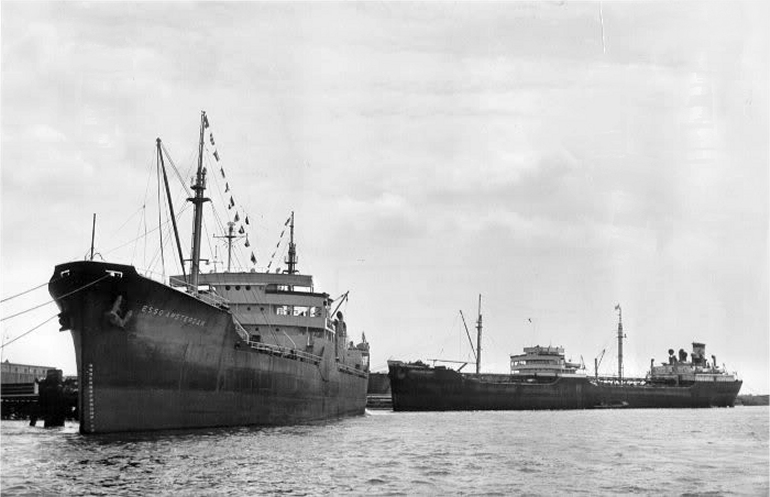 Two sisters together during the Suez-crisis, left "Esso Amsterdam (1)" and the "Esso den Haag (1)" on the right.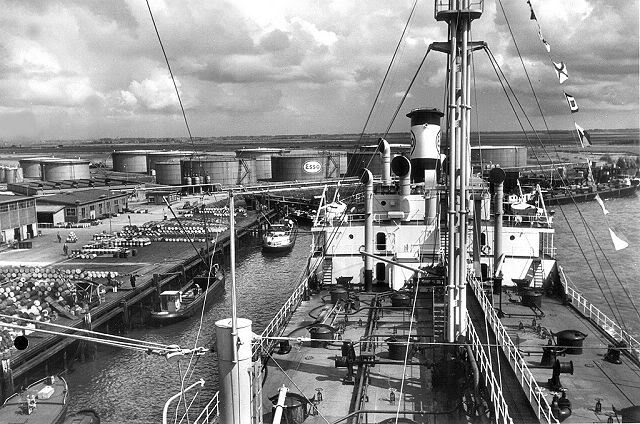 "Esso Amsterdam (1)" at the pier 1 in 1954 at the Entrepot der SAPC at Pernis, also the barge "Esso Nederland 129".
( Photo by Theo de Koning )
SANTA FE HILLS. Type T2-SE-A1.
Yardnr. 80. USMC nr. 2534. Official nr. 247709.
Keel laid 19-02-1945. Launched 08-04-1945. Completed 25-04-1945.
Gr. 11441 t., Net. 8766 t., Dw. 16613 t. L.o.a. 159,57 m., Br. 20,78 m., Dr. 9,20 m.
Engine: 2 steam turbines, manufactured by Eliott & Company, Jeanette, Pennsylvania. 7240 B.h.p., 5401 kW.
Speed 15 knots. 26 Tanks. Derricks: 2 x 3 t., 2 x 5 t. Call sign: PDZJ.
History:
SANTA FE HILLS-1945 completed for United States War Shipping Administration, San Francisco, California, USA.
ESSO AMSTERDAM-1948 for Petroleum Industrie Maatschappij N.V., The Hague, Netherlands.
ESSO AMSTERDAM-1958 for Esso Tankvaart Maatschappij N.V., The Hague, Netherlands.
MOELV-1959 for I/S Moelv, Torvald Klaveness, Oslo, Norway.
Additional Reports:
Reported Moelv suffered turbine explosion at Gothenburg 17 Dec. 1959, whilst in use as Electric Generating Station.
Moelv sold to shipbreakers in Great Britain. Arrived Blyth 22 Feb. 1960 to be broken up.
[ By Hughes Bolckow Ltd. ]