Auke Visser´s ESSO Tankvaart Mij. Site
|
home




Esso Rotterdam (1) - (1947-1959)

Zie ook / See also :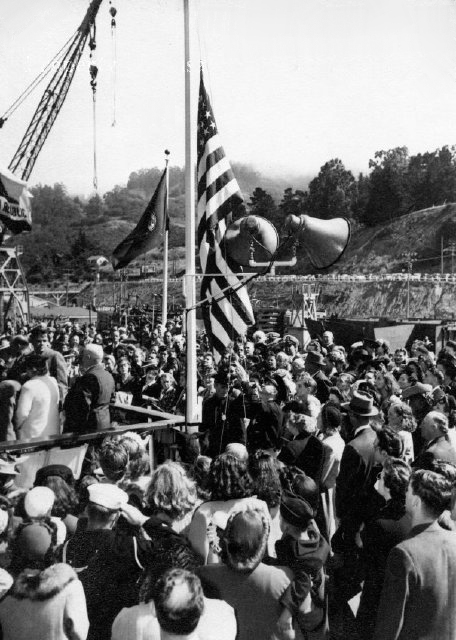 Photograph of the bow art on the S. S. "Wheeler Hills" and the launch, July 14, 1945.
"Wheeler Hills", launched at 14 July 1945. Built in 64 days and 7 hours.
Contract Price : $2.686.140,00, Final Price: $1.732.889,47, savings : -35.49%.
Sponsor, at the launch, Mrs.P.R.Quick (wife of superintendent of the planning and progress division of Marinship).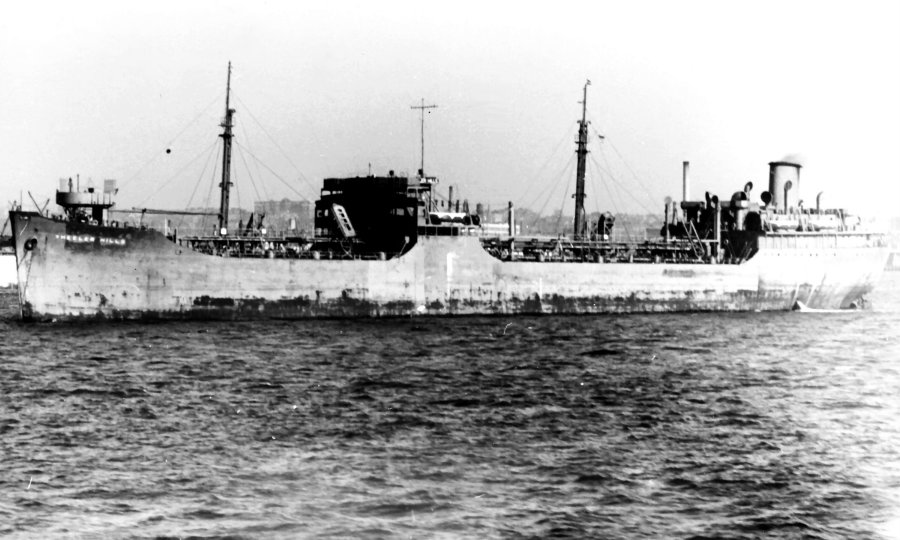 "Wheeler Hills" just after the war.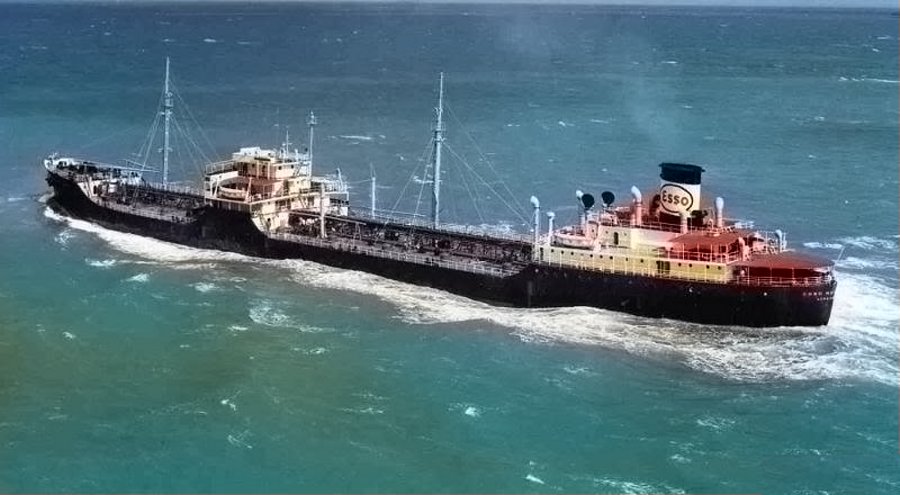 "Esso Rotterdam (1)", ex. "Wheeler Hills".
The Miramar Ship Index for

WHEELER HILLS

IDNo / IMO

5276836

Year

1945

Name

WHEELER HILLS

Flag

USA

Owner

U.S. War Shipping Administration

Type

Tanker

Tons

10441

DWT

16613

LOA

159.6

LPP

153.3

Beam

20.7

Dept

11.93

Draft

9.20

Machinery

1TE-15

Power

6000 BHP

ShipDesign

T2-SE-A1

Builder

Marinship Corp.

Yard

Sausalito

Yard No

87

Country built

USA

Keel

28.05.1945

Launch

14.07.1945

Completed

31.07.1945

Subsequent History

1947 ESSO ROTTERDAM - Petroleum Industrie Mij NV

1958 ESSO ROTTERDAM - Esso Tankvaart Mij NV

1959 PHAETHON - Comet Sg Co., SA

1960 Lg & widened 172.5m pp x 22.9 m, 15005 grt / 23000 dwt & c0nverted to bulk carrier

1974 PYRAMID VETERAN - Creole Sg Ltd.

1977 CAT No.1 - F.B.V.Corp (Bahamas) Ltd.

End

1978

Disposal Data

Scrapped at Brownsville 18.04.1978. [ By Consolidated Andy Inc.]

The 32nd of a series of thirty-six 8250 hp turbo-electric tankers named for leading petroleum fields of California, the SS Wheeler Hills sailed away from the construction docks of Marinship Corporation on July 31, 1945.
The ship, named for the Wheeler Ridge oilfield located in Kern County, was put through her trial runs and accepted by the Maritime Commission trial board members only 64 days after keel laying.
Source : PACIFIC MARINE REVIEW, Volume 42, September 1945.

WHEELER HILLS
07.1945
1947: ESSO ROTTERDAM (1).
1959: PHAETHON.
1960: Converted to a bulk carrier. New midship section built by Netherlands Dock: &, SB Co, Amsterdam (measurements: 570 ft oa x 75 ft, 15,005 grt, 23,000 tdw).
1974 "PYRAMID VETERAN"
1977 "CAT No. I"
01.1979: Scrapped at New Orleans.


"Esso Rotterdam (1)", ex. "Wheeler Hills".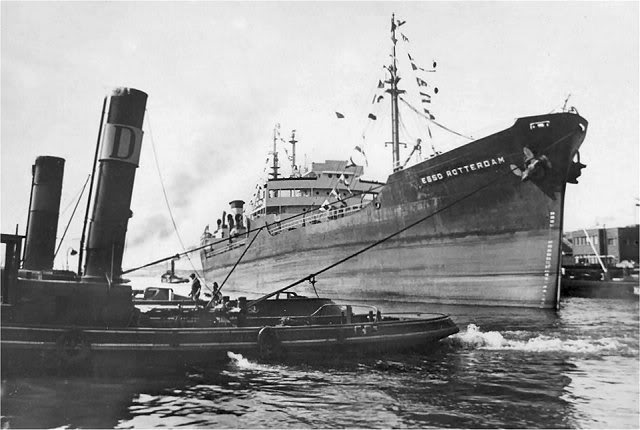 "Esso Rotterdam (1)", was build in 1945 as "Wheeler Hills".
Uit de Nieuwe Leidsche Courant, 14/04/1948.
Wist U dat de in Amerika aangekochte tankboot "Esso Rotterdam" van de A.P.C. voor het eerst Rotterdam binnenliep, meevoerende 14.500 liter stook- en dieselolie. ( Tonnen, bedoelde men natuurlijk, AAV )

Uit de Nieuwe Leidsche Courant, 06/03/1956.

KNSM-schip bij Spanje in moeilijkheden
Het SS "ILIAS" van de KNSM heeft vanochtend vroeg gemeld, dat het machineschade heeft en de hulp van een sleepboot behoeft. Het 810 ton metende schip bevond zich toen twintig mijl ten westen van Valino, een plaats aan de noordwestpunt van Spanje. De tankboot "ESSO ROTTERDAM" en een Zweeds schip liggen bij de "ILIAS".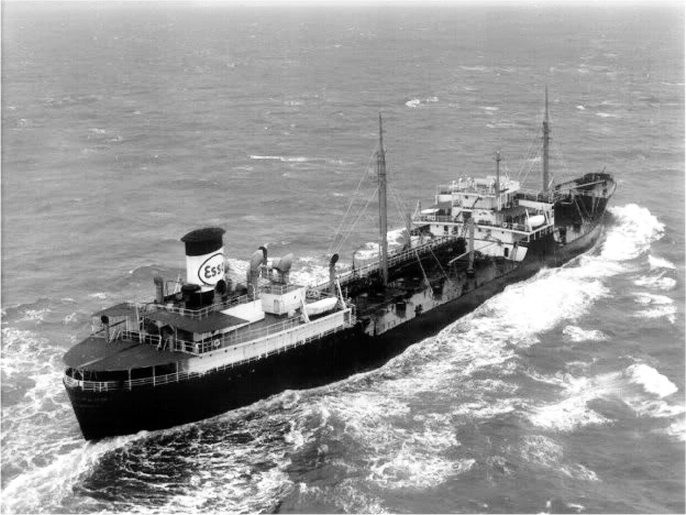 "Esso Rotterdam (1)" full ahead underway to Rotterdam.

"Esso Rotterdam (1)", ex. "Wheeler Hills", just renamed.
"Esso Rotterdam (1)".
WHEELER HILLS. Type T2-SE-A1.
Yardnr. 87. USMC nr.2541. Official nr. 248398.
Keel laid 28-05-1945. Launched 14-07-1945. Completed 31-07-1945.
Gr. 11441 t., Net. 8766 t., Dw. 16613 t. L.o.a. 159,57 m., Br. 20,78 m., Dr. 9,20 m.
\Engine: 2 steam turbines, manufactured by Eliott & Company, Jeanette, Pennsylvania.
7240 B.h.p., 5401 kW. Speed 5 knots. 26 Tanks.
History:
WHEELER HILLS-1945 completed for United States War Shipping Administration, San Francisco, California, USA.
ESSO ROTTERDAM-1947 for N.V. Petroleum Industries Maatschappij, The Hague, Netherlands.
ESSO ROTTERDAM-1958 for Esso Tankvaart Maatschappij N.V., The Hague, Netherlands.
PHAETON-1959 for Comet Shipping Company S.A., Piraeus, Greece.
PHAETON-1965 for Comet Shipping Company S.A., Monrovia, Liberia.
PYRAMID VETERAN-1974 for Creole Shipping Ltd., Nassau, Bahamas.
CAT NO.1-1977 for F.B.V. Corporation [Bahamas] Ltd., Nassau, Bahamas.
Additional Reports:
Reported Phaeton lengthened, widened and converted in bulk carrier in 1960 at Nederlandsche Dok en
Scheepsbouw Maatschappij, Amsterdam.
New dimensions 8 Holds, 8 hatches: 8,0 6,4 8,0 8,0 8,0 8,0 8,0 8,0 x 10,6 m, 172,5m pp x 22,9m,
15005 gt / 23000 Dw.
Reported Cat No.1 sold to shipbreakers in USA. Arrived Brownsville, Texas 18 Apr. 1978
to be broken up. [ By Consolidated Andy Inc. ]