Auke Visser's Exxon- & S/R Vessels Site
|
home




Liberty Bay - (2014- ?? )

First of two new oil tankers to begin service in Prince William Sound in 2014
The first of two new SeaRiver oil tankers is expected to begin service in Prince William Sound later this year.
SeaRiver, the shipping arm of ExxonMobil, held a naming ceremony for the vessel Liberty Bay on April 25. The second vessel will be named Eagle Bay.
Built by Aker Philadelphia Shipyard, Inc., both vessels measure 823.5 feet long and 144 feet wide, and have double hull protection for both cargo and fuel tanks. The vessels are capable of carrying 115,000 tons of weight including cargo, fuel, ballast water, provisions and crew. Cargo capacity is 800,000 barrels (approximately 33.6 million gallons). Propelled by a slow speed diesel engine, the vessels' "service speed" is 15 knots (approximately 17 miles per hour).
Ballast water treatment technology
The ship is equipped with a special onboard system that will use electricity and seawater to treat ballast water for aquatic invasive species, such as European green crab, long of concern to the council. The exterior hull has been treated with a non-tin based anti-fouling coating, which will help prevent the accumulation of non-native organisms such as mussels, barnacles or sea squirts. Older tin-based coatings were especially toxic to the marine environment.
Other safety and environmental features include fall protection equipment when mariners are working at heights greater than 6 feet, a deck rainwater collection system, an oil mist and gas detection system, and a non-halon fire-fighting system.
The main engine and auxiliaries, which conform to the International Maritime Organization's Tier II standards, are more energy efficient and generate fewer emissions than previous designs. The vessels will use low sulfur diesel fuel for all operations near and in port. Waste heat will be recovered and re-used onboard. Deck lighting is all energy efficient.
Redundant safety and reliability features
Several features increase the reliability of the vessels. The frames of the ship have been specially reinforced to withstand the forces generated by the powerful tugs used in Prince William Sound. Steel piping, the sea chest, and cargo tank sumps have been upgraded beyond minimum standards. Other systems, such as the cooling water system, main engine exhaust valves, and fuel oil tanks' low level alarms, include redundancy features to improve performance reliability.
"This is an exciting time to be part of SeaRiver," says Jack Buono, president of SeaRiver. "The $400 million project speaks volumes about the quality of our operation and the confidence our shareholder places in our collective abilities and accomplishments. We look forward to the delivery and deployment of these fine vessels, knowing they will be crewed by the finest mariners and will help serve to meet the energy needs of this great nation safely, reliably and efficiently."
"The council is very excited to have these new SeaRiver tankers joining the TAPS fleet," said, Mark Swanson, executive director for the council, "Along with a well proven international commercial design, they herald the arrival of new on-board technology meeting the latest regulatory standards for environmental protection with cleaner fuels and reduced harmful engine air emissions and the treatment of ballast water to prevent the transportation of non-indigenous invasive species."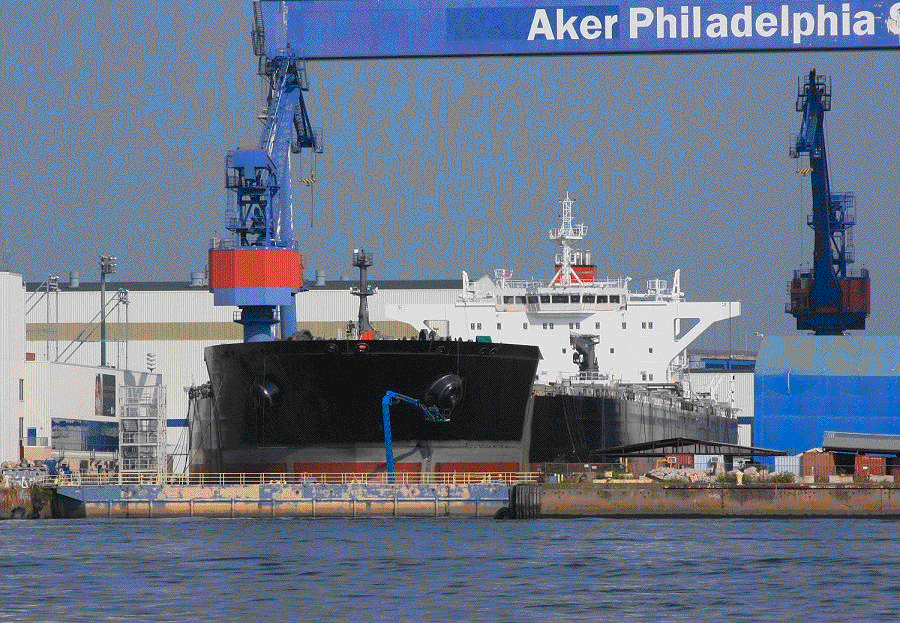 "Liberty Bay", under construction at Aker Philadelphia Ship Yard. Hull 19 APSY. Delaware River October 5th, 2013.
( Photo Copyright shipjohn )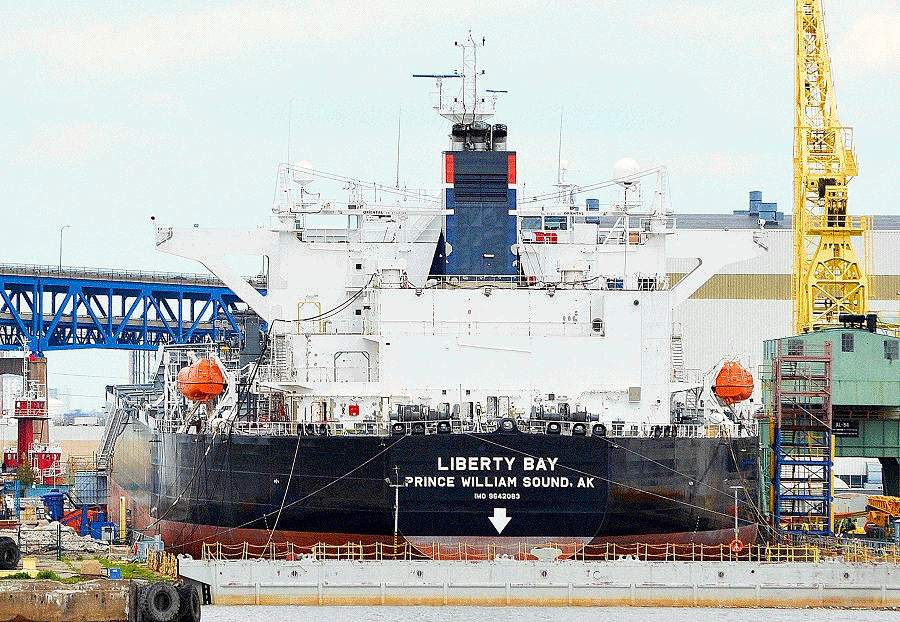 "Liberty Bay", newbuild tanker Liberty Bay under construction at Aker Philadelphia Shipyard, Philadelphia, PA, USA, May 2nd, 2014.
( Photo Copyright shipjohn )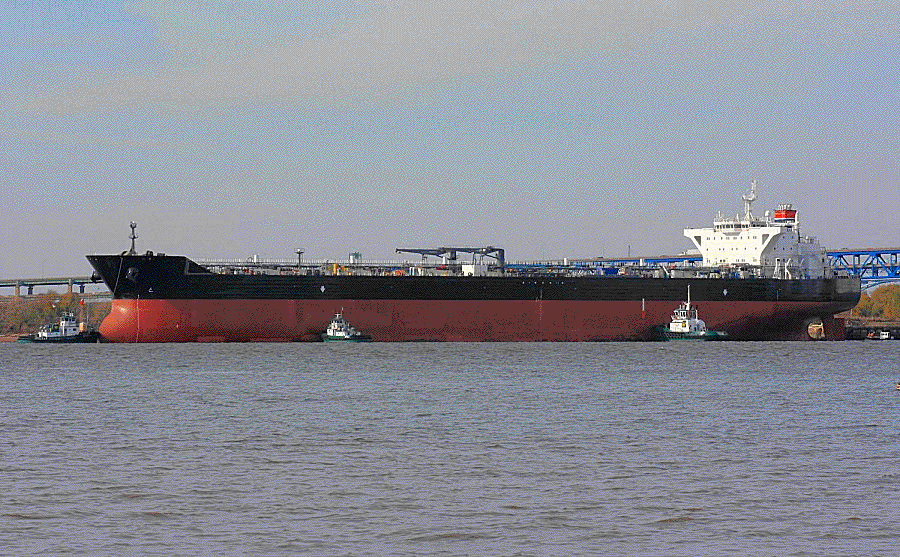 "Liberty Bay", at Aker Philadelphia Ship Yard. Shifting dead to fitting out berth.
Port of registry is Prince William Sound, AK. Aker hull 19 in Philadelphia, November 9th, 2013.
( Photo Copyright shipjohn )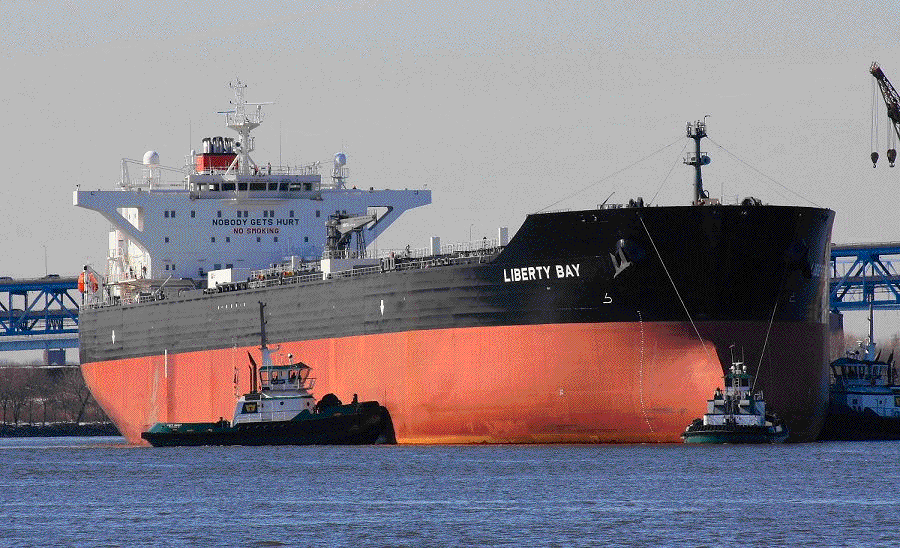 "Liberty Bay", shifting from Drydock to layberth in preparation for sea trial. Delaware River. March 6th, 2014
( Photo Copyright shipjohn )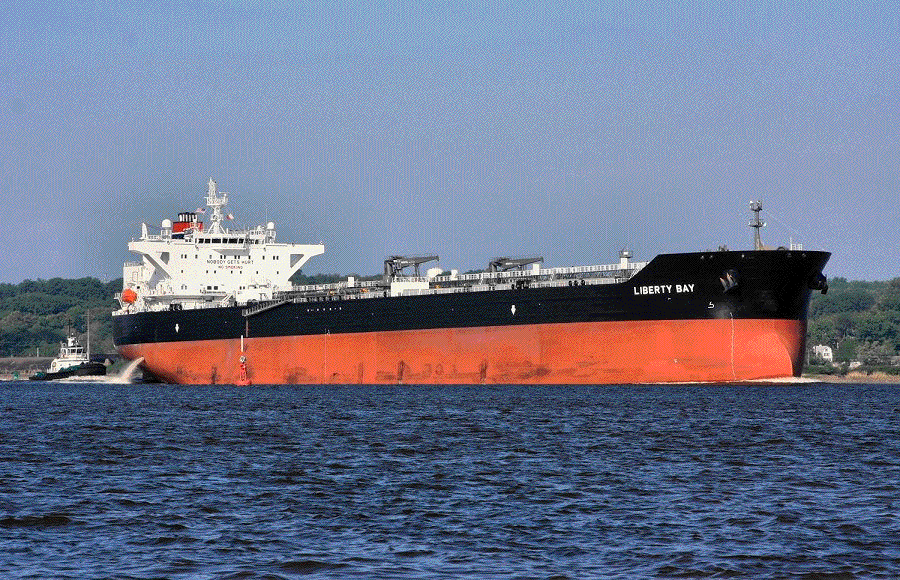 "Liberty Bay", inbound Delaware River, May 17th, 2014. 2nd sea trial, she's had some bugs, hope this went well.
( Photo Copyright shipjohn )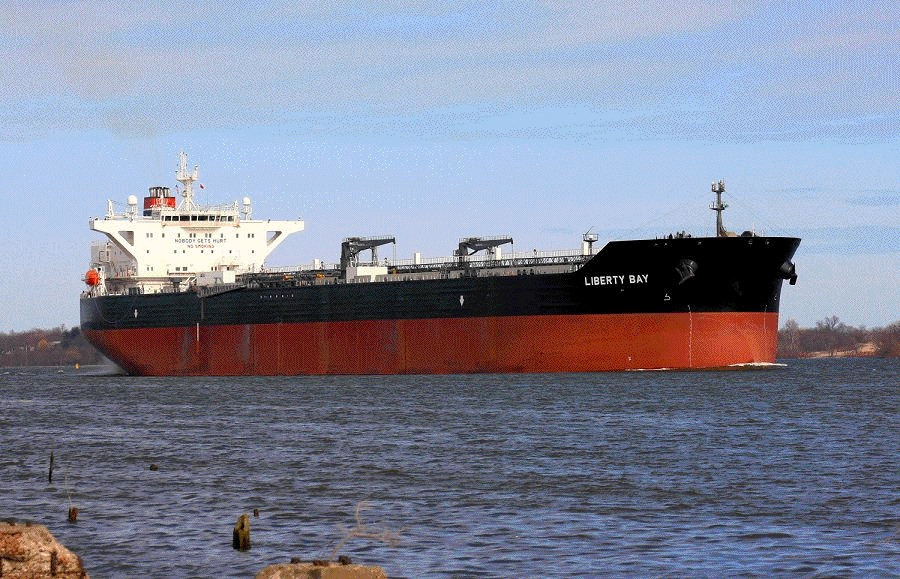 "Liberty Bay", outbound for sea trial. Delaware River, March 18th, 2014
( Photo Copyright shipjohn )

"Liberty Bay", a new tanker, first time spotted around here, moored at the Port of Benicia, CA, USA, November 1th, 2014.
( Photo Copyright Oldkayaker )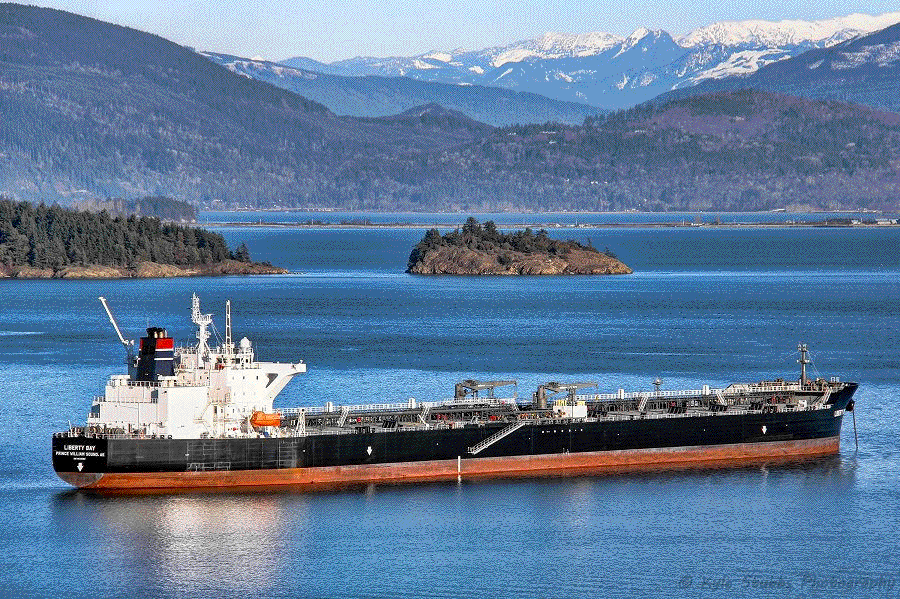 "Liberty Bay", seen at anchor on Padilla Bay while waiting for pier space at the March Point refinery. January 10th, 2016.
( Photo Copyright Kyle Stubbs )
Ship Info :
IMO number :

9642083

Name of ship :

LIBERTY BAY

(since 01/06/2014)

Call Sign :

KLBO

MMSI :

368127000

Gross tonnage :

62318

(since 01/06/2014)

DWT :

114820

Type of ship :

Crude Oil Tanker

(since 01/06/2014)

Year of build :

2014

Flag :

United States of America

(since 01/06/2014)

Status of ship :

In Service/Commission

(since 10/06/2014)

Last update :

13/10/2016

Q88 - INTERTANKO Standard Tanker Questionnaire (Ver. 4)
VESSEL DESCRIPTION

Date updated:

Sep 16, 2016

Vessel's name (IMO number):

Liberty Bay (9642083 )

Vessel's previous name(s) and date(s) of change:

Not Applicable

Date delivered / Builder (where built):

Jun 10, 2014 / AKER Shipyard Philadelphia

Flag / Port of Registry:

United States of America / Prince William Sound

Call sign / MMSI:

KLBO / 368127000

Type of vessel (as described in Form A or Form B Q1.11 of the IOPPC):

Oil Tanker

Type of hull:

Double Hull

Classification society:

American Bureau of Shipping

Length overall (LOA):

251 m

Length between perpendiculars (LBP):

239 m

Extreme breadth (Beam):

43.8 m

Net Tonnage:

35879

Registered owner - Full style:

SeaRiver Maritime, Inc.

Technical operator - Full style:

Same

Loadline

Freeboard

Draft

Deadweight

Displacement

Summer:

6.02 m

15.02 m

115098.3 MT

134352.5 MT

Number of cargo tanks and total cubic capacity (98%):

123248.2 m3

Number of slop tanks and total cubic capacity (98%):

3868.6 m3