Auke Visser´s German Esso Tanker's site
|
home




Gut Heil - (1888-1906)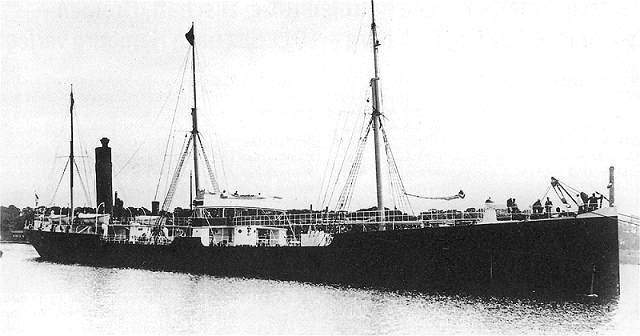 Steam Tank Ship "Gut Heil".
KRCM - 2552 BRT - 94,10 x 12,00 x 8,60 M - 1 Triple Expansion Steam Engine - 1200 IHP,
build by Walssend Slipway & Engineering Co., Ltd., Wallsend. On 8.1888 launch.
On 9.1888 build by Sir W.G. Armstrong, Mitchell & Co., Newcastle ( No. 667 ) as "Gut Heil" for
Wilhelm Riedemann & Albt. Nic. Schütte & Sohn, Geestemunde.
Registered 17.11.1888.
On 11.6.1890 sold to the Deutsch-Amerikanische Petroleum Gesellschaft, Geestemunde. Not renamed.
On 28.4.1906 registered 22.5.1906 at Hamburg.
On 28.4.1913 during the voyage from Tuxpan to Baton Rouge loaden at 90 miles form new Orleans,
sunk after a collission with the tanker
"
Wilkommen
"
and a British steamship "
Bulysses
".
In 1941 salvaged by the Deutsche Kriegsmarine, Gruppe Sud and taken over.
Wreck sold to J.W. Thompson, New York. 1917 salvaged and repaired.
8.8.1918 to the American navy and renamed "Sara Thompson" (AO 8).
From 8.12.1921 till 21.7.1933 as Bunkership at Cavite/Philadelphia.
9.8.1933 sold for breaking up.
Not broken up but again in service as bunkership for the American Navy as "Sarangani".
6.5.1942 in hands of the Japanese and renamed "Sankura Maru".
15.6.1943 torpedoed by American submarine "Trout" in position 05.09 N 119.38 East.
"Gut Heil".
A not so very sharp and small photo of the "Gut Heil".
Additional info :
GUT HEIL - 1888 GE, 1T (aft)
2,691 GRT for W. A. Riedemann & A. N. Schütte & Sohn, Geestemünde, 309.5 x 40.2
Tanker built Armstrong, Mitchell & Co., Newcastle, (9), #522
1890 - Deutsch-Amerik. Petroleum Ges., Geestemünde / Hamburg
Dragged anchor and broke adrift in river flood, holed in collision with tanker BULYSSES, 28 April 1913, sank in 70 feet of water off the
Standard Oil docks at Baton Rouge, La., voyage Tampico - Baton Rouge, crude oil, wreck sold 1917, refloated c, 6 Dec 1917, repaired
1918 - SARA THOMPSON, J. W. Thompson Co., New Orleans, US, (unreg.)
08/1918 - U. S. requisition - NOTS SP-3148, USS AO-8 -> 1920 floating storage at Cavite
from Dec 1921, sold Aug 1934 to Alberto Barrette, Manila
1934 - SARANGANI (storage service)
seized by Japanese Jan 1942 at or near Manila
1942 - SANRAKU MARU Japanese Government - refitted, JA
Torpedoed and sunk by USS TROUT, 15 June 1943 in 05.09N-119.38E (near Tawi-Tawi)
( All photos below are U.S. Naval Historical Center Photograph. )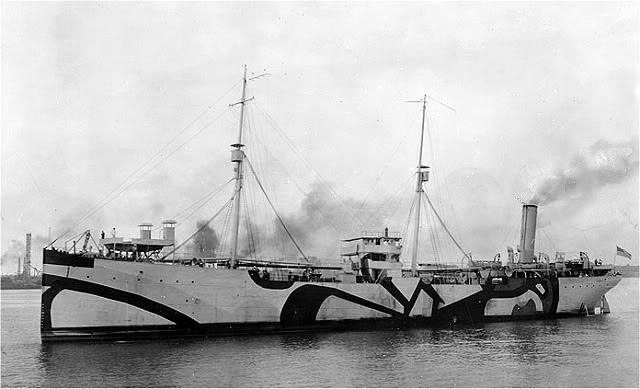 "Gutheil" seen here as USS "Sara Thompson" (AO-8).
"Gutheil" seen here as USS "Sara Thompson" (AO-8), september 1918.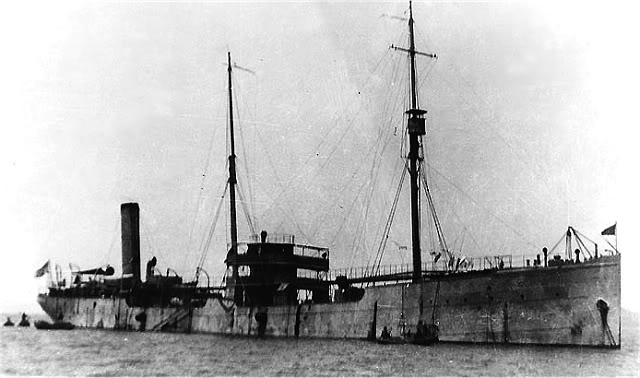 "Gutheil" seen here as USS "Sara Thompson" (AO-8).
"Gutheil" seen here as USS "Sara Thompson" (AO-8).
"Gutheil" seen here as USS "Sara Thompson" (AO-8).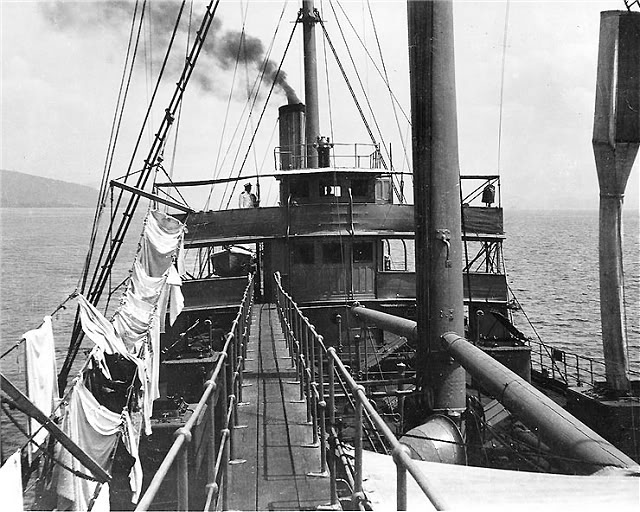 "Gutheil" seen here as USS "Sara Thompson" (AO-8).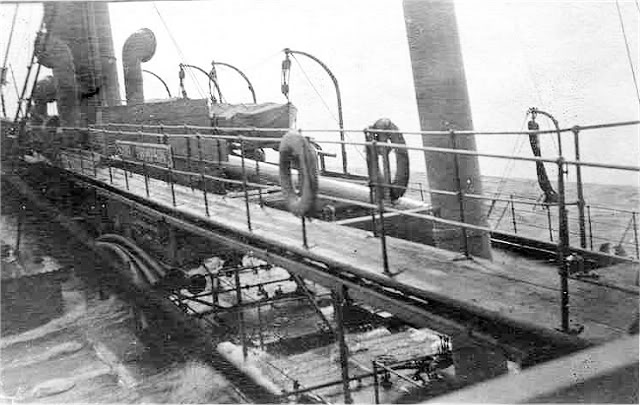 "Gutheil" seen here as USS "Sara Thompson" (AO-8).

"Gutheil" seen here as USS "Sara Thompson" (AO-8).
USS Sara Thompson, a 5836-ton (displacement) oiler, was built in 1888 at Newcastle, England, as the 2691 gross ton German
civilian oil tanker Gut Heil. Sold to American owners in 1912, she retained her original name and operated until lost in an accident
on the Mississippi River in 1914. The great need for ships during World War I caused her to be raised in 1917 and refurbished for
further use. In August 1918, while repairs were underway at New Orleans, Louisiana, Gut Heil was purchased by the Navy. She
was placed in commission in mid-September 1918 as USS Sara Thompson (ID # 3148) and spent the rest of the war, and the
first months following the November 1918 Armistice, carrying oil from the Gulf Coast to ports on the Atlantic Coast and to
Bermuda and Ponta Delgada, Azores.
Sara Thompson remained at Ponta Delgada as a station tanker until early September 1919, when she began a two-month vo-
yage to the Philippine Islands by way of the Suez Canal. In July 1920, when the Navy formally implemented its hull number
system, she was designated AO-8. Though assigned as a fuel storage vessel at the Cavite Navy Yard, during her first years of
Asiatic Fleet service Sara Thompson also was used to carry oil to Guam and to China, and operated with other U.S. Navy ships
in Far Eastern waters. However, after early December 1921 her worn-out machinery restricted her to reduced commission
status at Cavite. The old ship had more than another decade of employment there, acting as a storage ship for fuel oil and,
after 1930, as receiving ship. USS Sara Thompson was decommissioned in July 1933 and stricken from the list of Navy vessels
in December. She was sold in August 1934.
Additional info :
Laid down in 1888 as the German/American merchant tanker Gut Heil by William Armstrong, Mitchell and Co., Newcastle,
England Launched (date unknown) Sold to American owners in 1912, name retained Sunk in an accident on the Mississippi
River in 1914 Raised in 1917 and refurbished Acquired by the US Navy, 8 August 1918 Renamed Sara Thompson, 7 Sep-
tember 1918 Commissioned USS Sara Thompson (ID-3148), 17 September 1918, at New Orleans, LA. Reclassified
Oiler AO-8, 17 July 1920 Placed in reduced commission, in ordinary, 8 December 1921, at Cavite, P.I. Decommissioned, 21
July 1933, at Cavite, P.I. Struck from the Naval Register, 12 December 1933 Final Disposition, sold, 9 August 1934, to
Alberto Barrette of Manila. Fate unknown
Specification
Displacement 5,836 t.
Length 321'
Beam 40' 3"
Draft 22' (mean)
Speed 9 kts.
Complement 67
Armament unknown
Propulsion steam, one shaft
Additional info :
View the
Sara Thompson (AO-8)
DANFS
history entry, located at
Navsource.
The Miramar Ship Index for "GUT HEIL"
| | | | |
| --- | --- | --- | --- |
| IDNo: | 5614271 | Year: | 1888 |
| Name: | GUT HEIL | Keel: | |
| Type: | Tanker | Launch Date: | 25.08.1988 |
| Flag: | DEU | Date of completion: | 09.1988 |

Tons:

DWT:

Yard No:

522

Length overall:

Ship Design:

LPP:

94.3

Country of build:

GBR

Beam:

12.3

Builder:

Armstrong Mitchell

Material of build:

Location of yard:

Low Walker

Number of screws/Mchy/Speed(kn):

1T-

Subsequent History:
1918 SARA THOMPSON - 1934 SARANGANI - 1942 SANRAKU MARU
Disposal Data:
Torpedoed and sunk by USS TROUT, 15 June 1943 in 05.09 N-119.38 E (near Tawi-Tawi)
History :
| | | | | | | | |
| --- | --- | --- | --- | --- | --- | --- | --- |
| ON | LR/IMO | ID | Year | Name | Tons | Change | Registered Owner |
| | | 5614271 | 1888 | GUT HEIL | 2691 | | Riedemann Schutte |
| AO-8 | | 5614271 | 1888 | SARA THOMPSON | 2691 | 1918 | J.W. Thompson Co. |
| | | 5614271 | 1888 | SARANGANI | 2691 | 1934 | A. Barrette |
| | | 5614271 | 1888 | SANRAKU MARU | 2691 | 1942 | Japanese Govt. |