Auke Visser´s German Esso Tanker's site
|
home




Zoppot - (1919-1925)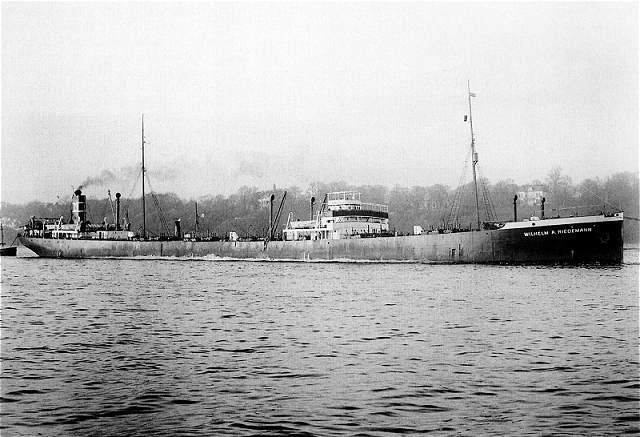 "Zoppot", seen here as "Wilhelm A. Riedemann".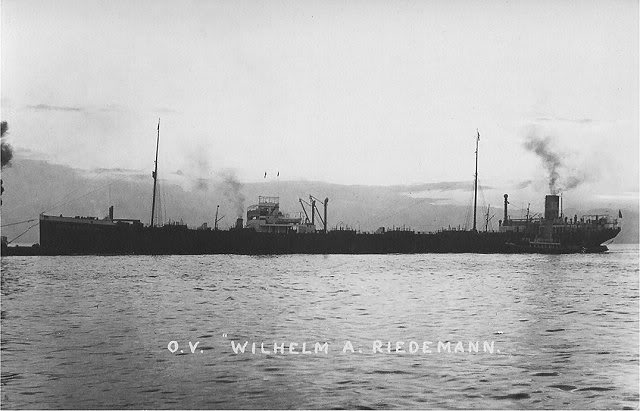 "Wilhelm A. Riedemann".
Tankmotorschiff WILHELM A. RIEDEMANN / ZOPPOT HGDS / RJGF / DJLR
9932 BRT / 15.740 tdw l 16.964 m3 plus 2076 m3 in Sommertanks - 160,24 x 20,27 x 10,20 / 12,57 meter.
2 Gleich druck-'Zweitakt-Sechszylindermotoren mit zusammen 3500 PSe, 2 Schrauben, 10,2 Knoten,
40 Mann Besatzung.
16.12.1913 Stapellauf als WILHELM A. RIEDEMANN für die Deutsch-Amerikanische Petroleum-Gesellschaft, Hamburg bei der Fried. Krupp AG Germaniawerft, Kiel-Gaarden (Bau-Nr. 188). Während des Krieges in der Schwentinemündung aufgelegt, die Motoren waren bei Kriegsbeginn noch nicht ganz fertig, wurden konserviert und später fertiggestellt. 18.11.1919 in ZOPPOT umbenannt und auf die Baltisch-Amerikanische Petroleum-Im-port-Gesellschaft mbH, Danzig (Dg), übertragen. Vorher hatten noch Verhandlungen mit der Entente wegen einer Ablieferung stattgefunden. 21.-24.7.1920 Probefahrt. 31.7. 1920 Ablieferung. 1925 umbenannt in WILHELM A. RIEDEMANN. Im September 1928 wurde die Bereederung auf die Waried Tankschiff Rhederei GmbH, Hamburg, übertragen, 7.3.1933 wurde diese Eigner.
14.8.1939 ab Aruba mit Öl nach Hamburg. Nach verschiedenen Kursänderungen auf Grund der unterschiedlichen Warntelegramme der deutschen Regierung erreicht der Tanker am 12.9.1939 Murmansk. 15.9.1939 dort von der Kriegsmarine erfaßt. 19.2.1940 Rückkehr nach Deutschland, Einsatz als Stützpunkttanker bei der Kriegsmarine-werft in Wilhelmshaven. 1943 in Nantes als Nachschubtanker aufgelegt. Dort am 2.8.1944 nach Bombentreffer ausgebrannt und am 5.8. gesunken. 10.8.1944 dort gesprengt.
Am 1.5.1945 geborgen und 1947 abgebrochen.

Motor tank vessel WILLIAM A. Riedemann / ZOPPOT HGDS / RJGF / DJLR
GRT 9932/15 740 16 964 dwt l m3 m3 in summer 2076 plus tanks - 160.24 x 20.27 x 10.20 / 12.57 meters.
2 constant pressure 'two-stroke six-cylinder engines with a total of 3500 PSe, 2 screws, 10.2 knots,
40 crew.
16/12/1913 Launched as WILLIAM A. Riedemann for the German-American Petroleum Company, Hamburg at the Krupp AG Germania Werft, Kiel-Gaarden (Bau-Nr. 188). During the war, placed in the mouth Schwentine, the engines were at the outbreak of war not quite finished, were preserved and completed later. 11/18/1919 in ZOPPOT renamed and transferred to the Baltic-American Petroleum In-port-Gesellschaft mbH, Gdansk (Dg). Before that negotiations had taken place with the Entente because of a delivery. 21.-24.7.1920 test drive. 31.7. 1920 delivery. 1925 renamed WILLIAM A. Riedemann. In September 1928, the tanker ship was management by the Waried Rhederei GmbH, Hamburg, was transferred, she became the owner on 03/07/1933.
14/08/1939 from Aruba with oil to Hamburg. After various rate changes due to the different warning messages from the German government, the tanker reached at 09.12.1939 Murmansk. 09/15/1939 gathered there by the Navy. 02/19/1940 return to Germany, used as a base for tankers at the Navy shipyard in Wilhelmshaven. Laued up in 1943 in Nantes as a supply tanker. There, on 02/08/1944 gutted by bombs and at 5.8. decreased. 10/08/1944 exploded there.
On 1.5.1945 and 1947 recovered canceled.

Additional Info by Starke & Schell Registers :
WILHELM A. RIEDEMANN - 1913 GE 2M (aft) (10)
9,932 GRT for Deutsch.-Amerik. Petroleum Ges., Hamburg 525.7 x 66.5
Tanker build by Fried. Krupp A.G., Kiel (7/20) #188
launched Dec 1913, outfitting halted August 1914, transferred to Danzig prior to completion
1919 - ZOPPOT Baltisch-Amerik. Petroleum Import G.m.b.H., Danzig DZ
1925 - WILHELM A. RIEDEMANN s/o
1928 - s/o (Waried Tankschiff Rhederei G.m.b.H., mgrs.)
1933 - Waried Tankschiff Rhederei G.m.b.H., Hamburg GE
9/1939 - Kriegsmarine requisition - depot tanker
Burnt out following air attack 2 Aug 1944 at Nantes (47.14N-02.34W),
Scuttled 10 Aug 1944, refloated 1 May 1945, Broken up 1947.