Auke Visser´s German Esso Tanker's site
|
home




Wotan - (1913-1923)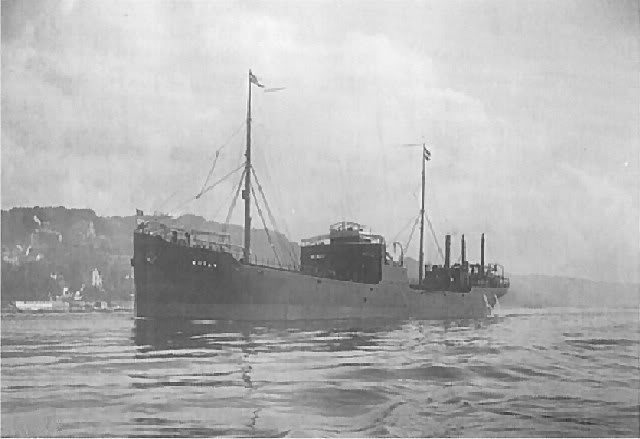 Build in 1913 by Reiherstieg Schiffswerfte & Maschinenfabrik, Hamburg, as "Wotan", for DAPG, Hamburg.
In 1914 to the Kaiserliche Marine as Navy Supply vessel "A", in 1914 returned.
In 1923 sold after engine failure to The Reparation Commission USA. Managers Standard Oil Co. New Jersey.
In 1927 sold to C.I.T.O.M. Cia. Italiana Transporti Oili Minerali, Genua, renamed "Gianna M.".
Diesel engines removed and replaced by an Steam Triple expansion engine.
11.5.1941 by British "HMS Hilary" near Las Palmas confiscated and brought to Belfast.
1941 as "Empire Control" for the Ministry of War Transport, London (GBR), Managers
Eagle Oil & Shipping Co., Ltd., Belfast, later Managers Davies & Newman Ltd.
Sold in 1948 to Shell Co. of Gibraltar Ltd., London, renamed "Kleinella" as Oil bunker.
24.7.1953 arrived at Dunston for breaking by Clayton & Davies Ltd.
5703 BRT, 7970 DWT, 123,45 X 16,00 X 8,26/8,99 Mtr.
Additional Info by Starke & Schell Registers :
WOTAN - 1913 GE 1M (aft) (9)
5,703 GRT for Deutsch-Amerik. Petroleum Ges., Hamburg 405.0 x 52.5
Tanker build by Reiherstieg Schiffswerft, Hamburg (8) #447
(8/1914 - 6/1915 Imperial German Naval requisition - Depot tanker A)
4/1919 - delivered on reparations account in the U.K.
1923 - Reparation Commission of the United States (Standard Oil Co. of New Jersey mgrs.), New York, USA
1927 - GIANNA M. C.I.T.O.M. - Cia. Italiana Transporto Olii Minerali, Genoa re-engined 1T IT
Captured by HMS HILARY (AMC), 11 May 1941, north of Las Palmas, while attempting to reach Bordeaux from
Las Palmas, where she had been lying since June 1940.
1941 - EMPIRE CONTROL Ministry of War Transport (Davies & Newman, Ltd., mgrs.), Belfast, BR
1948 - KLEINELLA Shell Co. of Gibraltar, Ltd., London (storage service)
Broken up at Dunston 1953 by Clayton & Davie, Ltd., arrived 14.07.1953.