Auke Visser´s German Esso Tanker's site
|
home




Esso Stuttgart - (1959-1976)

"Esso Stuttgart", in the English Channel.
"Esso Stuttgart", built 1958 by Howaldtswerke Hamburg AG, Hamburg.
1976 Sold to Taiwan breakers & arrived Kaohsuing prior to 2/12/76.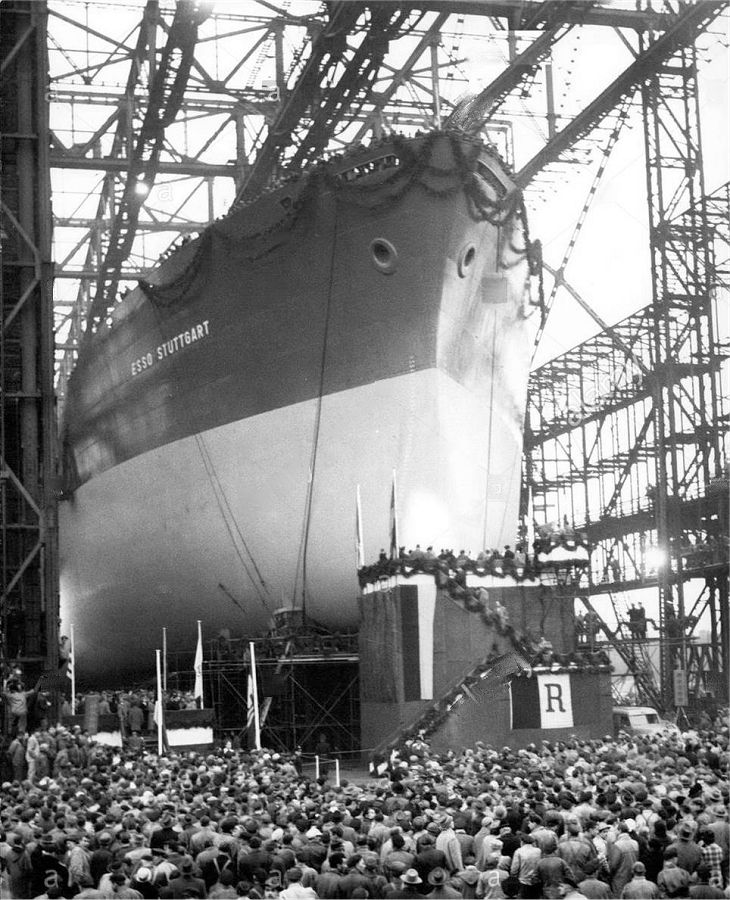 "Esso Stuttgart", launch on November 1958 at the Howaldtswerke, Hamburg.
The oil tanker ESSO Stuttgart was built in 1958 by the yard Howaldtswerke in Hamburg. The story of her shipping company, the ESSO Tankschiff
Reederei, goes back to a German logistics company from 1863 that became part of the the DAPG (Deutsche-Amerikanische Petroleum
Gesellschaft/German American Petrol Company) in 1890. In 1924 the shipping company was named Waried Tankschiff Reederei. It became the
ESSO Tankschiff Reederei in 1950. In 1984 her tanker ships came under the management of Exxon International and the company was reduced
to her fluvial logistics department until she went out of busyness in 1993.
The International Maritime Museum owns several yard models of ESSO tankers. The size and weight of this beauties don't allow us to display them
all at once in the permanent exhibition. We wanted to share this model from our depot with you. It is built of metal and wood in a scale of 1:100,
which makes it over 2,25 meters long.
( Photo Internationales Maritimes Museum Hamburg )
"Esso Stuttgart", departing Rotterdam, 1974.
( Photo Copyright Derek Sands )
"Esso Stuttgart".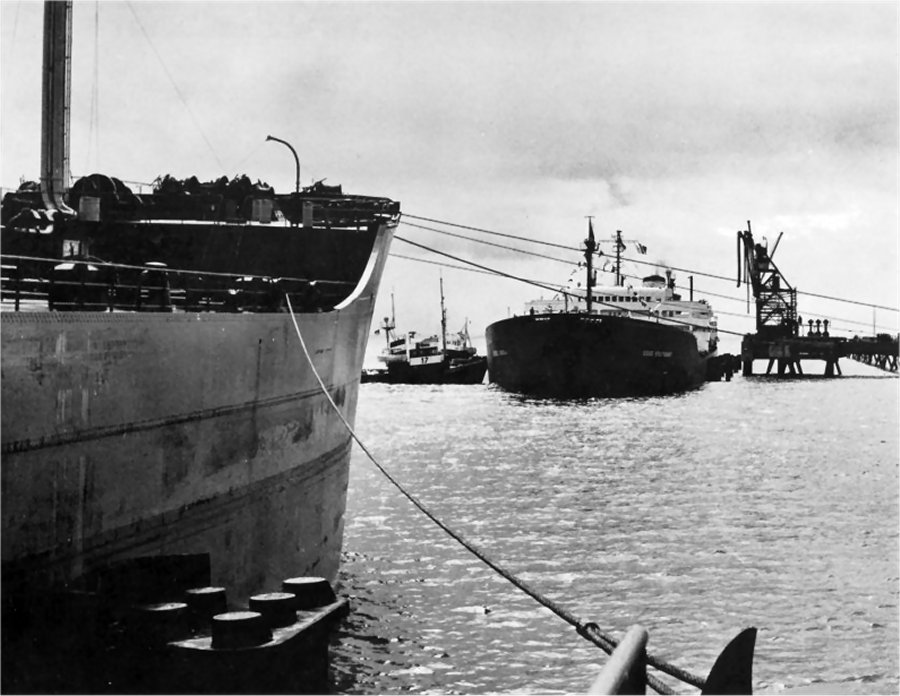 "Esso Stuttgart" at Wilhelmshaven.
Postcard photo of the "Esso Stuttgart" at Wilhelmshaven, Germany.
Model of the "Esso Stuttgart".
Additional Info by Starke & Schell Registers :
ESSO STUTTGART - 1958
Build by Howaldtswerke : Hamburg : # 924
For Esso Tankschiff Reederei GmbH - GE
31710 GRT, 47495 DWT.
Tanker, 1 DR. Steamturbines, Speed 17½ knots.
Measurements : L.O.A 225.6 mtr, L.B.P. 214.9 mtr, Beam 31.2 meter
Broken up at Nan Yung Steel & Iron : Kaohsiung : Arr.ived 29 Jan. 1977.
The Miramar Ship Index for "ESSO STUTTGART"
| | | | |
| --- | --- | --- | --- |
| IDNo: | 5108481 | Year: | 1959 |
| Name: | ESSO STUTTGART | Keel: | |
| Type: | Tanker | Launch Date: | 24.11.1958 |
| Flag: | DEU | Date of completion: | 03.1959 |

Tons:

31710

Link:

-

DWT:

47495

Yard No:

924

Length overall:

225.6

Ship Design:

LPP:

214.9

Country of build:

DEU

Beam:

31.2

Builder:

Howaldtswerke

Material of build:

Location of yard:

Hamburg

Number of screws/Mchy/Speed(kn):

1ST-17.5

Subsequent History:
[ Launched in two parts 24 & 25.11.1958 ]
Disposal Data:
Scrapped at Kaohsiung 17.12.1976 [ By Nan Yung Steel & Iron Co. ]
History:
| | | | | | | | |
| --- | --- | --- | --- | --- | --- | --- | --- |
| ON | LR/IMO | ID | Year | Name | Tons | Change | Registered Owner |
| | 5108481 | 5108481 | 1959 | ESSO STUTTGART | 31710 | - | Esso Tankschiff Reederei GmbH |