Auke Visser´s German Esso Tanker's site
|
home




Esso Berlin - (1958-1970)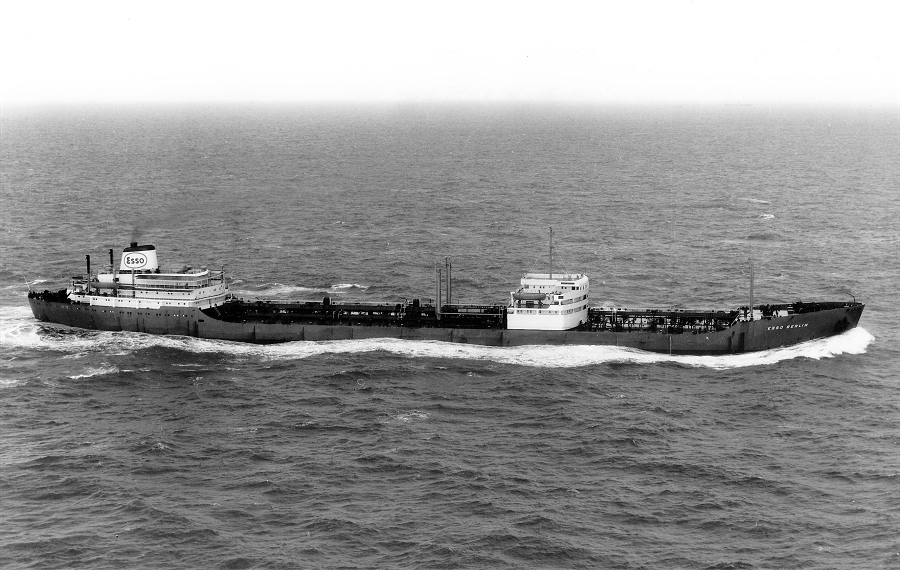 "Esso Berlin".
"Esso Berlin".
"Esso Berlin".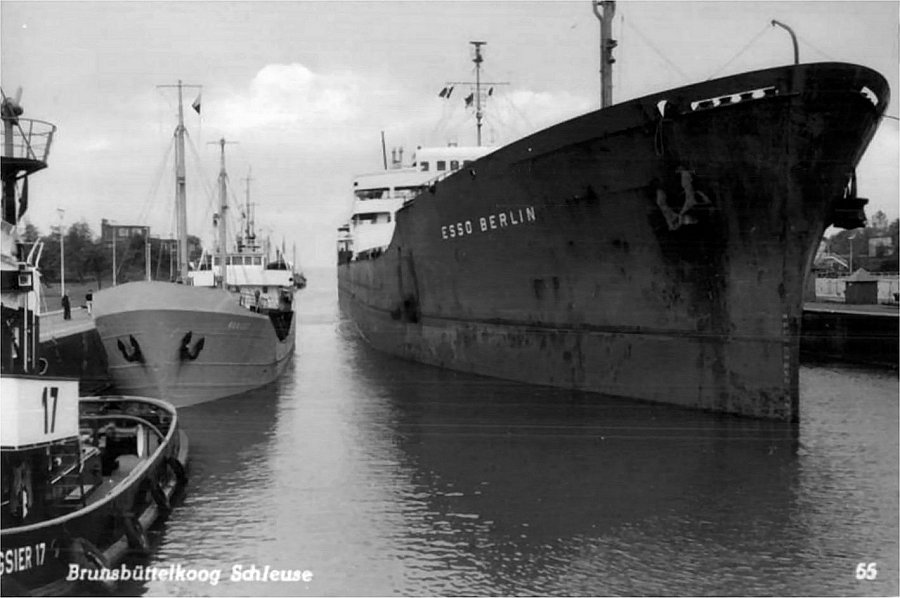 "Esso Berlin" at Brunsbuttelkoog.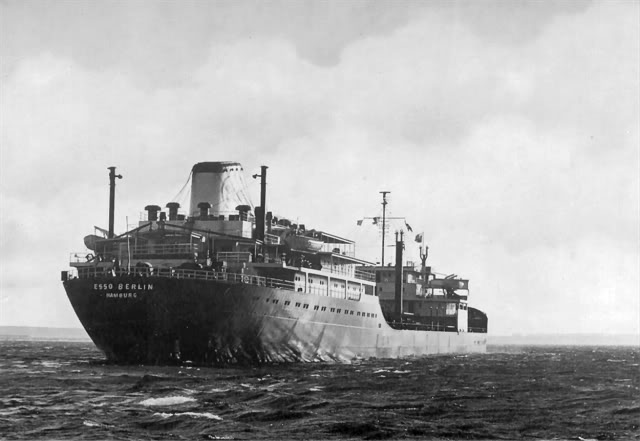 "Esso Berlin".
"Esso Berlin", at Kalundborg, Danmark, during the '60 and early '70's.
( Photo by Jesper Brix )
"Esso Berlin".
"Esso Berlin" loading on the Caripito River.
( Photo by Capt. Hans J. Schaefer )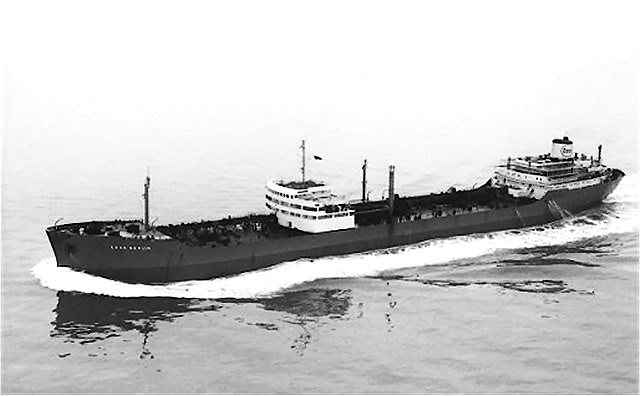 "Esso Berlin".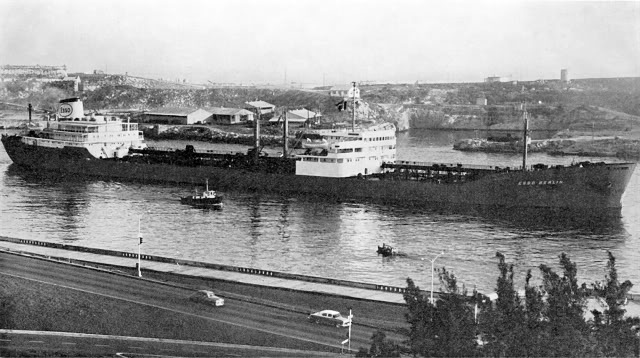 "Esso Berlin" was build in 1958, seen here in Havana, Cuba.
Sold to Esso Tankers Inc., Monrovia in 1970, arrived Pusan on 30-3-1978 for breaking up.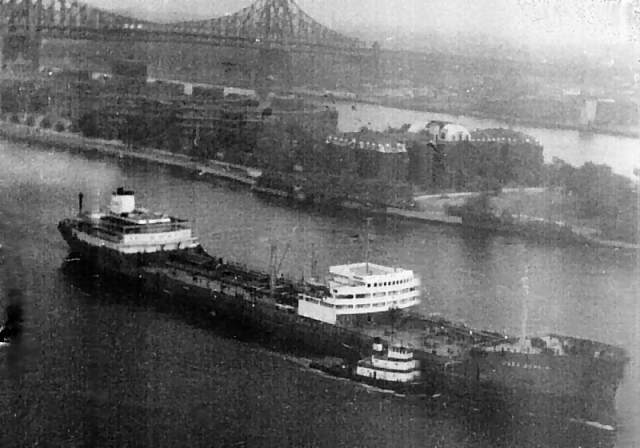 "Esso Berlin" at the East River in New York, around 1969. The photo is restored from a damaged negative, which came from
a flooded archive. The photo was taken by Barry Parker, with a "CIRO-FLEX" camera ( a moderately priced version
of the more expensive Rolliflex ) which took "120" film ( negatives 2-1/4" x 2-1/4" ).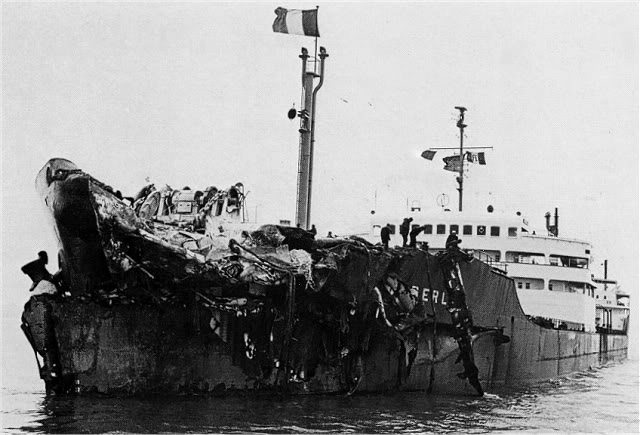 "Esso Berlin" after collision with the "Malgomaj" on the Westerschelde, in 1961, see details below.
Article in local newspaper.
The Provinciale Zeeuwse Courant of 29 December 1961, begins with the following report: "A ghostly light glowed Friday morning,
around seven o'clock and seen for several miles far over the Westerschelde, inmediately after two gigantic tankers frontally collided
with each other, just West of the harbor entrance of Hansweert."
There was a colission between the German tanker "ESSO BERLIN" (1958 - 24478 Brt.) and the Swedish Ore-carrier "MALGOMAJ"
(1959 -24228 Brt.). The collision arose from a catastrophic misunderstanding; the one thought, that the other one would turned
around him, and the other vice-versa. But nobody did, however.
Inmediately after the collision fire broke out on the fore ship, that was fought immediately by the crew, on board the "Malgomaj". By
wonder there was no fire on board the crude-oil loaded "Esso Berlin". De captain of the Esso tanker however, took at a precaution,
to lay a layer of foam on the whole fore ship. The crew of the Swedish ship saw chance, with help of rushed in tugboats, to control
the fire and to put out the flames. Through this courageous act performed by the crews of both ships, a more serious disaster
was prevented.
At this collision there was yet a third ship concerned, namely the Norwegian tanker "RONDEFJEL" (1951 -15067 Brt.). This ship was
stranded to prefent a collision and was refloated later, with the help of 11 tugboats.
"Esso Berlin".
"Esso Berlin".
( Photo 23.11.1958 Deutsche Werft )
"Esso Berlin".
( Photo 1958 HDW from Schiff. Int. 1982, Nr.08 )
"Esso Berlin".
( Photo 1958 Esso AG )
"Esso Berlin".
Additional information :
Tankschiff "ESSO Berlin" von 1958
Turbinenschiff unter der Flagge der BRD.
Das Schiff wurde 1959 auf der Deutsche Werft AG in Hamburg-Finkenwerder für die ESSO Tankschiffreederei GmbH gebaut.
Vermessung: 24108 BRT / 12855 NRT
Tragfähigkeit: 36816 Tons (tdw)
Ladevolumen: 49770 m³ Öl
Länge: 211,20 m
Breite: 27,56 m
Tiefgang: 10,88 m
Antrieb: Dampfturbinen mit 16225 PS (12100 kW)
Geschwindigkeit: 17 Knoten (31,5 kmh)
The Miramar Ship Index for "ESSO BERLIN"
| | | | |
| --- | --- | --- | --- |
| IDNo: | 5106926 | Year: | 1958 |
| Name: | ESSO BERLIN | Launch Date: | 20.10.1958 |
| Type: | Tanker | Date of completion: | 04.12.1958 |
| Flag: | DEU | Keel: | |

Tons:

24108

Link:

-

DWT:

36232

Yard No:

735

Length overall:

211.2

Ship Design:

LPP:

201.2

Country of build:

DEU

Beam:

27.5

Builder:

Deutsche Werft

Material of build:

Location of yard:

Finkenwerder

Number of screws/Mchy/Speed(kn):

1ST-17

Subsequent History:
[ Aft Launched 18.07.1958, fore Launched 25.09.1958 ]
Disposal Data:
Scrapped at Pusan 30.03.1978.
History :
| | | | | | | | |
| --- | --- | --- | --- | --- | --- | --- | --- |
| ON | LR/IMO | ID | Year | Name | Tons | Change | Registered Owner |
| | 5106926 | 5106926 | 1958 | ESSO BERLIN | 24108 | | Esso Tankschiff Reederei GmbH. |
| 3599 | 5106926 | 5106926 | 1958 | ESSO BERLIN | 24108 | 1970 | Esso Tankers Inc. |