Auke Visser´s German Esso Tanker's site
|
home




Minister Maybach - (1887-1899)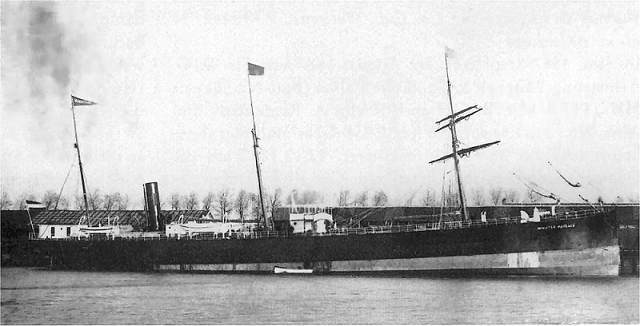 "Minister Maybach" build in 1887 was lost on the Atlantic in 1899. All hands lost.
Steamtanker "MINISTER MAYBACH", KRBW
2429 BRT - 86,90 x 12,30 x 9,90 mtr.
1 Triple Expansion engine, 1000 PSi, build by Wallsend Slipway & Engineering Co. Ltd., Wallsend.
9 Knots, 34 Crew. In Juni 1887 launch.
In August 1887 from Sir W. G. Armstrong, Mitchell & Co., Low Walker (Building-NR. 501) as "MINISTER MAYBACH" to
Wilhelm A. Riedemann and Albt. Nic. Schütte & Sohn (each 50 %), Geestermünde, delivered and on 21.9.1987 registered.
12.12.1890 handed over to the Deutsch-Amerikanische Petroleum-Gesellschaft.
On 25.1.1899 sailed the "MINISTER MAYBACH" from New York with a load of Petroleum (3.840 Tons) and barrels (55 Tons),
to Antwerpen and Hamburg as destiny. She did not arrive.
On 19. 12.1899 she was officially declared as lost at sea, by the Seeamt of Bremerhaven .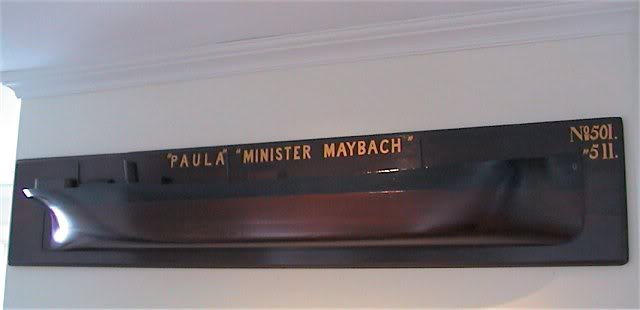 Half model of the hull of the "Minster Maybach" and "Paula".
( Photo thanks to Peter Burrow )