Auke Visser's International Esso Tankers site
|
home




Esso Chesapeake - (1954-1960)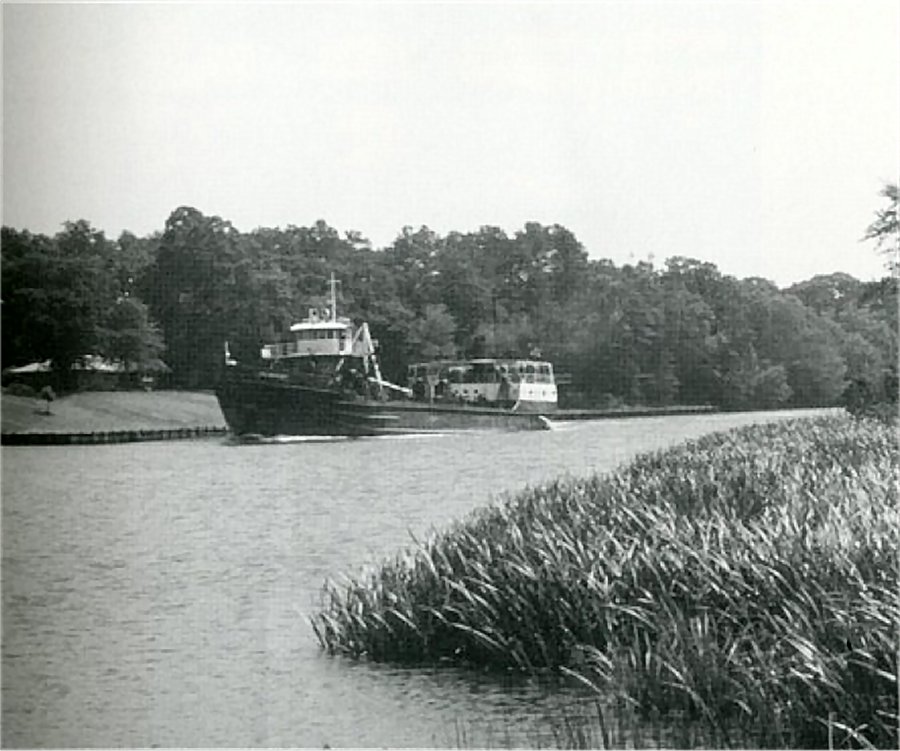 "Chesapeake", ex "Esso Chesapeake".
( Photo from: Hooper Collection )
Built in 1954, by St. Louis Ship of St. Louis, Missouri (hull #1279) as the Esso Chesapeake for Esso Shipping of Wilmington, Delaware.
Around 1970, she was acquired by Interstate Oil Transport of Philadelphia, Pennsylvania. Where she was renamed as the Chesapeake.
She was a shallow draft unit that was acquired with the intention of serving small, shallow draft terminals and tributaries of the Delaware
River, and Chesapeake Bay. Her current and or final disposition is unknown.
"Chesapeake", ex "Esso Chesapeake", at a Scrap Berth in Camden, NJ.
( Sadly a Ebay photo )
Motor barge built in 1954 by St. Louis Ship, St. Louis, MO, hullno. 1279, as "Esso Chesapeake", 790 GRT.
Sold in 1965 as "Chesapeake" to Tangier Marine Tpt Co. Deleted in 1977 from registers.
The Miramar Ship Index for "ESSO CHESAPEAKE"
| | | | |
| --- | --- | --- | --- |
| IDNo: | 5107152 | Year: | 1954 |
| Name: | ESSO CHESAPEAKE | Keel: | |
| Type: | Tanker | Launch Date: | 02.11.1954 |
| Flag: | USA | Date of completion: | 12.1954 |

Tons:

777

Link:

-

DWT:

Yard No:

1279

Length overall:

63.1

Ship Design:

LPP:

61.0

Country of build:

USA

Beam:

12.0

Builder:

St Louis (Pott)

Material of build:

Location of yard:

St Louis

Number of screws/Mchy/Speed(kn):

2D-12

Subsequent History:
1965 CHESAPEAKE
Disposal Data:
Deleted 1977/78 - inland service only
History:
| | | | | | | | |
| --- | --- | --- | --- | --- | --- | --- | --- |
| ON | LR/IMO | ID | Year | Name | Tons | Change | Registered Owner |
| 268700 | | 5107152 | 1954 | ESSO CHESAPEAKE | 777 | | Esso Standard Oil Co. |
| 268700 | 5107152 | 5107152 | 1954 | ESSO CHESAPEAKE | 777 | 1960 | Humble Oil & Refining Co. |
| 268700 | 5107152 | 5107152 | 1954 | CHESAPEAKE | 777 | 1965 | Tangier Marine Tpt Co. |