IN the six years of World War II the Esso tanker G. Harrison Smith made 62 Gulf or Caribbeaneast coast voyages, 2 voyages in the Caribbean, and II Atlantic and Pacific overseas voyages, or a total of 75, and transported more than 10,300,000 barrels of oil. She also gained a reputation (1) for extraordinary luck in submarine zones and (2) for un-usual operating efficiency in discharge ports.
As the record shows, this vessel ran into situations of extreme danger time after time, but seemed to lead a charm-ed life. Certainly she had many narrow escapes.
The quick turnarounds and rapid unloading of planes accomplished by the G. Harrison Smith in United Kingdom ports were recognized in letters of •commendation addressed to her master and crew by Admiral H.R. Stark, USN, Gommander-in-Chief of the United States Naval Forces in Europe, and Admiral F.J. Home, USN, Office of the Chief of Naval Operations, Navv Department. Each of these letters, quoted in full elsewhere in this chapter, used the Navy's traditional expression of highest praise: "Well done."
The pre-Pearl Harbor voyages of the G. Harrison Smith were without incident but important to the national supply of petroleum products and their trans-shipment overseas in Allied tankers.
When the War Began
On September 4, 1939, the day after the declaration of war in Europe, the G. Harrison Smith arrived at Cartagena, Colombia. Loading 136,170 barrels of crude oil, she sailed on the morning of September 5 for Montreal, where she docked the afternoon of September 16. Captain Roland Whittom commanded the vessel and her engineroom was in charge of Chief Engineer James L. Yent. The passage of 2,786 sea miles was made at an average speed of 10.21 knots.
Remaining in coastwise service through 1942, the worst year of sinkings along the eastern seaboard of the United States, the G. Harrison Smith carried mainly crude oil, with a few cargoes of fuel and heating oil. More than half her loadings during this period were made at Corpus Ghristi and the rest at other Texas ports and in the Caribbean. She took the majority of her cargoes to New York, but also went to Baltimore, Montreal, Boston, and Aruba. The vessel was time chartered to the War Shipping Administration on April 20, 1942.
Captain Frederick S. Anderson, who was assigned to the G. Harrison Smith on February 25, 1942, related some of his experiences for this history.
Escaped Sub in Fog
"We were passing Winter Quarter Shoal, off the Virginia coast," he said, "at 6 o'clock one morning in a shifting fog. Suddenly we sighted an enemy submarine on the surface. The U-boat started after us, but we immediately turned, headed out to sea, and escaped.
"On another voyage, from New York to Aruba, we ran through a great deal of floating wreckage, grim evidence of sinkings. On July 9, 1942, en route from New York to Baytown, we were in the Gulf - not far from Southwest Pass - when, at 11:30 p.m., we saw the explosion that set on fire and sank the Benjamin Brewster. Although scheduled to anchor near Southwest Pass, we again ran out to sea and reached Bay-town safely."
Picked Up "W. L. Steed's" SOS
Radio Operator Clinton Provost described other adventures of the G. Harrison Smith:
"In January-February, 1942, going from Corpus Christ! to New York, the G. Harrison Smith followed the W. L. Steed all the way to Cape Hatteras. There we went. in toward the coast for the night. The W. L. Steed kept on. The next day, February 2, I picked up her SOS. Radio Operator Francis E. Siltz sent 'Abandoning ship now. Goodbye.' On arrival at New York we had ice more than a foot thick in our lifeboats.
"In August, 1942, we were in convoy, from New York to Aruba, when a Netherlands ship was sunk in Windward Pas-sage. At the time she was hit the convoy was in single file and she was the last ship. I heard the explosion about 11 o'clock one night. We saw the flames as she burned. It was reported that 25 men were lost.
In Convoy with "Esso Aruba"
"On the return leg of this same voyage - Aruba to New York - we were again near Windward Passage when warn-ings came over the radio of submarines in the vicinity. I was asleep on deck the evening of August 27 and was a-wakened about 10 p.m. by a battle between the escorting destroyers and at least three submarines. Thousands of tracer bullets were fired by both friend and foe. The next morning we received a message from the escort command-er stating that one of the submarines, with its commander and entire crew, had been captured and was being taken into Guantanamo.
"After a lull the U-boats attacked again. The British tanker San Fabian, of the Eagle Oil & Shipping Company, Ltd., was torpedoed and then the tanker Rotterdam, of the N. V. Petroleum Industrie Maatschappij. These ships were in the next column to ours and both sank. The Esso Aruba was the third vessel struck, although we did not know of it at the time.
On Februar.y 6, 1943, the G. Harrison Smith began a series of six transatlantic voyages to the United Kingdom when she sailed from Philadelphia with 125,392 barrels of gas oil for Bowling, on the Clyde. The other crossings were from New York to Bowling, New7 York to Swansea, New York to Liverpool and Belfast, and two trips from New York to Avonmouth and Belfast. On each of the three visits to Belfast the vessel unloaded deck cargoes of planes.
Fast Turnarounds Commended
These voyages were noteworthy for efficient operation, as evidenced by the short time required for discharge of car-go. Port facilities in Great Britain were taxed to capacity by the great volume of shipping pouring materiel and troops across the Atlantic to build up the mighty war machine which was to invade the Continent. As in many other instanc-es, the fullest cooperation was accorded to the G. Harrison Smith by the shore officials.
The G. Harrison Smith on her second Atlantic voyage, from New York to Bowling, was in port only three days - April 21 to 24. On the New York to Liverpool and Belfast trip the vessel was at Liverpool less than 48 hours - August 5 to 7. She unloaded her deck cargo of 21 planes at Belfast on August 8 and sailed that day, three days after her arrival at Liverpool.
This performance earned the commendation of her master, officers, and crew in the letters from Admiral Stark and Admiral Home printed at the end of this chapter. They were written when Captain Anderson was still in command and Chief Engineer Emil Enstrom was in charge of the vessel's engine department.
On the first journey of the G. Harrison Smith from New York to Avonmouth and Belfast she required only two days for discharge at Avonmouth - September 11 to 13 - and on the second voyage, three days-October 20 to 23.
TANKER TURNAROUND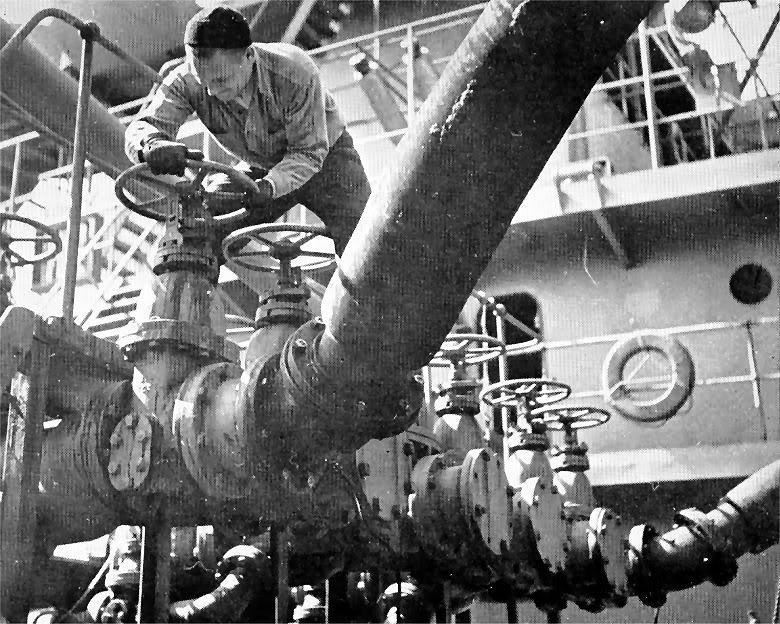 Fast deliveries such as feature the record of the "G. Harrison Smith" are a combination of ship and shore teamwork.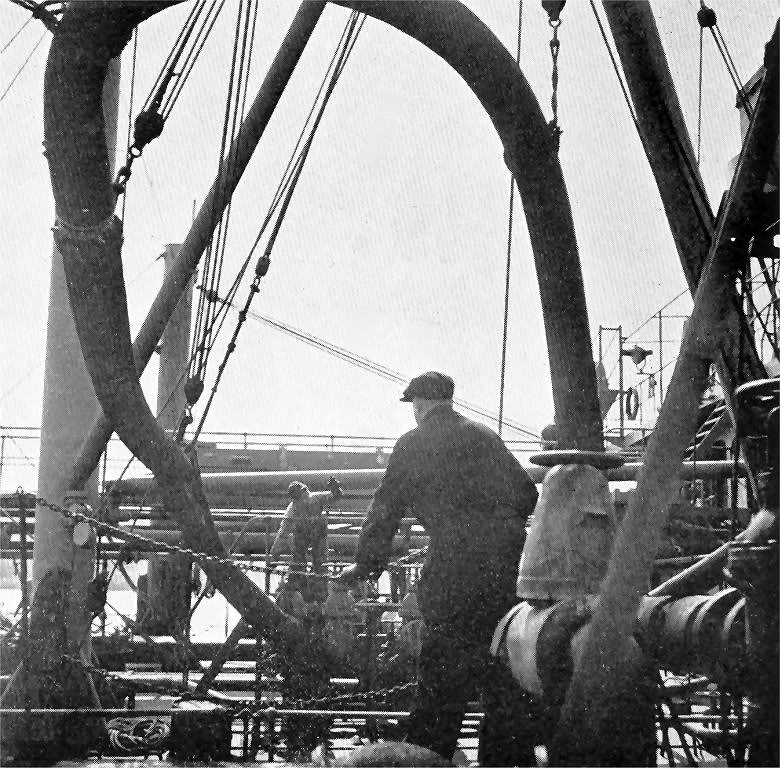 In the illustrations, a tanker is shown at dockside and cargo on its way into storage tanks ashore.
Chased by "Wolf Pack"
"On one of the return voyages from the United Kingdom," Captain Anderson said, "the convoy lost about 17 ships. Losses were heavy up to November, 1943. On the last trip, we left Belfast November 1, 1943 and docked at New York November 16. We were chased by a 'wolf pack' and many vessels were lost. The G. Harrison Smith was in the lead column. Two submarines surfaced right ahead of us. Two destroyers lit up the sky with flares, and there was a terrific gun duel. A sub and a destroyer were sunk. The other U-boat crash-dived and may have escaped, but many depth charges were dropped in patterns which covered the area."
To quote the story of Radio Operator Provost:
"We were traveling in a convoy of about 60 ships with perhaps 10 escorts and had reached a point 400 to 500 miles south of Ireland. Several submarines were sighted late one afternoon. I could clearly see a battle between one of the escorting destroyers and a U-boat. The destroyer dropped 10 depth charges in succession. He must have scored a hit because black oil came up and finally the submarine partly surfaced. It was hit by shellfire and soon sank. About half a mile away, another destroyer was fighting off U-boats."
In 1944 the G. Harrison Smith was in the Pacific. Loading 122,461 barrels of fuel oil at Curacao, she sailed Decem-ber 26, 1943 for Noumea, New Caledonia, arriving February 24, 1944,
The Esso tanker, on her next voyage, loaded at Aruba 124,129 barrels of special Navy fuel and sailed April 2, 1944. Her first call was at Espiritu Santo, New Hebrides, May 10 to 12, where she took on a deck cargo of 499 drums of lubricating oil in addition to fuel and fresh water. Both bulk and deck cargoes were discharged at Tulagi, Solomon Islands, May 15 to 19 - the fuel oil into Navy barges YO 146, 162, and 164. Four servicemen came aboard at Tulagi for passage to the States.
"Can Do"—And Did
Chief Engineer Enstrom described his impressions of Tulagi:
"We saw the foxholes and caves along the shore above the beach. About 50 feet from the waterline were steel poles erected by the Japanese for barbed wire entanglements.
"The Seabees are justly famous for the efficiency and speed of their work. Their apt slogan is 'Can do.' Largely a group of specialists, most of them had been trained in their jobs long before entering the service. As at Noumea, they had built very sturdy and useful docks in a short time. Roads were laid almost before the enemy was routed.
"Tulagi was taken by the Marines in the assault which began August 7, 1942, the same day they landed on Guadal-canal. At the time of the visit of the G. Harrison Smith in 1944, the fighting in the Pacific had moved north, but the Japs were still active in the Solomons."
As Captain Anderson reported, "There were several air raid alerts and a submarine had sunk a merchant vessel about three weeks before our arrival at Guadalcanal."
Following a voyage from Curacao to New York with fuel oil, the G. Harrison Smith left Curacao with another cargo, 126,826 barrels of Navy fuel, again for Tulagi, where she arrived September 16. , The tanker next loaded at Balboa 129,266 barrels of fuel oil plus four 72 foot Navy fuel boats as deck cargo. Sailing October 30, 1944, the G. Harrison Smith stopped at Finschhafen for orders and then proceeded to Manus, Admiralty Islands, arriving December 8.
Quoting Captain Anderson's account:
"One night we were south of Rabaul, New Britain. At 2 a.m. we received orders from the Navy to proceed to Finsch-hafen. Soon afterward an airplane signaled 'Unidentified ship not answering signal. Am dropping flares.' We believ-ed the vessel to be a Japanese destroyer, although we were out of range and could not see it. Japanese warships were still operating from Rabaul.
At Manus
"There is a huge Navy harbor at Manus. We saw a convoy of over 100 ships leave there for the reinforcement of Leyte. We also saw many large American cruisers and some cruisers of the Australian Navy."
The first Leyte landings had been made October 20, 1944 and the Battle for Leyte Gulf was fought October 23 to 26.
At Manus the G. Harrison Smith discharged part of her cargo into Navy oilers and the remainder ashore. The four Navy fuel boats were also unloaded there.
Leaving Manus December 15, 1944, the vessel returned to the Atlantic, where she served until the end of the war.
On May 8, 1945 the ship's company celebrated V-E Day in Liverpool.
Sailing May 17, the G. Harrison Smith was in the last westbound North Atlantic convoy. The formation of about 76 ships encountered unusually dense fog and icebergs, May 27 and 28, on the Grand Banks.
21 Collision Reports in 10 Minutes
Chief Radio Operator Nils O. Gjerde, in an interview for this history, told of his experience on the G. Harrison Smith while in this convoy; Captain Anderson was still in command of the vessel.
"I went on fog watch," he said, "at 3:15 p.m., on May 27, 1945. Soon afterward the fog closed in so densely that no other ship could be seen. Officers on the bridge said they could not distinguish our own mast. At about 4:20 p.m., by radio, the commodore commanded: 'All vessels turn 90° to port.' We learned later that this was done to avoid ice-bergs.
"About 5 minutes after this order was received, I got a message from the commodore ship stating that she had col-lided with another vessel. From then on, messages came in very rapidly. I counted 21 collision reports. Second Radio Operator Wendall K. Ferguson was kept busy relaying them to the bridge. It all happened within 10 minutes.
"The commodore ship, the Norwegian freighter Varanger, was so badly hit that she dropped out of the convoy and another vessel took over her duty. The new commodore ordered 'All vessels stop.' We soon received instructions: 'Go dead slow at course 90° and be prepared to stop at once.' In the meanwhile, ships that had had no chance to report collisions sent in messages. The next command was: 'Steer course 180° at half speed.' We kept on this course and speed until about noon the next day - May 28.
Convoy Passed in the Night
"On the night of May 27, the G. Harrison Smith received -word that an eastbound convoy would pass; we were noti-fied of its intended course. The weather cleared somewhat and we saw it in the distance, late at night.
"At noon of the 28th our convoy reformed in columns and lines. The signaling was done by blinker lights and flags; we were ordered to stop using the radio. The formation took a course that brought us close to Halifax, where some of the ships left us. Later, other vessels went to various ports in Canada, Maine, and Massachusetts; but the G. Har-rison Smith proceeded to New York, arriving Sunday afternoon, June 3, 1945.
"It was said to be the last Atlantic convoy of the war. In spite of all the collisions, no vessel was lost and there wa's no loss of life. Many of the ships carried troops - as many as 350 each - and some had passengers, including women and children."
The transportation record of the G. Harrison Smith in World War II—from September 3, 1939 to September 2, 1945 - was in summary as follows:
| | | |
| --- | --- | --- |
| Year | Voyages (Cargoes') | Barrels |
| 1939 | 6 | 834,843 |
| 1940 | 20 | 2,809,612 |
| 1941 | 19 | 2,706,714 |
| 1942 | 11 | 1,511,152 |
| 1943 | 7 | 934,356 |
| 1944 | 5 | 627,031 |
| 1945 | 7 | 911,162 |
| TOTAL | 75 | 10,334,870 |

The SS G. Harrison Smith was built in 1930 by the Federal Shipbuilding and Dry Dock Company at Kearny, N. J. She is a sistership of the W. S. Parish.
A single-screw vessel of 20,615 deadweight tons capacity on international summer draft of 30 feet, 7 1/3 inches, the G. Harrison Smith has an overall length of 543 feet, 7 1/2nches, a length between perpendiculars of 525 feet, a moulded breadth of 74 feet, and a depth moulded of 40 feet, 6 inches. With a cargo carrying capacity of 154,130 barrels, she has an assigned pumping rate of 7,000 barrels an hour.
Her turbine engine, supplied with steam by two water-tube boilers, develops 4,400 shaft horsepower and gives her a classification certified speed of 11.7 knots.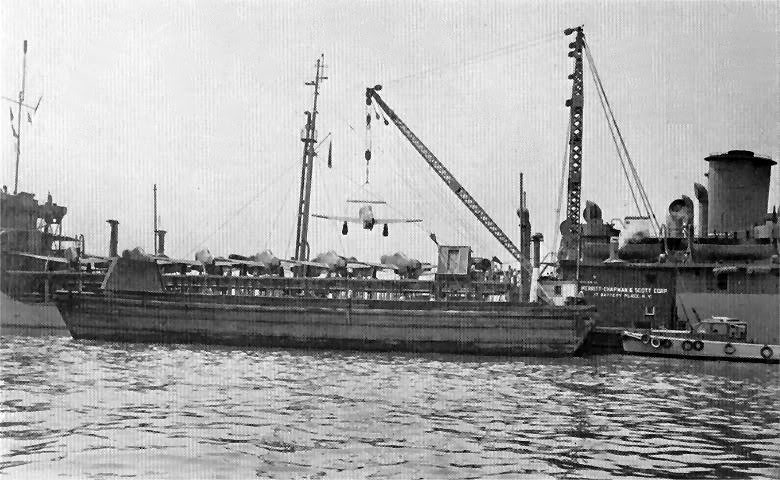 Loading planes and crated parts aboard a tanker in New York Harbor.
In command of the G. Harrison Smith during the war were Captains Roland Whittom, Daniel H. Larsen, August Ran-dall, Chester C. Ballard, Olaf Andersen, John B. Petterson, and Frederick S. Anderson.
During the same period her engineroom was in charge of Chief Engineers James L. Yent, Carl E. Stevens, Travis L. Lumpkin, Charles J. Fox, Ernest G. Bornheimer, Harold O. Laffitte, John T. Anderson, William M. Strang, and Emil Enstrom.
Chief Engineer Carl E. Stevens, who died in Santa Rosa, California, on August 10, 1944, joined the Company as a chief engineer on November 24, 1919. He was regularly assigned to the G. Harrison Smith for ten and a half years, from the day of the vessel's delivery, October 3, 1930, until April 28, 1941.
Printed below are the letters written by Admiral H. R. Stark, USN, and Admiral F. J. Home, USN, commending the performance of the G. Harrison Smith at Liverpool and Belfast in August, 1943:
UNITED STATES FLEET
United States Naval Forces in Europe
20 Grosvenor Square
London, W. 1
August 16, 1943
Dear Captain Anderson:
It has been reported to me that an excellent turnaround was achieved with the SS G. Harrison Smith in Liverpool and Belfast during the period from August 6 to August 8, 1943.
I am told that had it not been for the full cooperation of yourself, your officers, and crew, the oil and deck cargo on your ship could not have been discharged in the limited time available and a delay of 7 days would have ensued.
You deliver oil to theaters of war. That oil enables naval ships, planes, and men to deliver their blows against the enemy. Your effort and their effort are extremely important positions on the team, and it is team play that counts most in this total war.
I commend you, your officers, and the crew of the SS G. Harrison Smith on this excellent performance which has re-sulted in turning your ship around in record time.
I would appreciate it if you would convey a
---- "WELL DONE"---
for me to all hands.
Sincerely yours,
H. R. STARK
Admiral, USN
Captain F. S. Anderson
Master of SS G. Harrison Smith
NAVY DEPARTMENT
Office of the Chief of Naval Operations
Washington
24 August 1943
From: Vice Chief of Naval Operations
To: The Master, Officers, and Crew of the Tanker SS G. Harrison Smith
Via: The Administration, War Shipping Administration
Subj.: Tanker Turnaround in United Kingdom
1. The exceptional performance of the tanker SS G. Harrison Smith while discharging in United Kingdom ports re-cently has been brought to the attention of the Navy Department.
2. It is noted that your vessel, after lightering 2,000 tons of bulk petroleum cargo in the stream, docked at a pier near-by and discharged the balance of bulk cargo, namely 16,000 tons, in approximately 21 hours. Your ship then sailed for a second port of discharge and there unloaded a deck cargo of 21 partially assembled planes and 21 crates of plane parts in approximately 6 hours.
3. The highest credit is given to the wholehearted cooperation and efforts of the vessel's personnel, who gave up their normal shore leave privileges in order that this commendable performance could be accomplished, thereby permitting the vessel to sail in a returning convoy days ahead of that thought possible. This accomplishment shows most clearly that you realize and are giving effect to the importance of prompt turnaround as being the equivalent of having additional ships in service.
4. It is with pleasure that I am requesting the War Shipping Administration to send a copy of this letter to the owners (Standard Oil Company of New Jersey) of your fine ship, because I know that they will share my feeling of pride in the job you have done and are doing.
5. In behalf of the Navy Department, I welcome this opportunity to express my appreciation and commendation for your accomplishment, which may well serve as an ideal of morale and spirit for the U. S. Merchant Marine in the per-formance of their important duties in contributing to winning the war. I am sure that I can find no better expression than that used by the U. S. Navy---'Well Done."
F. J. HORNE
Admiral, USN
In connection with quick turnarounds in port, of which several examples have been given in this chapter, a full share of credit is due the tanker expediter program. About the middle of 1942, with the approval of the War Shipping Ad-ministration, the U. S. Navy, and the British Ministry of War Transport, this program was initiated with the dispatch to the United Kingdom of four men experienced in the operation
and repair of tankers. Of the forty-two tanker experts who served as expediters, twenty-six were furnished by the Company.
Stationed in fourteen strategic areas, these men, mainly former masters and chief engineers, rendered invaluable aid in reducing to a minimum the time spent by tankers in many important discharge ports. Frequently they worked under hazardous conditions, close to enemy lines, and subject to bombing attacks. Their accomplishments earned high praise from American and British government and military officials.
Following is a list of the men supplied by the Company, the areas in which they were stationed, and their periods of service:
Tanker Expediters :
| | | | |
| --- | --- | --- | --- |
| Andrew C. Thompson | In charge of the United Kingdom Group | United Kingdom | 7/27/42 - 8/2/45 |
| Harry A. Marsh | | United Kingdom | 7/27/42 - 7/25/45 |
| Clarence R. Marks | | United Kingdom | 7/27/42 - 7/5 /45 |
| Raymond W. Catlette | | United Kingdom | 7/27/42 - 9/10/45 |
| Herbert G. Lambert | | United Kingdom | 9/1/43 - 9/10/45 |
| Roy A. Anderson | | United Kingdom and Casablanca | 3/28/44 - 8/1/45 |
| Alfred C. Steinmuller | In charge of the Mediterranean Group | Mediterranean | 5/17/43 - 8/22/45 |
| Patrick J, Reidy | | Mediterranean and Casablanca | 5/17/43 - 7/30/45 |
| Jackson B. Springs | | Mediterranean | 6/16/43 - 6/15/45 |
| Harold O. Laffitte | | Mediterranean | 5/17/43 - 4/12/45 |
| Myles C. Keller | | Mediterranean | 5/1/44 - 8/23/45 |
| Hilding Johnson | | Mediterranean | 8/1/44 - 8/23/45 |
| Maurice T. A. Belhumeur | | Middle East | 1/6/44 - 11/30/45 |
| Myles M. Bylsma | | Trinidad | 5/17/43-9/24/45 |
| Jose F. Pontes | | Brazil | 5/16/44 - 10/9/45 |
| Perry C. Sisler | | Trinidad and Mediterranean | 10/19/42 - 4/23/44 |
| John D. Rogers | | Panama Canal | 6/12/44 - 5/4/45 |
| John W. Woodward | In charge of the Panama Canal and Curaçao | Panama Canal | 3/30/45 - 12/16/45 |
| Verona J. Carey | | Panama Canal | 8/26/44 - 12/20/44 |
| Alexander N. Colonna | | Panama Canal | 8/23/45 - 12/20/45 |
| DeWitt A. Hodges | | Panama Canal | 6/16/44 - 12/2/45 |
| John T. Kirk, Jr. | | Panama Canal | 1/18/45 - 12/11/45 |
| Waltice L. Rhodes | | Panama Canal | 5/4/44 - 11/30/45 |
| Hugh E. White | | Panama Canal | 11/22/44 - 12/6/45 |
| James A. Woodham | | Panama Canal | 6/1/43 - 12/20/45 |
| Henry R. Clements | | Curaçao | 11/1/44 - 12/10/45 |