Auke Visser's International Esso Tankers site
|
home




Perfection - (1911-1925)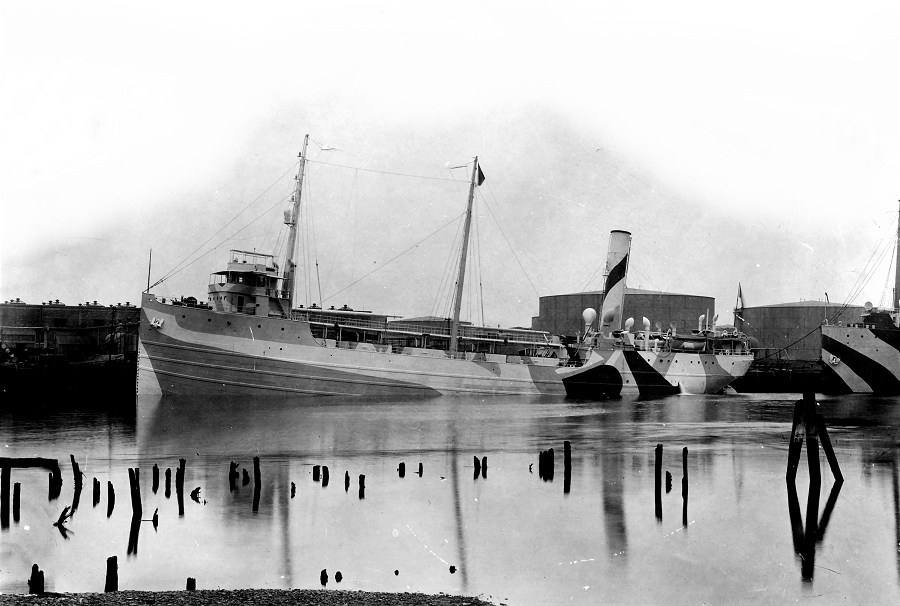 "Perfection" of the Emergency Fleet Corp.
( Photo Copyright NARA, thanks to Aryeh Wetherhorn )
About the Ship
Built by American Ship Building Company, Cleveland, Ohio, 1911. 2,309 gross tons; 250 (bp) feet long; 43 feet wide.
Steam Triple Expansion engines, single screw. Service speed 9.5 knots. Tanker. US registration 208989. Crew of 28.
Ship History
Built for Standard Oil of New Jersey, American flag, in 1911 and named Perfection.
Tampico to New York tanker service.
Sold in 1925 and renamed Bulko. Tankers Corp.
Sold in 1927 and renamed C.B. Watson. Sabine Towing Co.
Sold in 1936 and renamed Giuseppe Ercoli. G. Negri.
Sold to Italian owners, in 1939 and renamed Albaro. N&C Italiana Line.
Scuttled at Leghorn in 1944.
The Miramar Ship Index for "PERFECTION"
| | | | |
| --- | --- | --- | --- |
| IDNo: | 2208989 | Year: | 1911 |
| Name: | PERFECTION | Keel: | |
| Type: | Tanker | Launch Date: | |
| Flag: | USA | Date of completion: | 07.1911 |

Tons:

2309

Link:

-

DWT:

Yard No:

451

Length overall:

Ship Design:

LPP:

76.2

Country of build:

USA

Beam:

13.1

Builder:

American SB Co.

Material of build:

Location of yard:

Cleveland

Number of screws/Mchy/Speed(kn):

1T-9.5

Subsequent History:
1925 BULKO - 1927 C.B. WATSON - 1936 GIUSEPPE ERCOLI -
1939 ALBARO
Disposal Data:
Scuttled Leghorn 13.02.1944, raised & scrapped
History :
| | | | | | | | |
| --- | --- | --- | --- | --- | --- | --- | --- |
| ON | LR/IMO | ID | Year | Name | Tons | Change | Registered Owner |
| 208989 | | 2208989 | 1911 | PERFECTION | 2309 | | Standard Oil Co. |
| 208989 | | 2208989 | 1911 | PERFECTION | 2309 | 1913 | Standard Oil Co of New York |
| 208989 | | 2208989 | 1911 | PERFECTION | 2309 | 1917 | Standard Tptn Co. |
| 208989 | | 2208989 | 1911 | PERFECTION | 2309 | 1919 | Standard Oil Co of New York |
| 208989 | | 2208989 | 1911 | PERFECTION | 2309 | 1923 | Standard Tptn Co. |
| 208989 | | 2208989 | 1911 | BULKO | 2309 | 1925 | Bulko SS Corp. |
| 208989 | | 2208989 | 1911 | BULKO | 2309 | 1927 | Kobul SS Corp. |
| 208989 | | 2208989 | 1911 | C.B. WATSON | 2309 | 1927 | Sabine Towing Co Inc. |
| 208989 | | 2208989 | 1911 | C.B. WATSON | 2309 | 1931 | Sabine Tptn Co Inc. |
| 165 | | 2208989 | 1911 | GIUSEPPE ERCOLI | 2309 | 1936a | Giuseppe Negri |
| 165 | | 2208989 | 1911 | GIUSEPPE ERCOLI | 2309 | 1936b | SA Italiana Petroli e Derivati |
| 2248 | | 2208989 | 1911 | ALBARO | 2309 | 1939 | Nav & Commercio SA Italiana |