Auke Visser's International Esso Tankers site
|
home




Esso Pelham - (1960-1973)

Build in 1960 as "Esso Pelham" renamed in 1973 as "Exxon Pelham" and sold in 1989 as,"M.P.T. Pelham",
in 1994 as "Little Joe", in ?? as "Tucana".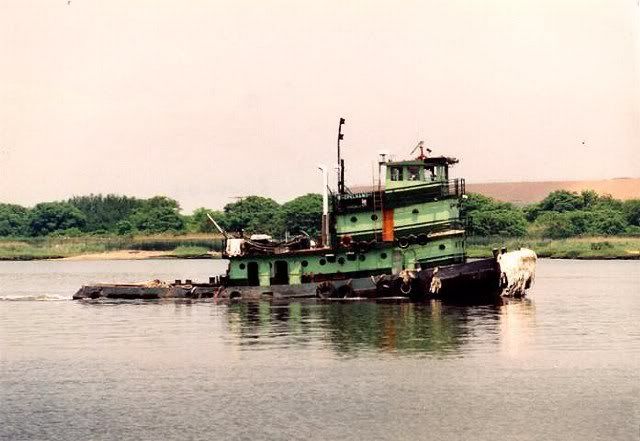 "Esso Pelham" as seen here as, "M.P.T. Pelham".
"Tucana", ex. "Exxon Pelham", ex. "Esso Pelham".
"Esso Pelham"
Built in 1960, by Southern Shipbuilding of Slidell, Louisiana (hull #29) as the Esso Pelham for Esso Shipping.
In 1973, she was acquired by Exxon Shipping where she was renamed as the Exxon Pelham.
In 1989, the tug was sold and renamed as the M.P.T. Pelham.
In 1994, she was sold again and renamed as the Little Joe.
The tug was later acquired by Constellation Maritime of Boston, Massachusetts where she was renamed as the Tucana.
For a period of time, the tug was on charter to Wilmington Tug of New Castle, Delaware under her name.
In 2006, Constellation Maritime was acquired by Foss Maritime where the tug retained her name.
Powered by two 16-149 TI diesel engines with Twin Disc MG540 reduction gears at a ratio of 7:1 for a rated 3,000 horsepower.
Her electrical service is provided by two 60 Kw generators.
The tug's capacities are 10,016 gallons of fuel oil, 275 gallons of lube oil and 800 gallons of water.

Vessel Name: TUCANA
USCG Doc. No.: 282380
Vessel Service: TOWING VESSEL
IMO Number: 5108182
Trade Indicator: Coastwise Unrestricted, Registry
Call Sign: WDD3620
Hull Material: STEEL
Hull Number: 29
Ship Builder: SOUTHERN SHIPBUILDING CORP.
Year Built: 1960
Length: 80.4
Hailing Port: WILMINGTON, DE.
Hull Depth: 9.3
Hull Breadth: 26.2
Gross Tonnage: 175
Net Tonnage: 119
Owner:
CONSTELLATION MARITIME COMPANY
Previous Vessel Names:
Esso Pelham, EXXON PELHAM, M.P.T. PELHAM, Little Joe
Previous Vessel Owners:
Esso Shipping, Exxon Shipping, TUCANA TUG CORPORATION, CONSTELLATION MARITIME COMPANY
| | | | | | | | | | |
| --- | --- | --- | --- | --- | --- | --- | --- | --- | --- |
| Name | O/N | Rig | Length | Width | HP | Built Year | Built At | Builder | Home Port |
| LITTLE JOE | 0282380 | | 80.4 | 26.2 | 3600 | 1960 | Slidell, La | Southern Shipbuilding Corp. | New York, NY |