Auke Visser's International Esso Tankers site
|
home




Glenpool - (1915-1945)

SS "Glenpool".

"Glenpool", ex. "Hagen", November 28th, 1941.
( Photo US Coast Guard )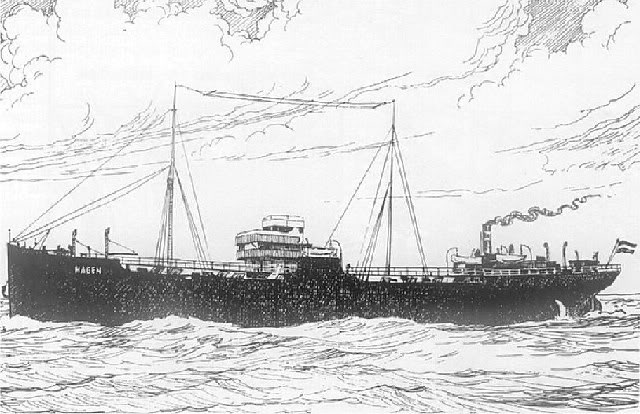 "Hagen" was build in 1913 for the DAPG and was laid up in NewYork in 1914.
Taken over by Standard Oil Co. New Jersey in 1915 as "Glenpool".
About the Ship
Built by Fried. Krupp A.G. , Kiel, Germany, 1913. 5,460 gross tons; 400 (bp) feet long; 53 feet wide.
Compound engines, twin screw. Service speed 9.5 knots. Tanker, yard hull 186, USA registration 213369.
Ship History
Built for Deutsch Amerik. Petroleum Ges., Germany flag, in 1913 and named Hagen. Germany service.
Sold to Standard Oil of New Jersey, American flag, in 1915 and renamed Glenpool. Mexican, Puerto Rico
ports to New York and other US ports service. Returned to the US War Ship Administration in 1945.
Broken up at New Orleans when purchased by Purdy Company in 1947.
Drawing by Karl-Heinz Schwadtke.
"Hagen".
Additional Info by Starke & Schell Registers :
1913 - HAGEN GE, 2M (aft), (9½)
5,460 GRT for Deutsch. - Amerik. Petroleum Ges., Hamburg, 400.0 x 53.2
Tanker built by Fried. Krupp A.G., Kiel (3) #186
at New York, August 1914, transferred to U.S. flag
1915 - GLENPOOL, Standard Oil Co. (New Jersey), Bayonne, USA 213369
1919 - converted to steamship, 2T (10½ kn)
1927 - Standard Shipping Co., Wilmington, Del.
1935 - Standard Oil Co. of New Jersey, Wilmington, Del.
1945 - U. S. War Shipping Administration / U. S. Maritime Commission, Wilmington, Del.
Sold to Purdy Company and broken up at New Orleans 1947 by New Orleans Shipbreaking Co.,
work began 11.08.1947.
The Miramar Ship Index for "HAGEN"
| | | | |
| --- | --- | --- | --- |
| IDNo: | 2213369 | Year: | 1913 |
| Name: | HAGEN | Keel: | |
| Type: | Tanker | Launch Date: | |
| Flag: | DEU | Date of completion: | 03.1913 |

| | | | |
| --- | --- | --- | --- |
| Tons: | 5460 | Link: | - |
| DWT: | 8370 | Yard No: | 186 |
| Length overall: | | Ship Design: | |
| LPP: | 121.9 | Country of build: | DEU |
| Beam: | 16.2 | Builder: | Krupp Germania |
| Material of build: | | Location of yard: | Kiel |
| Number of screws/Mchy/Speed(kn): | 2D-9.5 | | |

Subsequent History:
1915 GLENPOOL -
[ 1919 reengined 2 Steam Triple 101/2 ]
Disposal Data:
Scrapped at New Orleans 11.08.1947. [ By New Orleans Shibreaking Co. ]
History:
| | | | | | | | |
| --- | --- | --- | --- | --- | --- | --- | --- |
| ON | LR/IMO | ID | Year | Name | Tons | Change | Registered Owner |
| | | 2213369 | 1913 | HAGEN | 5460 | | Deutsch-Amerikanische Petroleum Ges. |
| | | 2213369 | 1913 | HAGEN | 5460 | 1914 | Deutsch-Amerikanische Petroleum Ges. |
| 213369 | | 2213369 | 1913 | GLENPOOL | 5460 | 1915 | Standard Oil Co of New Jersey |
| 213369 | | 2213369 | 1913 | GLENPOOL | 5460 | 1927 | Standard Sg Co. |
| 213369 | | 2213369 | 1913 | GLENPOOL | 5460 | 1935 | Standard Oil Co of New Jersey Inc. |
| 213369 | | 2213369 | 1913 | GLENPOOL | 5460 | 1945 | U.S. Govt. |