Auke Visser's MOBIL Tankers & Tugs Site
|
home

Socony 14 - (1918-1939)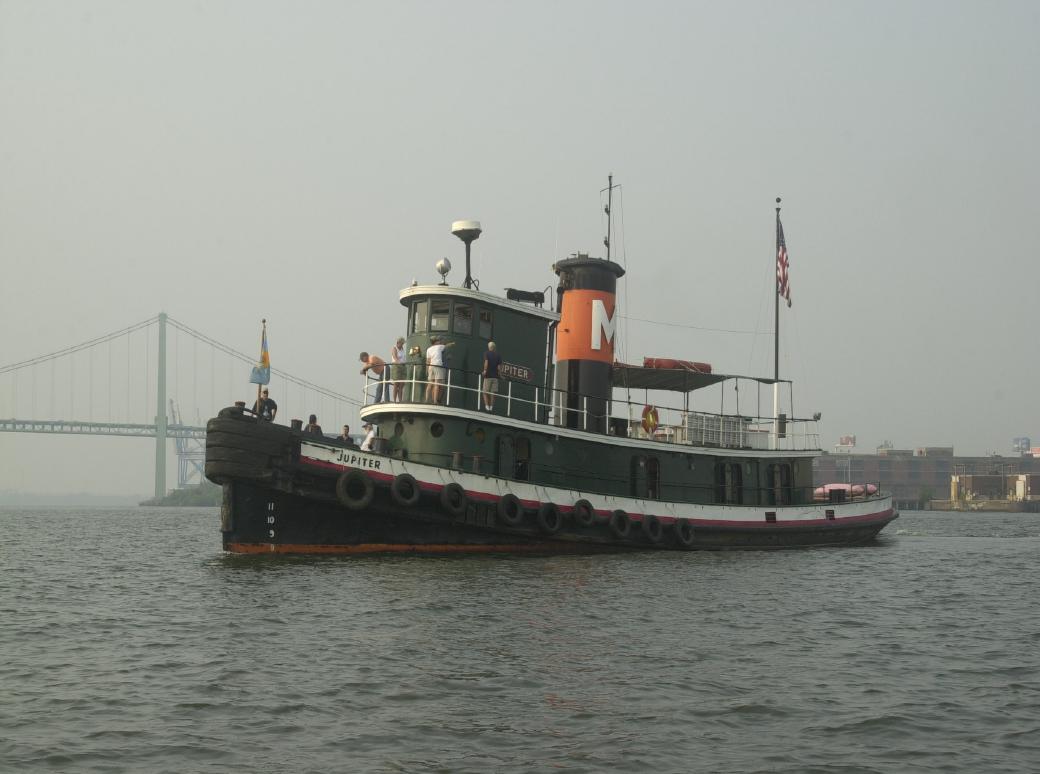 Length: 101 ft. overall
Beam: 22 ft.
Draft: 9 ft. 4 in.
Tonnage:147 gross tons
The tug "Jupiter" was built in the Philadelphia shipyard of Neafie and Levy in 1902. Built of out charcoal iron, she was made for the
Standard Oil Company and christened "Socony 14". From 1902 to 1939, she was in service in New York, towing Standard Oil fuel
ships and barges. In 1939, she was purchased by Independent Pier Company to work in Philadelphia. After World War II, she was
converted from a steam tug to diesel, using the salvaged engine from a decommissioned Landing Ship Tank (LST).
In 1999, the "Jupiter" was purchased by Penn's Landing and turned over to the care of the Philadelphia Ship Preservation Guild.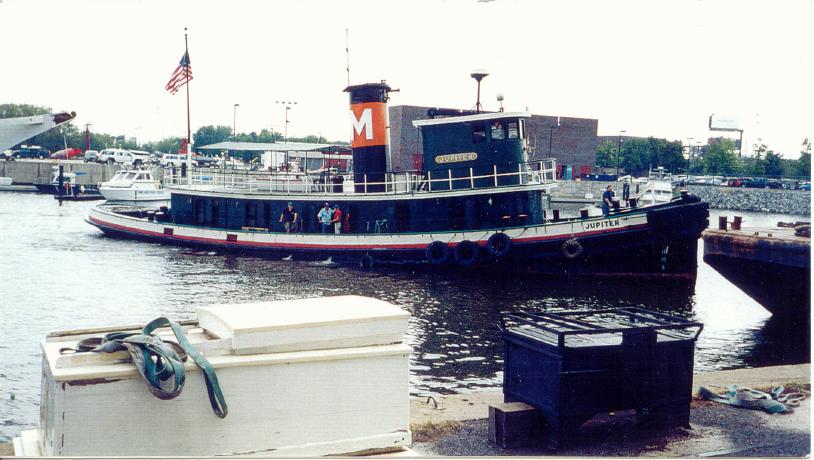 Currently, she takes part in educational programs, festivals, and boat parades. "Jupiter" is also used as a functioning tug, moving
the Ship Guild's other vessels. The operation and maintenance is performed by a volunteer group of active and retired tugboat
professionals and enthusiasts.
"Jupiter" is moored at the north end of Penn's Landing, next to the Guild's barge just upriver from the Gazela.
"Jupiter" and the "United States" in the back ground.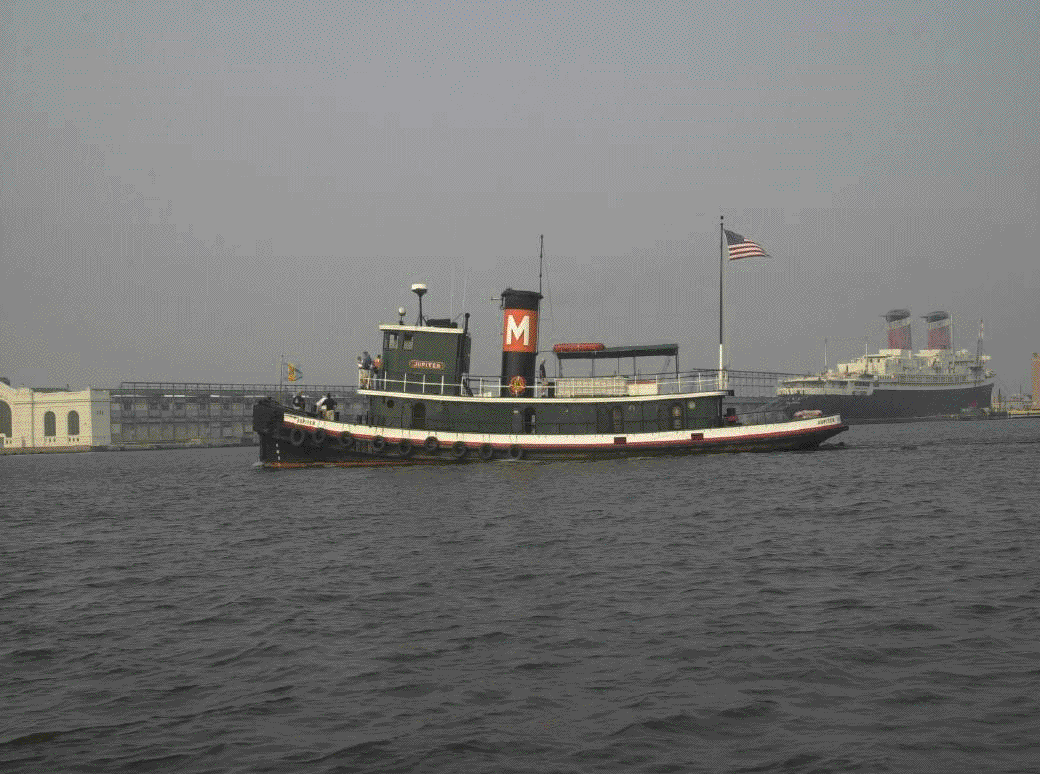 ( All photos thanks to the Jupiter rickards project )
Below some more photos of the "Jupiter".
"Jupiter" ex. "Socony 14".
"Jupiter" ex. "Socony 14".
S.T. CO. No 14
Registered: LR25-26: 33558 /(USA)ON 117219
164 GRT, 111 NRT, (91'0"x22'0"x9'4")
steel, 1 scr, C2cyl by shipbuilder, 42nhp
refit 1949 diesel, 1080bhp
S.T. CO. No 14
1902: Built by "Neafie & Levy S. & E. Co" at Philadelphia
1902: delivered to "Standard Oil Co." at New York
19xx: renamed S.O. CO. No 14
19xx: To "Standard Transportation Co Inc" at New York, renamed SOCONY 14
(USA flag, ON 117219, c/s KSFL)
1939: To "Independent Pier Co." at Philadelphia, renamed JUPITER
1949: refit diesel 1080bhp by "Spedding Shipyard" at Baltimore, engines taken from ex-WW2 LST's
1980: To "Eastern Towing Co" at Boston
1989: for preservation to "PSPG - Philadelphia Ship Preservation Guild"
19xx: To "Penn's Landing Corp" at Philadelphia, maintained by the Guild
2003: actually used for exhibit and towing exhibit vessels.
Fate Unknown.
The Miramar Ship Index for "S.O. Co. No. 14"
| | | | |
| --- | --- | --- | --- |
| IDNo: | 2117219 | Year: | 1902 |
| Name: | S.O. Co. No. 14 | Keel: | |
| Type: | Tug | Launch Date: | |
| Flag: | USA | Date of completion: | 12.1902 |
Tons:

141

Link:

-

DWT:

0

Yard No:

Length overall:

30.8

Ship Design:

LPP:

27.7

Country of build:

USA

Beam:

6.7

Builder:

Neafie & Levy

Material of build:

Location of yard:

Philadelphia

Number of screws/Mchy/Speed(kn):

1C-
Subsequent History:
1915 S.T.Co.No.14 - 1918 SOCONY 14 -
1939 JUPITER
Disposal Data:
Fate Unknown.
History:
| | | | | | | | |
| --- | --- | --- | --- | --- | --- | --- | --- |
| ON | LR/IMO | ID | Year | Name | Tons | Change | Registered Owner |
| 117219 | | 2117219 | 1902 | S.O. Co. No. 14 | 141 | | Standard Oil Co. |
| 117219 | | 2117219 | 1902 | S.T. Co. No. 14 | 141 | 1915 | Standard Transp Co Inc. |
| 117219 | | 2117219 | 1902 | SOCONY 14 | 141 | 1918 | Socony Vacuum Co. |
| 117219 | | 2117219 | 1902 | JUPITER | 141 | 1939 | Independent Pier Co. |