Auke Visser's MOBIL Tankers & Tugs Site
|
home

Poughkeepsie Socony - (1934-1962)
Launching of the "Poughkeepsie Socony".
From : PACIFIC MARINE REVIEW Volume 31, SEPTEMBER. 1934
LARGEST ALL-WELDED MERCHANT VESSEL
With the launching of the Motor Tanker Poughkeepsie Socony on August 3rd, at the Staten Island Plant of United Dry Docks, Inc., the American merchant marine witnessed perhaps the most significant challenge of half a century to ships of less modern design. This vessel, one of the initial units in the Soeony-Vacuum Oil Company's $5,000,000 shipbuilding program, is the largest all-welded merchant vessel ever built in the United States and probably in the world.
The new vessel was christened, in the presence of a distinguished company of officials, naval architects and other guests, by Miss Elizabeth M. Sheets, daughter of Harold F. Sheets of Montclair, N.J., a director of the Socony-Vacuum Oil Company and a member of its Executive Committee.
Nicholas J. Pluymert, Socony- Vacuum naval architect, today declared his conviction that the introduction of the electrically-welded ship into these larger categories offers the most drastic challenge in their history to the older type riveted vessel.
The company's shipbuilding program, in which three new vessels have been added to the fleet in the last few weeks and still more are to come, represents some $5,000,000 additional investment in the growing volume of the corporation's business.
Poughkeepsie Socony is a tanker of typical Socony-Vacuum "canal" characteristics; she is of 1242 gross
tons, 260 feet long overall, with 40 foot beam and 14 foot depth. Her cargo capacity is 712,500 gallons and, in addition, she carries some 300 barrels of bunker fuel. Her power plant consists of two diesel engines of air-injection type, aggregating 750 brake horse power and driving twin screws. For facility in maneuvering the confined spaces of the New York State Barge Canal, she is equipped with twin rudders. The ship has normal speed of about 10 knots and carries a crew of eighteen officers and men.
This latest addition to the great Socony-Vacuum fleet, which has more vessels than any fleet in the United States and ranks third in gross tonnage, will transport Socony gasoline in the Canal-Great Lakes trade whe-re, in normal transit, she will be called upon to pass through locks perhaps 2600 times in a single year.
Build as "Poughkeepsie Socony" in 1934 she became "Mobil New York" in 1962.
In 1970 she became "Captain Sam".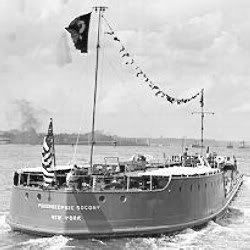 "Poughkeepsie Socony".
The "Captain Sam", was purchased in 2000 or there abouts, after a 10+ year lay up by Poling & Cutler and renamed
"Kristen Poling" and ran her up until 2011.
( Photo thanks to CptTnk Bobby )
"Poughkeepsie Socony", seen her as "Kirsten Poling".
( Photo thanks to CptTnk Bobby )
"Poughkeepsie Socony", seen her as "Kirsten Poling".
IMO number: 5238286
Name of ship: CAPTAIN SAM
Call Sign: WC2637
Nett tonnage: 1033
Gross tonnage: 1546
Deadweigt tonnage: 2717
Measurements: ?/85.96/12.25/5.36/4.277 meters
Type of ship: Oil Products Tanker
Engine: Diesel engine 1588 HP
Year of build: 1934
Builder: United P. Richmond
History of ship: Poughkeepsie Socony-1962; Mobil New York-?
Flag: U.S.A.
Status of ship: In Service
Registered owner: POLING BROS. NO. 11
Address: 3165, Richmond Terrace, Staten Island NY UNITED STATES OF AMERICA
Additional information :
Registry & Rig Information

Vessel Name:

POUGHKEEPSIE SOCONY

Nationality

U.S.

Official Number:

233433

Rig:

Propeller
Dimensions & Tonnage

Vessel Length:

251.25

Gross Tonnage:

1235.00

Vessel Width:

40.00

Net Tonnage:

772.00

Vessel Height

12.58

Hull Material:

Steel

Masts:

Hull Number:

00824
Builder Information

Place of Build:

Mariners Harbor, NY

Builder:

United Dry Docks, Inc.

Date of Build

1934
Name Changes

Vessel Name:

Date:

Registry

Official #

MOBIL NEW YORK

1962 - 1970

U.S.

233433

CAPTAIN SAM

1971

U.S.

233433
Ownership Changes

Owner Name

Date

Registry

Official #

Socony-Vacuum Oil Co., Inc.

New York, NY U.S.

1934 - 1955

U.S.

233433

Socony Mobil Oil Co., Inc.

New York, NY U.S.

1955 - 1966

U.S.

233433

Mobil Oil Corp.

New York, NY U.S.

1966 - 1971

U.S.

233433

Motor Vessel Poling Bros. No. 11, Inc.

New York, NY U.S.

1971

U.S.

233433
Rebuild History
Lengthened by Avondale Marine Ways, Inc., Avondale, LA, in 1957 (281.33 x 40 x 17.16; 1546 gross - 1033 net).
Disposition
Out of documentation.