Auke Visser's MOBIL Tankers & Tugs Site
|
home

Porthos (2) - (1971-1979)
"Porthos (2)".
Build as "SAN GIUSTO" for Armatrice Santa Cristina SpA, Italy. Became in 1972 "PORTHOS" in 1979 as "MOBIL RAVEN".
Laid up Labuan, Indonesia after one voyage Jan 1980. Scrapped Jan 1982.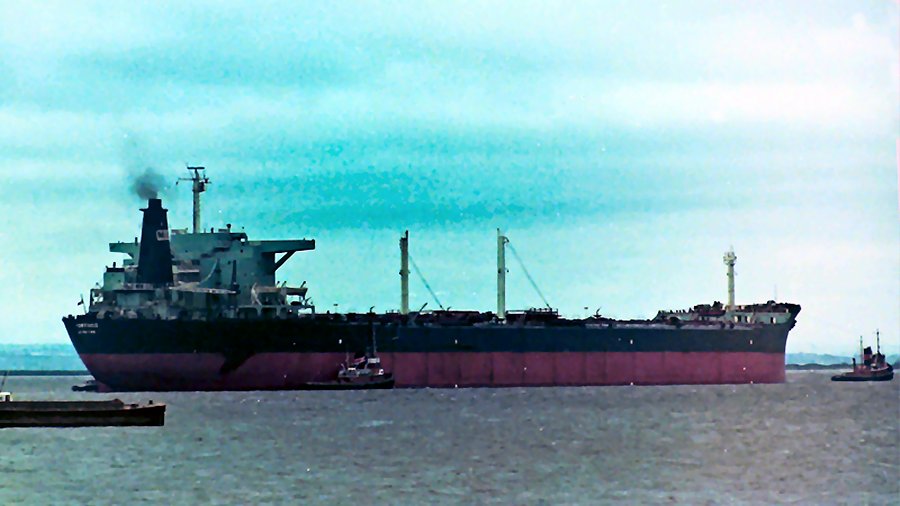 "Porthos (2)" coming into Coryton, Essex.
Mobil Raven
LOA 329.73 m Beam 48.75 m Draught 19.908 m ex PORTHOS 1979 231 ,135 SDWT
Built 1971 in Monfalcone by Italcantieri SpA, Italy, powered by a Stal-Laval AP turbine unit Which incorporated an epicyclic gear box, developing 35,75OHP. Transferred from Mobil Oil Frangaise to Mobil Overseas Shipping Company in September 1979 when her name was changed from PORTHOS to MOBIL RAVEN. She made one voyage and was then laid up at Labuan, Indonesia, in January 1980.
She was eventually sold to breakers "As is, Where is" in January 1982.
The Miramar Ship Index for

SAN GIUSTO

IDNo / IMO

7030559

Year

1971

Name

SAN GIUSTO

Flag

ITA

Owner

Armatrice Santa Cristina SpA

Type

Tanker

Tons

115926

DWT

231135

LOA

329,70

LPP

312,90

Beam

48,80

Dept

25,51

Draft

19,91

Machinery

1ST-16

kW

26670

ShipDesign

VLCC

Builder

Italcantieri

Yard

Monfalcone

Yard No

4232

Country built

ITA

Keel

17.09.1969

Launch

15.09.1970

Completed

01.04.1971

Subsequent History

1972 PORTHOS - Mobil Oil Francaise

1979 MOBIL RAVEN - Mobil Oil Overseas Sg., Co., Ltd.

End

1982

Disposal Data

Scrapped at Kaohsiung 11.03.1982