Auke Visser's MOBIL Tankers & Tugs Site
|
home

Al Nisr Al Arabi - (1985-1993)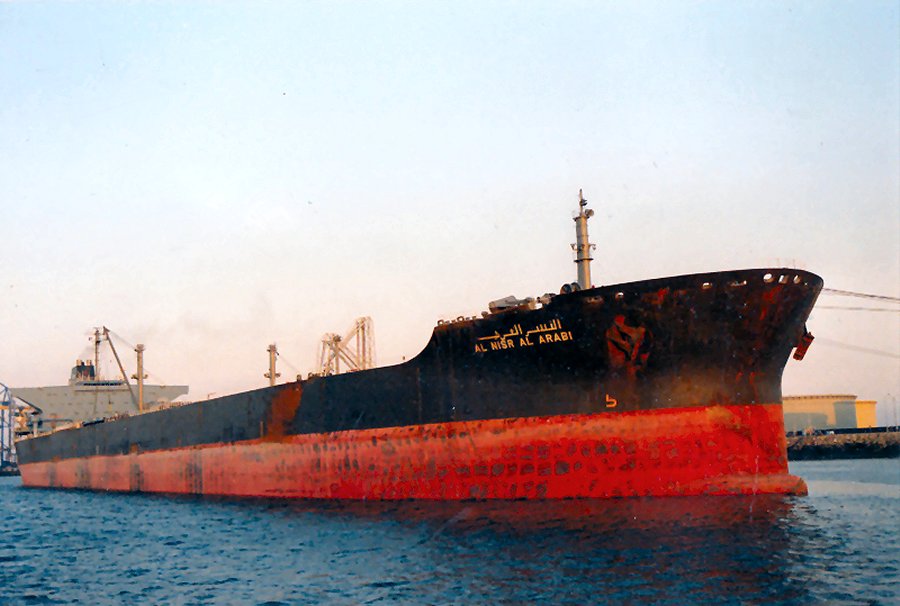 "Al Nisr Al Arabi", ex. "Mobil Eagle (1)" at Rotterdam, May 1st, 1988.
"Al Nisr Al Arabi" was built as "Falco" in 1976, renamed as "Mobil Eagle", until renamed again in 1996.
( Photo by Julian Lelliott )
"Al Nisr Al Arabi".
( Photo by Julian Lelliott )
"Al Nisr Al Arabi".
"Al Nisr Al Arabi".
"Al Nisr Al Arabi".
( Photo Copyright Pieter Melissen )
MS AI Nisr AI Arabi, ex Mobil Eagle-1985
LOA 339.55 m Beam 53.5 m Draught 21.73 m, 279,970 SDWT
Built 1976 as Mobil Eagle by Sasebo Shipyard, Sasebo, Japan, for Mobil Shipping and Transportation Company. Originally powered by a steam turbine, this vessel was re-engined between June and September 1979 with two Pielstick 12VPC4 engines which operate through clutches and reduction gearing to drive a single shaft.
In 1978, she took the chief cook off an exploration vessel in the South Atlantic. He was suffering from heart trouble and the vessel took him to within 200 miles of the South African coast where he was lifted ashore by helicopter. The vessel was transferred to Arabian International Maritime Company Limited in January 1985 and renamed Al Nisr Al Arabi.
In May 1986 she was struck by a missile fired from a helicopter while in the Arabian Gulf. The resulting fire in the accommodation was put out and the vessel was diverted to Dubai for repairs.
She broke out of her moorings in Singapore during heavy weather, contacted a pier and then stranded. She was refloated and repaired.
The vessel stranded again in December 1986, at the entrance to Europoort, near Rotterdam, Holland, and refloated 12 hours later with tug assistance. Repairs were effected at Cadiz, Spain.
In May 1991, Al Nisr Al Arabi was transferred back to Mobil Shipping and Transportation Company.
Renamed Falcon in 1996, demolished at Xin Hui in China in 2001.
Name: Falcon
IMO No: 7377373
Ex: Al Nisr Al Arabi-1996, Mobil Eagle-1985
Built: 1976
Type: Tanker
Status: Demolished 06/2001, Xin Hui, China
SubType: Crude
Flag: Marshall Islands
DWT: 284,089
Draft: 21.78
Builder: Sasebo H.I.
GT: 144,264
LOA: 339.55
Owner: Exxon Mobil Corporation
NT: -
Beam: 53.55
Speed/Cons: 15.70/178.00
Class: AB
Depth: 28.02
Engine Type: Steam turbines, ( Rebuild to Diesel propulsion, 2x Pielstick, in 1980, 26480 kW )
Cubic: 330,400
The Miramar Ship Index for "Mobil EAGLE"
| | | | |
| --- | --- | --- | --- |
| IDNo: | 7377373 | Year: | 1976 |
| Name: | Mobil EAGLE | Launch Date: | 22.9.75 |
| Type: | Tanker | Date of completion: | |
| Flag: | LBR | Keel: | |
Tons:

131647

Link:

-

DWT:

285151

Yard No:

236

Length overall:

339.6

Ship Design:

LPP:

324.0

Country of build:

JPN

Beam:

53.5

Builder:

Sasebo H.I.

Material of build:

Location of yard:

Sasebo

Number of screws/Mchy/Speed(kn):

1ST-15
Subsequent History:
1985 AL NISR AL ARABI - 1993 FALCON
Disposal Data:
Scrapped at Xinhui 20.06.2001
History:
| | | | | | | | |
| --- | --- | --- | --- | --- | --- | --- | --- |
| ON | LR/IMO | ID | Year | Name | Tons | Change | Main Owner |
| | 7377373 | 7377373 | 1976 | Mobil EAGLE | 131647 | | Mobil Sg & Tptn Co. |
| | 7377373 | 7377373 | 1976 | AL NISR AL ARABI | 144264 | 1984 | Saudi Maritime Co. Ltd. |
| | 7377373 | 7377373 | 1976 | FALCON | 144264 | 1993 | Mobil Sg & Tptn Co. |