Auke Visser's MOBIL Tankers & Tugs Site
|
home

Socony 11 (2) - (1951-1960)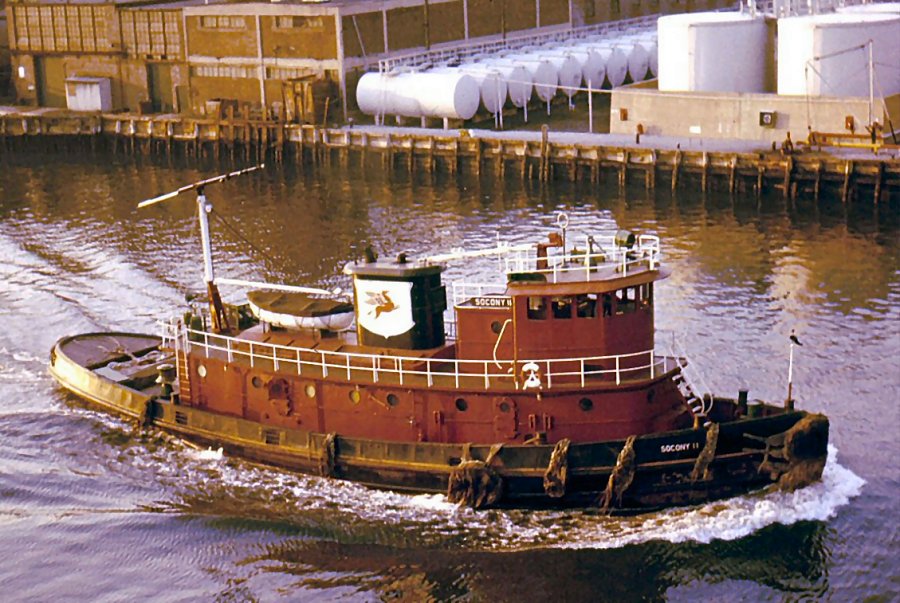 "Socony 11 (2)".
( Photo thanks to Vinik Marine )
Built as the second "Socony 11" by Avondale Shipyards of New Orleans, Louisiana in October of 1951 for Socony-Vacuum Oil (hull # 357).
She is 100(ft) long with a single deck, curved stem and elliptical stern.She was then acquired by the Mobil Oil Corporation and
renamed the "Mobil 11".
When environmental laws changed and prohibited the transport of petroleum by single screw tugs the "Mobil 11" was sold off
and acquired by Gellatly and renamed the "Christine Gellatly".
Kosnac Floating Derrick, Corporation acquired her and renamed her the "Gotham".
But, in light of a multitude of mechanical issues and she was put up for sale.
In 2005, she was acquired by Vinik Marine of South Amboy, New Jersey where after an extensive mechanical
rebuild she was renamed "Dorothy Elizabeth" and re entered service.
"Socony 11", seen here as "Christine Gellatly".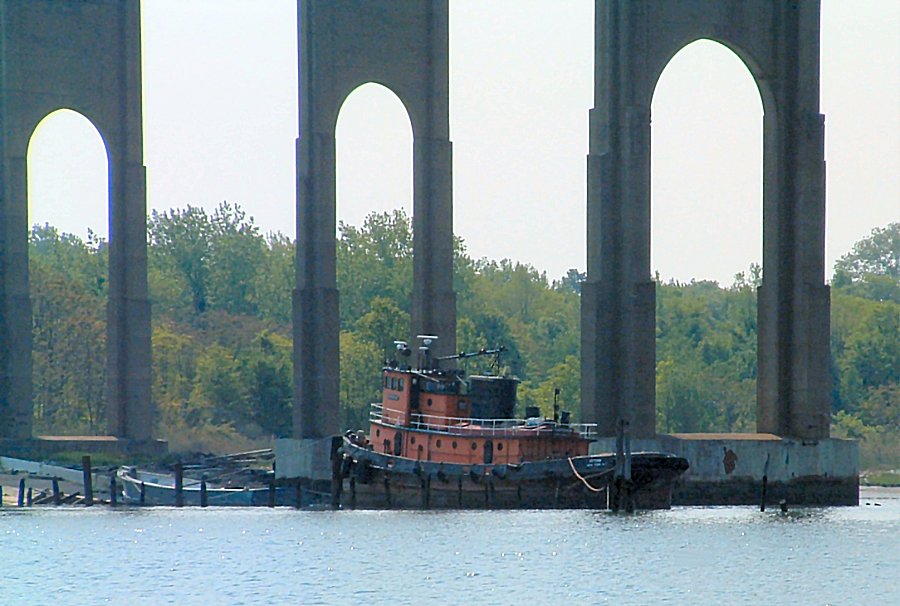 "Gotham", ex. "Socony 11 (2)".
The GOTHAM, ex SOCONY 11, built in 1951, was once the flagship of Mobil Oil's NYC Fleet.
Even in the 1970s, she was the fastest tug in the harbor, but, in 2004, she floated but hadn't moved from a spot beneath the Outerbridge Crossing for so long that those who knew her felt she would never again move by her own power.
A day before she was to become a reef, the GOTHAM became the property of Mike Vinik and Mike, to some, became the laughing stock of the harbor.
"Everyone" knew the vessel. They saw her classic lines and knew her proud history. They also knew of her burst pipes and declaration as a "total loss" by the insurance industry. They would be sad to see her go, but, what could they do. They knew the GOTHAM couldn't be repaired.
But, they didn't know Mike Vinik.
During the summer of 2004, a year after graduating from SUNY Maritime with a BS and a Mate's license, Captain Mike Vinik purchased the GOTHAM and founded Vinik Marine.
He purchased the GOTHAM and created Vinik Marine to prove his worth to the Sandy Hook Pilots and to have an income during their lengthy training period.
It took 9 months of crawling through the sludge in the bilge, replacing frozen pipes, repairing cylinders, sleeping on cold winter nights aboard a vessel with no hot water and no heat before the GOTHAM ran.
Word spread. Many who had watched became Mike's maritime friends. It's always good to know a guy who can raise the dead. They helped him get a few jobs. Things were tight. It was cold and quiet on Raritan Bay but sometimes he got 2 jobs a week, and, though they might be at 1 in the morning and access to the tug was made in an open aluminum skiff, at least it was work.
It wasn't until the summer of 2005, that the GOTHAM was christened the DOROTHY ELIZABETH in honor of Mike's grandmother Dorothy Elizabeth Azzolino.
In May 2005, Don's article about the rebirth of the SOCONY 11, the GOTHAM, the DOROTHY ELIZABETH, made the company and Mike "tug boat rock stars" and the talk of the harbor.
With an impressive showing by the tug, her captain, and her crew at the 2005 Tug Boat Race came a few more jobs. Mike and the DOROTHY were laughing stocks no longer..
Assisting, litering, and towing at all hours of the day and night brought some income and the need for more crew. Classmates at SUNY Maritime and even a pizza delivery guy or two joined the crew. As the number of crew members grew, the number of Maritime graduates and their family members working at Vinik Marine also grew. They are really a world class crew!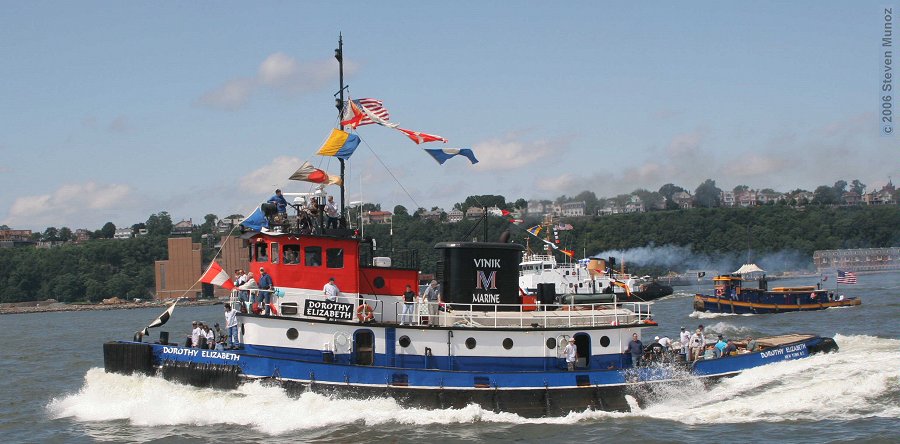 "Dorothy Elizabeth", ex. "Gotham", ex. "Socony 11 (2)".
This picture, taken by Steve Munez at the 2006 NYC Tug Boat Race, shows the Dorothy "ahead full" with flags and "crew members"
as decoration.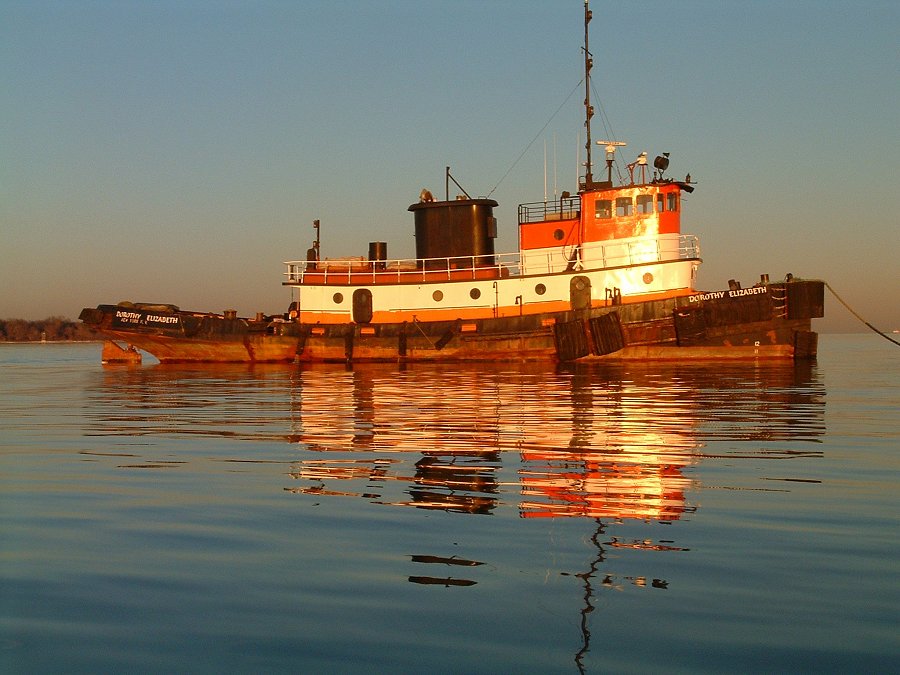 "Dorothy Elizabeth", ex. "Gotham", ex. "Socony 11 (2)".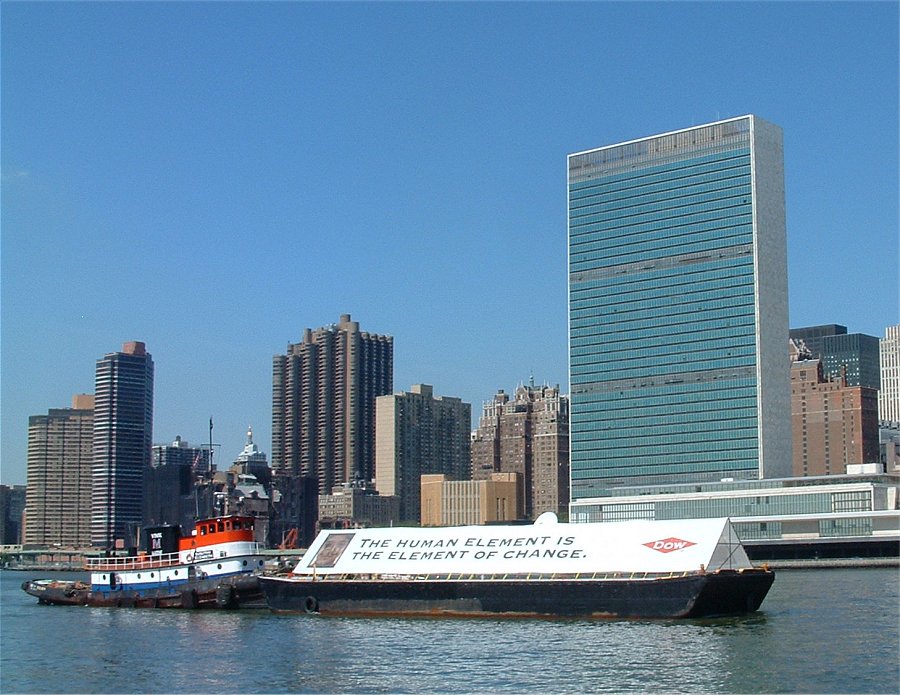 "Dorothy Elizabeth", ex. "Gotham", ex. "Socony 11 (2)", with a floating a 30' by 100' foot bill board off the UN in the East River so
Dow Chemical could advertise their "Human Element" marketing campaign to those meeting at the United Nations.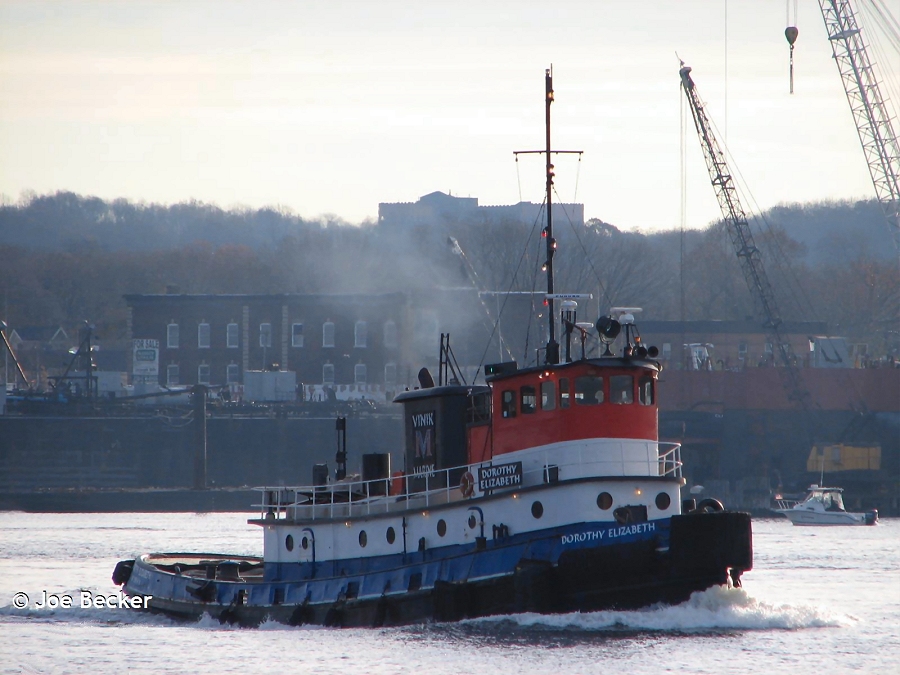 "Dorothy Elizabeth", ex. "Gotham", ex. "Christine Gellatly", ex. "Mobil 11", ex. "Socony 11", at the Kill Van Kull, November 18th, 206.
( Photo Copyright Joe Becker )
Vessel Name: GOTHAM
USCG Doc. No.: 262682
Vessel Service: TOWING VESSEL
IMO Number: 5238030
Trade Indicator: Coastwise Unrestricted, Registry
Call Sign: WDC3018
Hull Material: STEEL
Hull Number: 357
Ship Builder: AVONDALE MARINE WAYS, INC
Year Built: 1951
Length: 96.7
Hailing Port: NEW YORK, NY.
Hull Depth: 13
Hull Breadth: 25.2
Gross Tonnage: 199
Net Tonnage: 95
Owner:
MICHAEL A VINIK
85 FIRST STREET
KEYPORT, NJ 07735-1503
Previous Vessel Names:
Socony 11, Mobil 11, Christine Gellatly, Gotham
Previous Vessel Owners:
Socony Vacum Oil, Mobil Oil Corp, Gellatly, KOSNAC FLOATING DERRICK CORP,
2010 to John Garner Marine Construction of Staten Island
IMO number: 5238030
Name of ship: GOTHAM
Call Sign: WD8424
Nett tonnage: 95
Gross tonnage: 199
Deadweigt tonnage: -
Measurements: ?/29.55/7.68/3.92/3.636 meters
Type of ship: Tug
Engine: Diesel engine 1177 HP
Year of build: 1951
Builder: Avondale, Avondale
History of ship: Socony 11-1960; Mobil 11-1989
Flag: U.S.A.
Status of ship: In Service
Registered owner: KOSNAC FLOATING
Address: 1435, Richmond Terrace, Staten Island NY UNITED STATES OF AMERICA
The Miramar Ship Index for "SOCONY 11"
| | | | |
| --- | --- | --- | --- |
| IDNo: | 47620 | Year: | 1951 |
| Name: | SOCONY 11 | Keel: | |
| Type: | Tug | Launch Date: | |
| Flag: | USA | Date of completion: | 10.1951 |
Tons:

199

Link:

-

DWT:

Yard No:

357

Length overall:

Ship Design:

LPP:

29.55

Country of build:

USA

Beam:

7.68

Builder:

Avondale

Material of build:

Iron

Location of yard:

Avondale

Number of screws/Mchy/Speed(kn):

1D
Subsequent History:
1960 MOBIL 11 - ?? CHRISTINE GELLATLY -
1989 GOTHAM - 2007 DOROTY ELIZABETH -
2010 John Garner Marine Construction of Staten Island.
Disposal Data:
Out of service in May 2008.
2010 sold for breaking up.
History:
| | | | | | | | |
| --- | --- | --- | --- | --- | --- | --- | --- |
| ON | LR/IMO | ID | Year | Name | Tons | Change | Main Owner |
| | | 47620 | 1951 | SOCONY 11 | 199 | | Standard Oil Co., of New Jersey |
| | | 47620 | 1951 | MOBIL 11 | 199 | 1960 | ExxonMobil |
| | | 47620 | 1951 | CHRISTINE GELLATLY | 199 | ?? | Gellatly |
| | | 47620 | 1951 | GOTHAM | 199 | 1989 | Kosnac Floating Derrick, Corp. |
| | | 47620 | 1951 | DOROTY ELIZABETH | 199 | 2007 | Vinik Marine |
| | | 37620 | 1951 | DOROTY ELIZABETH | 199 | 2010 | John Garner Marine Construction of Staten Island |