Auke Visser's Other Esso Related Tankers Site
|
home




Petromar Rosario - (1961-1971)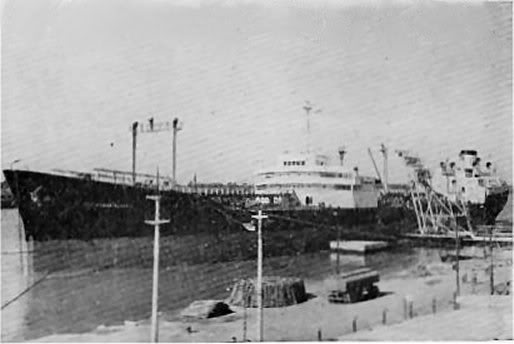 The second Esso Christobal was built in 1949 (15 July 1949) at Newport News. This ship was 29,000 DWT and was
sistership to a number of ship built between 49 and 52, such as the Esso Suez, Montevideo, Stockholm,
Genova (later Esso Bogota), Lima, Bermuda, Havana, New York, Santos, Newark, Chester, Bangor, Gloucester,
Huntington and Florence.
Sold to Esso Argentina as "Peytromar Rosario" in 1961. Sold in 1971 as "York".
She was scrapped in 1972.
Additional information :
ESSO CRISTOBAL (II) - 1949 PA 1ST (aft)(16)
17,061 GRT for Panama Transport Co., Panama, 628' 0 x 82' 8
Tanker built by Newport News SB. & DD. Co., Newport News. Va, (7), #477
1961 - PETROMAR ROSARIO, Petromar Soc. Anon. de Navegacion, Buenos Aires, AR
1971 - YORK, Century Transportation Corp., Panama [American Bulk Carriers, Inc., New York], PA
Broken up at Kaohsiung 1972 by Chin Ho Fa Steel & Iron Co., Ltd.,
arrived prior 25.08.1972, work began 05.09.1972.
The Miramar Ship Index for "ESSO CRISTOBAL"
| | | | |
| --- | --- | --- | --- |
| IDNo: | 5276501 | Year: | 1949 |
| Name: | ESSO CRISTOBAL | Keel: | |
| Type: | Tanker | Launch Date: | 29.04.1949 |
| Flag: | PAN | Date of completion: | 07.1949 |

DWT:

26821

Yard No:

477

Length overall:

191.4

Ship Design:

LPP:

183.2

Country of build:

USA

Beam:

25.2

Builder:

Newport News SB

Material of build:

Location of yard:

Newport News

Number of screws/Mchy/Speed(kn):

1ST-16

Subsequent History:
1961 PETROMAR ROSARIO - 1971 YORK
Disposal Data:
Scrapped at Kaohsiung 25.08.1972 [ by Chin Ho Fa Steel & Iron Co Ltd. ]
History :
| | | | | | | | |
| --- | --- | --- | --- | --- | --- | --- | --- |
| ON | LR/IMO | ID | Year | Name | Tons | Name change | Registered Owner |
| | | 5276501 | 1949 | ESSO CRISTOBAL | 17061 | | Panama Tpt Co. |
| | 5276501 | 5276501 | 1949 | PETROMAR ROSARIO | 17420 | 1961 | Petromar SA de Nav. |
| | 5276501 | 5276501 | 1949 | YORK | 17420 | 1971 | Century Tptn Corp. |