Auke Visser's Other Esso Related Tankers Site
|
home




Stanvac Mariner - (1957-1962)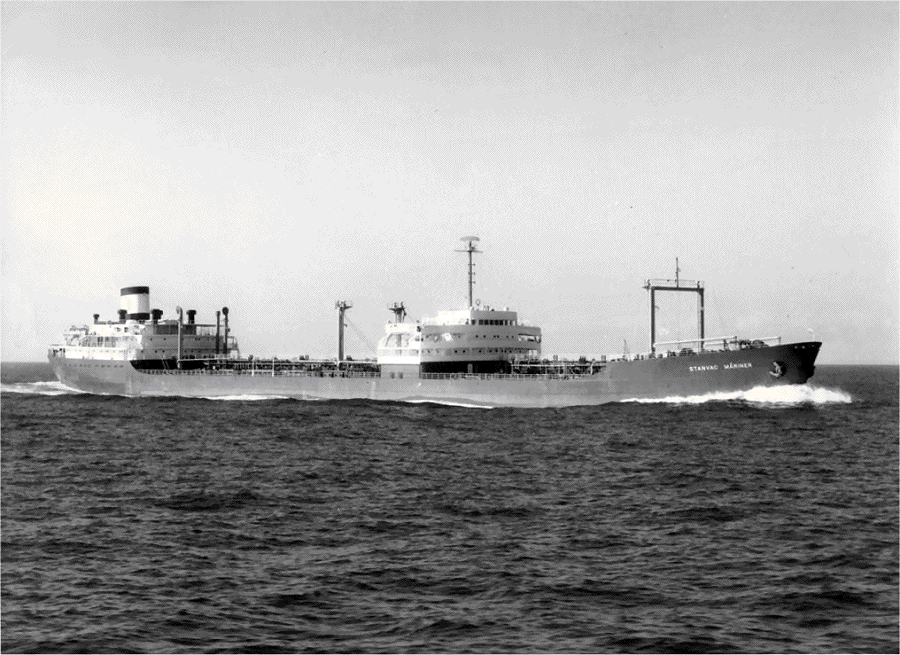 "Stanvac Mariner". Built 1957. Later "Mobil Mariner" and "Mobil Transporter". Scrapped in 1978.
"Stanvac Mariner", 35,500 tons dwt., on dimensions of 690 feet by 90 feet was built in Japan in 1957 for Standard-Vacuum
Tankers, owned jointly by Socony Mobil and Standard Oil (New Jersey). Transferred to South Africa in 1961 she became this nation's largest ship and the third tanker under their flag. Previously the T2 "President Brand" served until 1951, whilst in 1954 a new vessel perpetuated this name, but was sold to the Greek flag in 1963. Another associate of these owners, Standard-Vacuum Transportation, was formed in Britain in 1951, so allowing their British-flag vessels to carry oil for Sterling payment instead of Dollars. Subsequently many tankers joined this fleet, but some 12 years later, the Stanvac assets and operations were divided between the parent companies. "Stanvac Mariner" was renamed as "Mobil Mariner" in 1962. and reverting to British flag in 1964, was renamed "Mobil Trans-porter".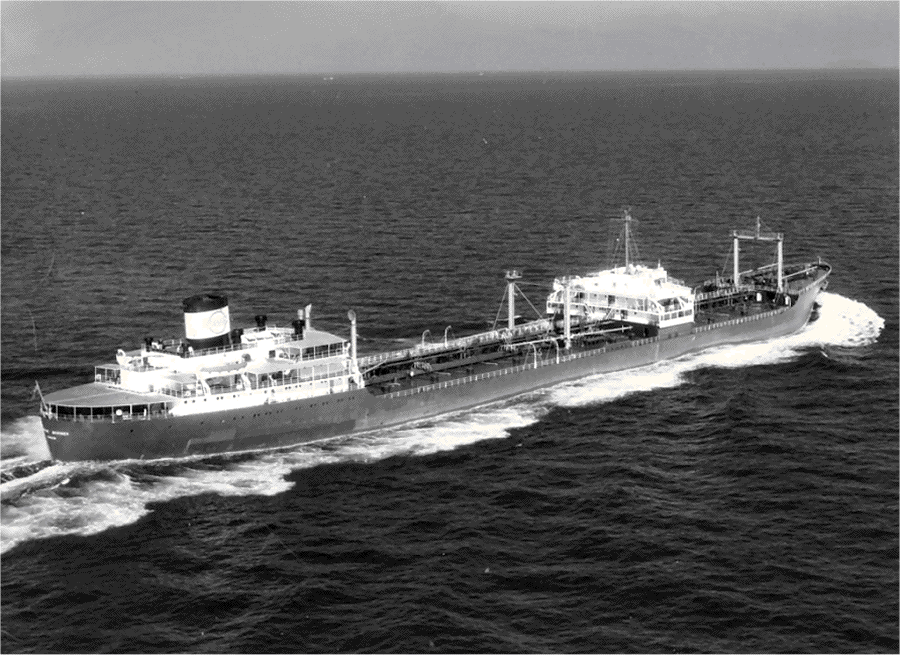 "Stanvac Mariner".
"Stanvac Mariner".
"Stanvac Mariner".
( Photo thanks to Frank Holden )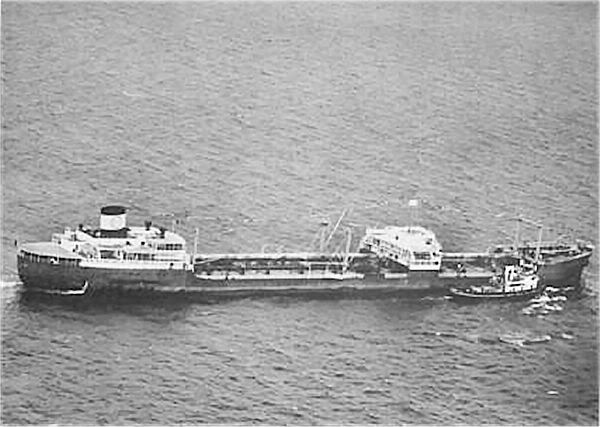 "Stanvac Mariner".
"Stanvac Mariner".
( Photo Copyright Alan Green )
"Stanvac Mariner".
( Photo Copyright Alan Green )
Engineers on "Stanvac Mariner", 1961-1962, sadly no names are given.
STANVAC MARINER - 1957
Standard-Vacuum Tankers Ltd - BR
Built by Mitsubishi : Nagasaki # 1472
23547 GT, 36000 DWT, Length o.a. 690', Length b.p. 660', Breath 90'
Tanker, 1 Steamturbine, Servic sped 15½ Knots
1962 MOBIL MARINER (Petroleum Tpt Intnl.Pty Ltd - SA)
1964 MOBIL TRANSPORTER (Mobil Tpt (Bahamas) Ltd - BS)
1968 (Mobil Sg Co Ltd - BR)
New forebody & conv to OBO : 818/775ft : 37781gt : 63835 dwt
Broken up at Sing Cheng Yang Iron & Steel : Kaohsiung : Arr. 12 June 1978
The Miramar Ship Index for "STANVAC MARINER"
| | | | |
| --- | --- | --- | --- |
| IDNo: | 5238250 | Year: | 1957 |
| Name: | STANVAC MARINER | Keel: | 08.12.1956 |
| Type: | Tanker | Launch Date: | 02.04.1957 |
| Flag: | GBR | Date of completion: | 15.07.1957 |

DWT:

37724

Yard No:

1472

Length overall:

210.3

Ship Design:

LPP:

200.2

Country of build:

JPN

Beam:

27.6

Builder:

Mitsubishi

Material of build:

Location of yard:

Nagasaki

Number of screws/Mchy/Speed(kn):

1ST-15.5

Subsequent History:
62 MOBIL MARINER - 64 MOBIL TRANSPORTER -
[ 1969 Lg with new fore & cargo sections, 249.3 / 236.2 mtr, 37781grt / 64859 dwt, converted to OBO carrier ]
Disposal Data:
Scrapped at Kaohsiung 12.06.1978 [ By Sing Cheng Yung Iron & Steel Co. ]
History:
| | | | | | | | |
| --- | --- | --- | --- | --- | --- | --- | --- |
| ON | LR/IMO | ID | Year | Name | Tons | Change | Registered Owner |
| 187602 | | 5238250 | 1957 | STANVAC MARINER | 23547 | | Standard-Vacuum Tankers Ltd. |
| 187602 | | 5238250 | 1957 | STANVAC MARINER | 23547 | 1961 | Petroleum Tpt International Pty Ltd. |
| 187602 | 5238250 | 5238250 | 1957 | MOBIL MARINER | 23547 | 1962 | Petroleum Tpt International Pty Ltd. |
| 187602 | 5238250 | 5238250 | 1957 | MOBIL TRANSPORTER | 23547 | 1964 | Mobil Tpt (Bahamas) Ltd. |
| 187602 | 5238250 | 5238250 | 1957 | MOBIL TRANSPORTER | 37781 | 1968 | Mobil Sg Co., Ltd. |