Auke Visser's Other Esso Related Tankers Site
|
home




Frederick S. Fales -(1939-1940)

"Frederick S. Fales", was built in 1939 by Cantieri Riuniti dell'Adriatico, Monfalcone.
She was lost in 1940 after being torpedoed by the U-100.
Frederick S Fales
LOA 506 ' 8 " Beam 69 ' '9 " Depth 37 '
15,345 DWT, 131,563 bbls
Fiat diesel 8-cylinder 2-cycle, 3600BHP
Launched 20 March and commissioned 26 June 1939 at Cantiere Riunti Dell'Adriatico, Monfalcone, Italy.
For a few short months prior to wwn FALES operated for Stanvac in the eastern Mediterranean.
During the second week of September 1940 FALES, commanded by Captain Frank Ramsay, left Halifax, Canada,
bound for the UK in what was to be the war's unluckiest transatlantic convoy. On 20 September, with the convoy about 600
miles off the Irish coast, three ships were torpedoed and sunk; on the following day seven more, including FALES, were sunk.
On the night of 21 September, FALES was hit twice in quick succession on the port side aft, one hit forward of and the
other in the engine-room. The first torpedo started a fire; the second one put it out. FALES was in immediate trouble and
the crew abandoned ship. Just five minutes later FALES went down by the stern, standing almost perpendicular for a
brief moment before falling over to starboard and crushing the lifeboat in which Captain Ramsay and most of the deck
officers were leaving the ship. This, and the second torpedo exploding in the engine-room, accounted for the great loss
of life among the licensed personnel of the ship.
The remainder of the crew got away on rafts. After 12 hours of wet and cold, they were picked up by a Free French sloop-
of-war, LA MALOUINE; and three days later were landed in Greenock, Scotland. Twenty men lost their lives in the
sinking of FALES.
Additional information Starke & Schell registers :
FREDERICK S. FALES - 1939 BR 1M (aft) (12)
10,525 GRT for Oriental Tankers, Ltd., Hong Kong 490.4 x 70.0
Tanker build by Cantieri Riuniti dell'Adriatico, Monfalcone (6) #1208 167276
Torp. and sunk by U 100, 21 Sep 1940, in 55.30N-13.40W, voy. Curaçao - Clyde, naval fuel oil.
Additional information from Uboat.net :
Name: Frederick S. Fales
Type: Motor tanker
Tonnage: 10.525 tons
Completed: 1939 - Cantiere Riuniti dell´Adriatico, Monfalcone
Owner: Oriental Tankers Ltd (Standard Transp. Co Ltd), Hong Kong
Homeport: Hong Kong
Date of attack: 22 Sep, 1940
Nationality: British
Fate: Sunk by U-100 (Joachim Schepke)
Position: 55.30N, 13.40W - Grid AL 6553
- See location on a map -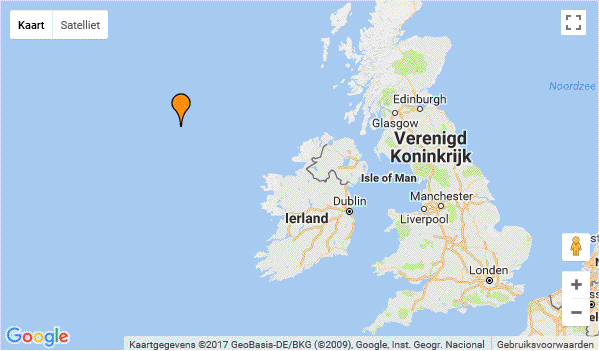 Complement: 43 (11 dead and 32 survivors).
Convoy: HX-72
Route: Curaçao - Halifax - Clyde
Cargo: 13849 tons of Admiralty fuel oil
History:
Notes on loss: At 01.52 hours on 22 Sep, 1940, the Frederick S. Fales (Master Frank Ramsay) in convoy HX-72
was torpedoed and sunk by U-100 about 340 miles west of Bloody Foreland. The master, nine crew members and
one gunner were lost. 32 crew members were picked up by the British corvette HMS La Malouine (K 46)
(LtCdr R.W. Keymer) and landed at Belfast.