Auke Visser's Other Esso Related Tankers Site
|
home




Petromar Cordoba (I) - (1961-1967)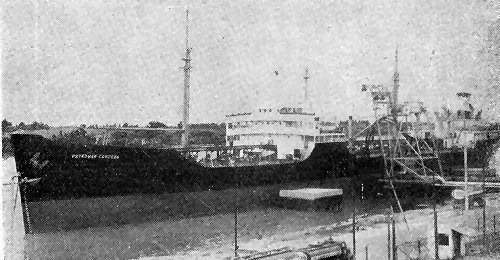 The first "Petromar Cordoba", ex. "Esso San Juan", ex."Esso Greensboro",
was built in 1943 as "Molino Del Rey".
"Petromar Cordoba (I)".
Additional information :
Built May 1943 by Sun Shipbuilding Company, Chester, Pennsylvania,
as "Molino Del Rey" # 358, for U.M.S.C.
1947 - ESSO GREENSBORO, Standard Oil Company (New Jersey), Wilmington, Del.
1950 - Esso Shipping Company, Wilmington, Del.
Collided with ESSO SUEZ, 20 April 1951, in the Gulf of Mexico, 200 miles south of Morgan City, La.,
abandoned afire, arrived Galveston 27.04.1951 in tow, heavily damaged, repaired and lengthened by
Todd Shipyard Corp., Galveston, 11,217 grt, 545.0' delivered 05/1952
1952 - ESSO SAN JUAN, Panama Transport Co., Panama, PA
1961 - PETROMAR CORDOBA, Petromar, Soc. Anon. de Navegacion, Buenos Aires, AR
Broken up at Valencia 1967 by Aguilar y Peris, arrived 27.01.1967, work began in 07.1967.
The Miramar Ship Index for "MOLINO DEL REY"
| | | | |
| --- | --- | --- | --- |
| IDNo: | 2243440 | Year: | 1943 |
| Name: | MOLINO DEL REY | Keel: | |
| Type: | Tanker | Launch Date: | 08.05.1943 |
| Flag: | USA | Date of completion: | 05.1943 |

Tons:

10195

Link:

-

DWT:

16613

Yard No:

283

Length overall:

159.6

Ship Design:

T2-SE-A1

LPP:

153.3

Country of build:

USA

Beam:

20.7

Builder:

Sun

Material of build:

Location of yard:

Chester, Pa

Number of screws/Mchy/Speed(kn):

1TE-15

Subsequent History:
1947 ESSO GREENSBORO - [ 1952 Lg 11217grt ] -
1952 ESSO SAN JUAN - 1961 PETROMAR CORDOBA
Disposal Data:
Scrapped at Valencia 27.01.1967. [ By Aguilar y Peris ]
History :
| | | | | | | | |
| --- | --- | --- | --- | --- | --- | --- | --- |
| ON | LR/IMO | ID | Year | Name | Tons | Change | Main Owner |
| 243440 | | 2243440 | 1943 | MOLINO DEL REY | 10195 | | U.S. Govt. |
| 243440 | | 2243440 | 1943 | ESSO GREENSBORO | 10195 | 1947 | Standard Oil Co., NJ. |
| 243440 | | 2243440 | 1943 | ESSO GREENSBORO | 10195 | 1950 | Esso Sg Co. |
| | | 2243440 | 1943 | ESSO SAN JUAN | 11217 | 1952 | Panama Tpt Co. |
| | 527648 | 2243440 | 1943 | PETROMAR CORDOBA | 11217 | 1961 | Petromar |

No Custody & Disposal CARDS