Clearwater Bay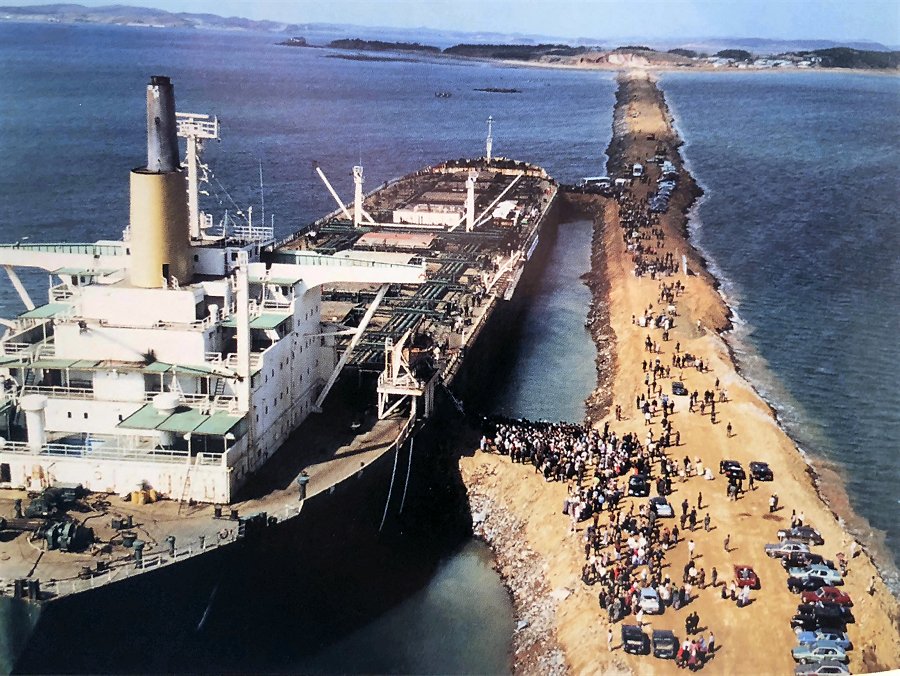 "Clearwater Bay", aftere the gap was closed by rocks and sand in 1984.
( Photo Copyright Reserved )
This pictures of "Clearwater Bay", ex."Alva Bay" is special.
During construction of a dam in Korea in 1984 they could not close the final gap due to the strong current. So they came up with the idea of using this ore/oil carrier, which was going to be scrapped nearby, to plug the hole. They sank it down on the bottom, as seen in this picture.

"Clearwater Bay", in this picture the vessel has completed the job, because the gap has been filled by rocks.
Soon thereafter the vessel was emptied and sailed to the breakers at Inchon..
( Photo Copyright Reserved )
| | |
| --- | --- |
| The Miramar Ship Index for : | ALVA BAY |
| IDNo / IMO | 7305241 |
| Year | 1973 |
| Name | ALVA BAY |
| Flag | GBR |
| Owner | Alva Bay Shipping Co., Ltd. |
| Type | Ore/oil carrier |
| Tons | 120698 |
| DWT | 225898 |
| LOA | 332.57 |
| LPP | 320.05 |
| Beam | 45.67 |
| Draft | 20.651 |
| Machinery / Speed | 1ST-16 |
| ShipDesign | Ore/oil carrier |
| Builder | Gotaverken Arendal |
| Yard | Gothenburg |
| Yard No | 860 |
| Country built | SWE |
| Keel | |
| Launch | 04.02.1973 |
| Completed | 03.1973 |
| Subsequent History | 1983 CLEARWATER BAY - Pu Tai Sg., Co., Ltd. |
| End | 1984 |
| Disposal Data | Scrapped at Inchon 04.06.1984 |