FSO / FPSO > 200.000 DWT
|
home




BW Pioneer

"BW Pioneer", at Singapore July 28th, 2009.
( Copyright reserved )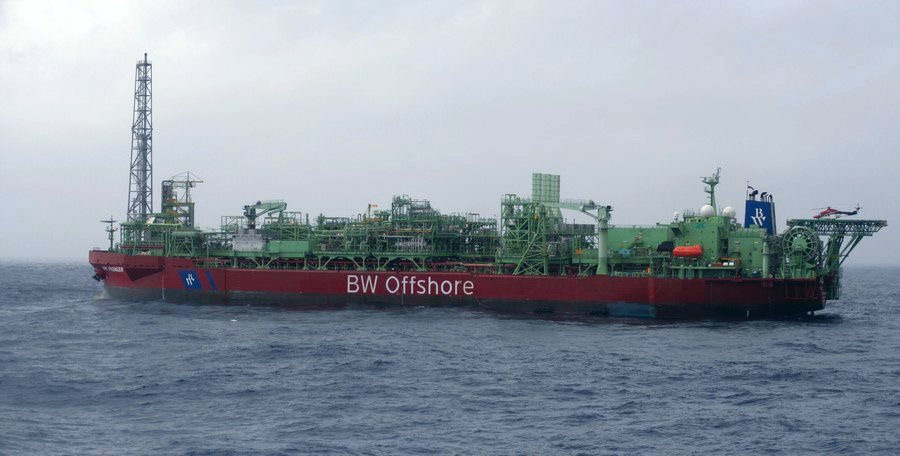 "BW Pioneer", January 1th, 2011.
( Copyright reserved )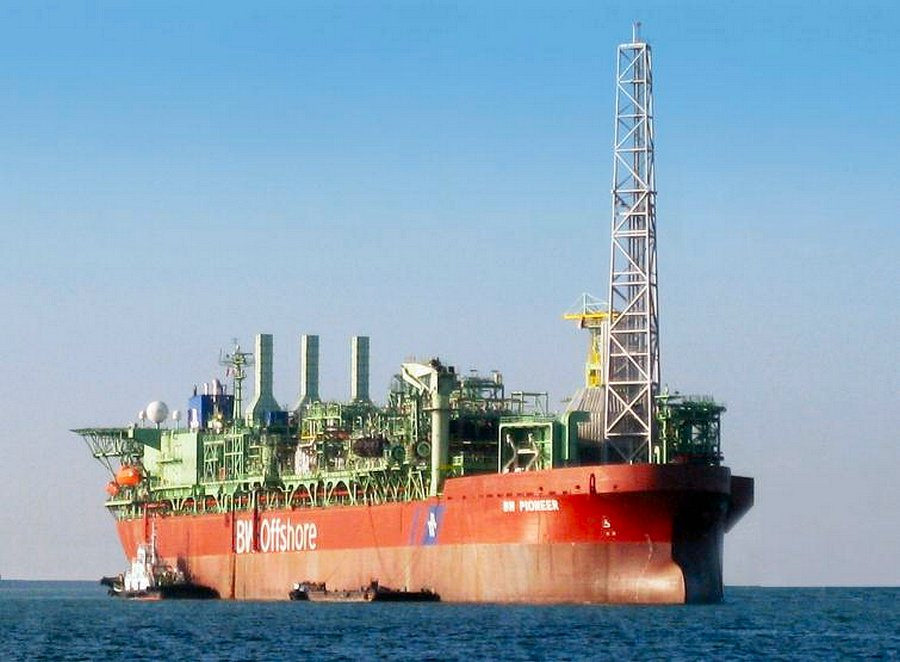 "BW Pioneer".
( Copyright reserved )
"BW Pioneer".
( Photo Copyright Carl )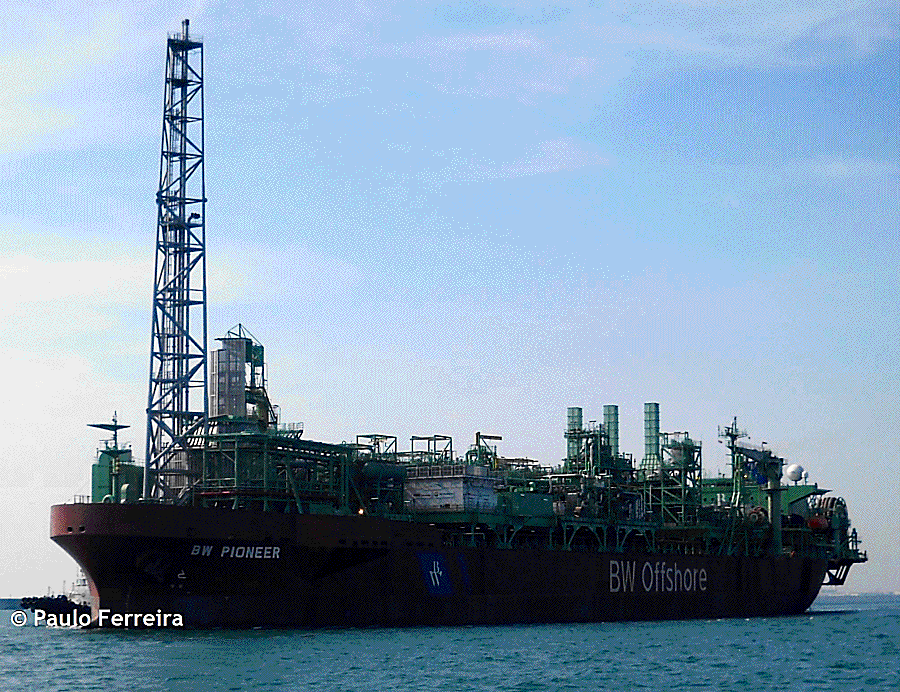 "BW Pioneer".
( Photo Copyright Paulo Ferreira )
BW Pioneer FPSO
Contract duration: 2010 – 2017 (2020)
Oil processing capacity: 80,000 bopd
Gas export: 16 mmscfd
Storage capacity: 600,000 bbl
Mooring: Disconnectable turret
Location/field: US/Cascade & Chinook
Client: Petrobras
Keppel Shipyard is on track to deliver the first floating production storage and offloading (FPSO) vessel for the US Gulf of Mexico (GOM) to BW Pioneer Ltd, an affiliate of BW Offshore. Named today at Keppel Shipyard, the vessel BW Pioneer will be turret moored at a water depth of about 2,600 meters -- by far the deepest for an FPSO. The FPSO, which is nearing completion, has achieved an impressive safety record of more than 4 million incident-free man-hours to-date. BW Pioneer has been leased by Petrobras America Inc. to operate in the Cascade and Chinook fields, with production scheduled for the first quarter of 2010. Mr. Carl Arnet, Chief Executive Officer of BW Offshore said, "The successful conversion of BW Pioneer is an important milestone for us. Being the first contractor to place an FPSO in the weather-exposed US Gulf of Mexico gives BW Offshore a seal of quality and strengthens our position and track record as a leader in the region. "The high level of quality and safety achieved on this pioneering project are the result of our strong partnership with Keppel Shipyard. I am confident that BW Pioneer will set the standard for FPSOs operating in the US Gulf of Mexico." Designed to handle the harsh operating conditions in GoM, BW Pioneer is equipped with an internal disconnectable Submerged Turret Production (STP) mooring system and outfitted with advanced safety features to withstand environmental loads from currents, waves and wind. In the event of an approaching hurricane, this highly advanced safety feature will allow the FPSO to disengage from site and move on her own propulsion to seek sheltered waters. Mr. Tong Chong Heong, CEO of Keppel Offshore & Marine, said, "Working with trend-setting customers over the years, Keppel Shipyard has achieved many 'firsts' in the industry for complex vessel conversions. BW Pioneer is yet another groundbreaking vessel, which we are proud to add to our track record. "We would like to thank BW Offshore for entrusting Keppel Shipyard with this significant project. Together with our valued customer, we have overcome the challenges of completing a unique FPSO for the US Gulf of Mexico. We look forward to further our relationship with BW Offshore and support them in developing their premium fleet." BW Pioneer has a storage capacity of about 600,000 barrels of oil, a process capacity of 80,000 bopd and gas export facilities of 16 mmscfd. This is the second FPSO Keppel has delivered to BW Offshore this year. FPSO BW Cidade de Sao Vicente which also achieved a zero incident safety record was delivered earlier this year as an Early Well Test (EWT) FPSO for the gigantic Tupi deepwater field.

The Miramar Ship Index for "STENA CONCERT"
| | | | |
| --- | --- | --- | --- |
| IDNo: | 8918265 | Year: | 1992 |
| Name: | STENA CONCERT | Keel: | 23.04.1991 |
| Type: | Tanker | Launch Date: | 1.11.1991 |
| Flag: | PAN | Date of completion: | 5.02.1992 |

Tons:

54944

Link:

-

DWT:

97828

Yard No:

915

Length overall:

241.8

Ship Design:

LPP:

232.0

Country of build:

JPN

Beam:

42.0

Builder:

Namura

Material of build:

Location of yard:

Imari

Number of screws/Mchy/Speed(kn):

1D-14

Subsequent History:
1999 MINERVA CONCERT - 2002 TSUNAMI -
2005 SARASOTA - 2008 BW PIONEER -
[ 2010 converted to FPSO tanker ] -
Disposal Data:
-
History:
| | | | | | | | |
| --- | --- | --- | --- | --- | --- | --- | --- |
| ON | LR/IMO | ID | Year | Name | Tons | Change | Registered Owner |
| | 8918265 | 8918265 | 1992 | STENA CONCERT | 54944 | | Blue Excelsior Maritime Corp. |
| | 8918265 | 8918265 | 1992 | STENA CONCERT | 54944 | 1995 | Robin Maritime SA. |
| | 8918265 | 8918265 | 1992 | MINERVA CONCERT | 56855 | 1999 | Andromeda Ltd, Valletta |
| | 8918265 | 8918265 | 1992 | TSUNAMI | 56855 | 2002 | Polo Sg. |
| | 8918265 | 8918265 | 1992 | SARASOTA | 56855 | 2005 | Polo Sg. |
| | 8918265 | 8918265 | 1992 | BW PIONEER | 56091 | 2008 | BW Pioneer Ltd. |