Auke Visser's International Super Tankers
|
home




Tochal

Pentow/SADS team secures damaged VLCC
THE Iranian-owned 300,078dwt VLCC Tochal, built in 1977 and bound from the Gulf to Europe with 270,000 tonnes
of crude, became a casualty off the Cape coast in June when her bow structure failed in heavy weather. With the tanker
in danger of becoming a total loss a salvage agreement had to be promptly concluded with Pentow Marine whose
powerful tug Wolraad Woltemade was already on standby. With the vessel at the time some 70 nautical miles west
of Dassen Island, a three-man diving team from South African Diving Services (SADS) was flown out to undertake
preliminary damage assessment. In the open sea and with a heavy swell running, the divers videotaped the massive
damage where the entire 30m x 22m bulbous bow section had sheared off. Having obtained permission for the vessel
to take shelter in False Bay, the Tochal was towed stem first by the Wolraad Woltemade whilst the dive tender
vessel Reunion, with a full diving spread and a 12-man team, was made ready to meet the vessel on its arrival.
In the meanwhile, using portable pumps taken out to the Tochal, the diving team assisted in pumping oil from the for-
ward fuel tank into empty cargo tanks. As oil was pumped out so the tank filled with sea-water from cracks in the bot-
tom tank plating, caused when the bow fell away. On arriving in False Bay a comprehensive underwater video survey
was undertaken whilst preparations were made to transfer the oil cargo to the lighter tanker, Oslo Princess, which was
on standby in the bay. With the collision bulkhead acting as a breakwater, diving conditions were very difficult and dan-
gerous as the team worked around the clock for almost four days to trim and cut away damaged plates,
most of which were recovered for insurance purposes.
With the ship-to-ship transfer of oil underway, the divers were able to commence patching of the holes once the
vessel reached a 12m draught. When all the cargo had been removed a 2m x 2m composite patch was secured
over a hole near the centreline, just aft of the collision bulkhead whilst a number of smaller 1m x 1m patches were
secured over cracks in the bottom of the forward fuel tank. A final video survey of the patches was then undertaken
before the Tochal was again towed stern first into Cape Town harbour. Once secured there, SADS divers attended
to pumping sludge and bunkers from forward tanks and all the patches welded in a further 10 days of underwater
operations.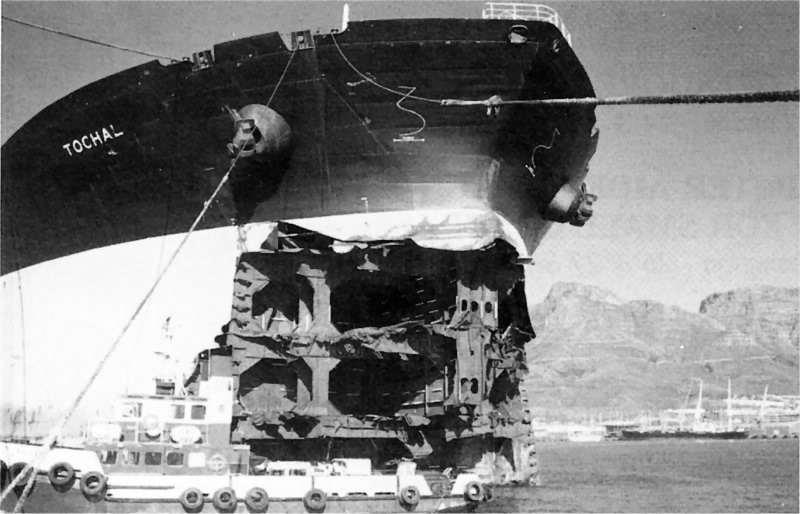 Spectacular damage to the 300,000dwt VLCC Tochal. The tanker is seen here in Table Bay minus her bulbous
bow which had been torn away in heavy seas off the west coast during a winter storm. Temporary repairs were
completed by Dorbyl.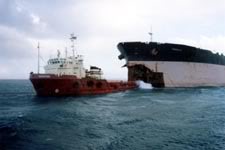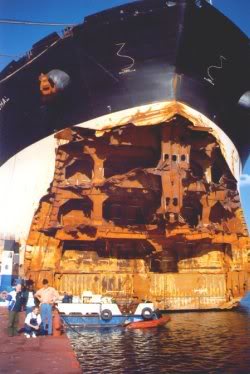 "Tochal".
( Photos copyright reserved )
On 19 November 1987 she was attacked twice by Iraqui jet in the Gulf off the Iranian coast. On
1 June 1994 she lost her bulbous bow and forepeak tank in extreme heavy weather conditions about
90 miles NW of Cape Tow. Voyage: Kharg Island - Europe, crude oil. Towed into False Bay for
transhipment of her cargo on June 7. With the transhipment to OSLO PRINCESS completed on
July 3, the TOCHAL arrived at Cape Town the following day to undergo temporary repairs.
On 27 October 1994 she arrived Gadani Beach to be broken up.
The Miramar Ship Index for

MUNDACA

IDNo / IMO

7386910

Year

1977

Name

MUNDACA

Flag

ESP

Owner

Naviera Vizcaina SA

Type

Tanker

Tons

151225

DWT

300068

LOA

347,60

LPP

325,00

Beam

53,70

Dept

28,71

Draft

22,21

Machinery

1ST-15

kW

26480

ShipDesign

VLCC

Builder

Astano, Astilleros Y Talleres Del Noroeste S.A.

Yard

El Ferrol

Yard No

242

Country built

ESP

Keel

13.05.1976

Launch

18.12.1976

Completed

20.06.1977

Subsequent History

1984 OCEAN CLOUD - Pinto Sg., Inc.

1984 YUCATAN VALLEY - Yucatan Sg., Inc.

1985 UMM AL MADAFA - Kuwait Oil Tanker Co.

1986 TOCHAL - National Iranian Tanker Co.

End

1994

Disposal Data

Scrapped at Gadani Beach 27.10.1994.