Auke Visser's International Super Tankers
|
home




Ypermachos

Launched as RIO TINTO.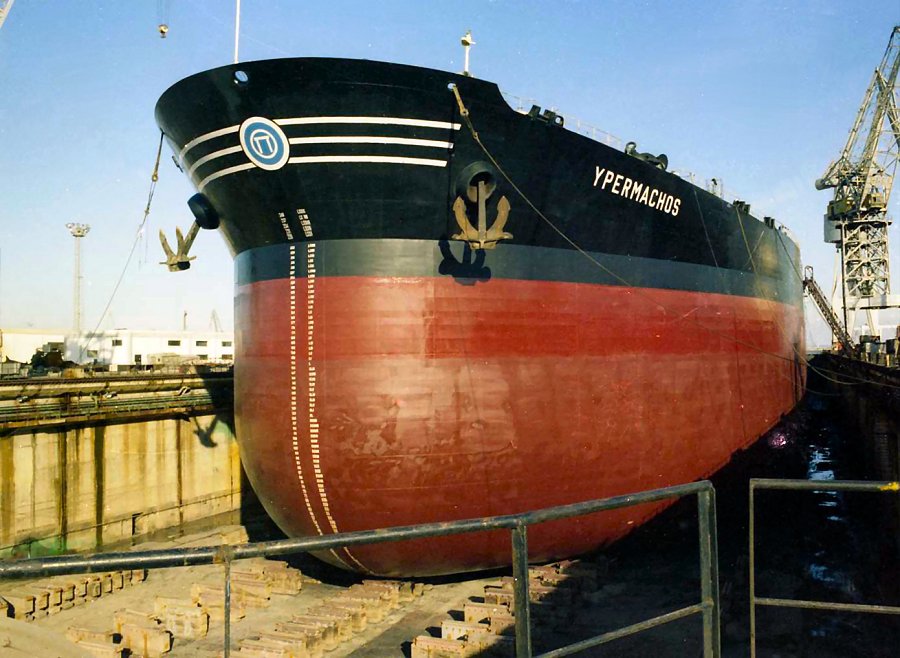 "Ypermachos", (ex. "Rio Tinto") at Cádiz, Spain, dock no. 4. Sale refused bynew owners.
( Photo "Museo El Dique" )
The Miramar Ship Index for

YPERMACHOS

IDNo / IMO

7386506

Year

1981

Name

YPERMACHOS

Flag

ESP

Owner

Union Explosivos Rio Tinto S.A.

Type

Tanker

Tons

138818

DWT

271967

LOA

334,00

LPP

315,00

Beam

55,10

Dept

27,01

Draft

20,00

Machinery

1ST-15

kW

26480

ShipDesign

VLCC

Builder

Astilleros Espanoles S.A. (AESA)

Yard

Puerto Real

Yard No

7

Country built

ESP

Keel

????

Launch

11.10.1977 / Launched as RIO TINTO

Completed

31.03.1981

Subsequent History

1981 RIO TINTO - Union Explosivos Rio Tinto S.A.

1986 GOLAR LIZ - Arrow Sg., Corp.

1987 GOLAR LIZ - Golarstar Inc.

1989 NEW PROSPERITY - Great Clipper Sg. Inc.

1999 SWANSEA - Aldbury Sg. Inc.

End

2003

Disposal Data

Scrapped at Chittagong 29.07.2003.

Additional information by Antonio Fraidías ;
The spanish tanker RÍO TINTO. She was built at AESA shipyard of Puerto Real (Cádiz), at the end of the
seventies.
Shortly after she was renamed HYPERMACHOS as she was intended to be sold to a greek owner, who
apparently refused to pay the ship.
A subsidiary company of AESA put her in operation in 1981, after being berthed for a couple of years at
Cádiz shipyard's docks. I joined this company as an engineer at the very beginning of 1982, and left in 1985.
One year later, she was sold to Gotaas Larsen and renamed GOLAR LIZ, and then sold again to another
owner a few years later.
Length o. a.: 343 m
Breadth: 55 m
Draft: 21,5 m
270,000 d.w.t.
Propulsion plant: General Electric steam turbines (22,500 kW); two Combustion Engineering V2M8 boilers.
The attached photograph "Rio Tinto" is taken by me in 1983, and the ship can be seen while repairing at
Cádiz shipyard. I can remember that we spent the whole year repairing and testing a new designed propeller
they called TVF (Tip Vortex Free). As you can imagine, too much extra work for the ship's engineers (too
many sea trials, drydocking operations, etc.).