World Petrobras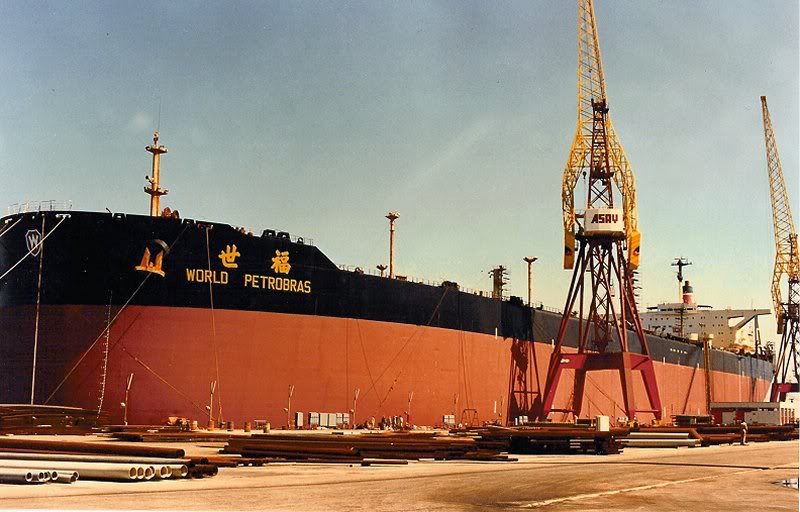 "World Petrobras", on repairs at Barhain dry docks in 1987, after bombing !
( Photo thanks to Captain Bruce Ewen )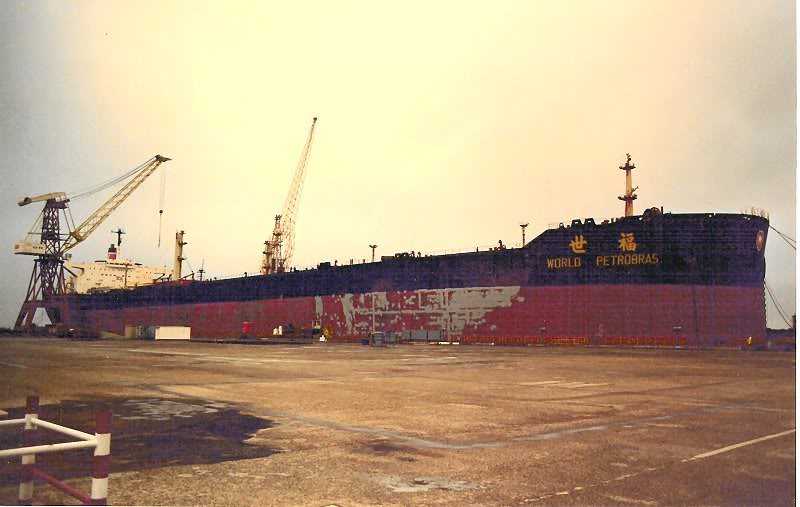 "World Petrobras".
( Photo thanks to Captain Bruce Ewen )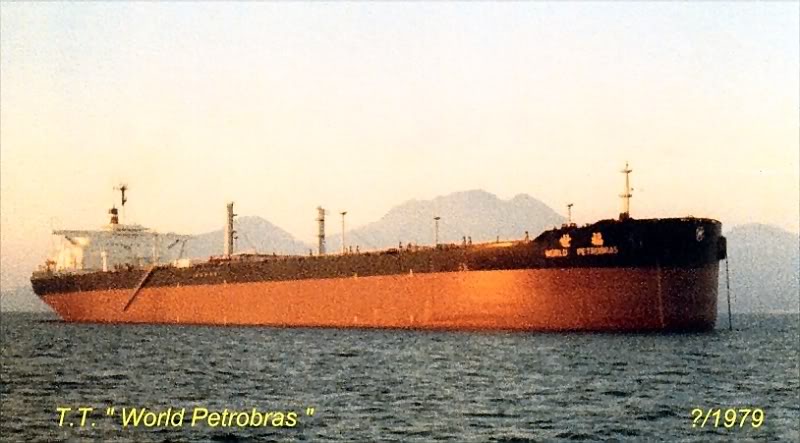 "World Petrobras".
( Collection Charles Chan )
"World Petrobras".
( Copyright reserved )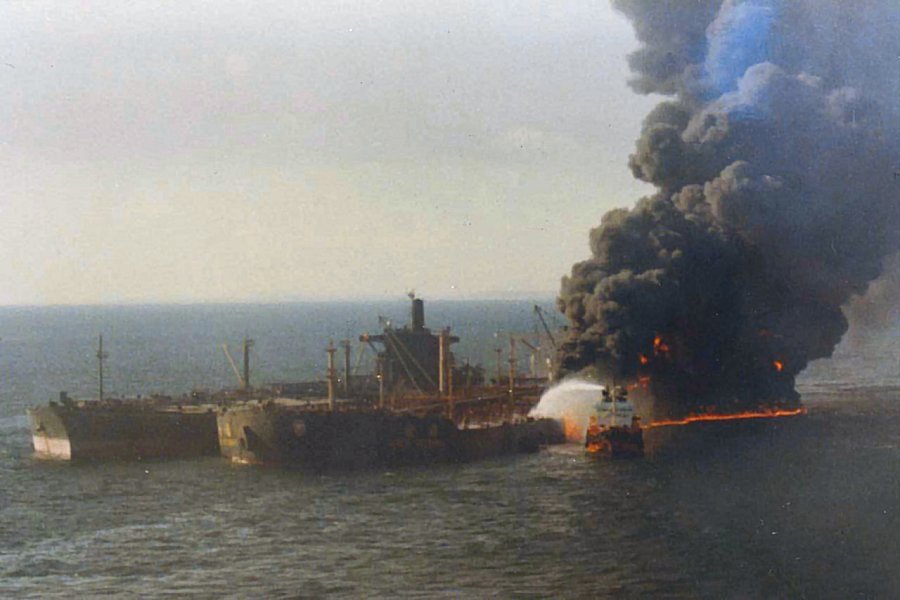 "World Petrobras", (burning) and "Free Enterprise" (ex "Irene Lemos")
photo taken from the "British Respect" which quickly moved away from the fire.
( Copyright reserved )
"World Petrobras", (burning).
Text with photos :
Every day, or every other day, we were given a "103" signal over the VHF, which meant "Incoming aircraft – safety helmets on or something". In the early afternoon of 22nd December, we did not hear a "103" but the aircraft came anyway. At the time, we had the shuttle tanker "Free Enterprise" on our starboard side and the export tanker "British Respect" on our port side. "World Petrobras" was completely full at the time so the shuttle tanker was simply pumping directly through our lines to the export tanker. We did, however, have our inert gas running. At 13:32, a Mirage F1 aircraft flew down our centre line and dropped two 500 lb bombs which struck the centre of the manifold area and No. 5 port wing tank. Shrapnel went everywhere and a large fire erupted, but thankfully, due to a crew and provision boat having just arrived at the stern, nobody was standing near the points of impact and nobody on board was hurt. The fire burned until about 21:00 when finally, the attentions of 11 fire-fighting tugs managed to quell it. The fire erupted again at about 01:00, but it was just a local fire in the central store room and was easily extinguished.
Source: Bruce Gorden Ewen

The Miramar Ship Index for

WORLD PETROBRAS

IDNo / IMO

7376496

Year

1977

Name

WORLD PETROBRAS

Flag

LBR

Owner

Liberian Aries Transports Inc

Type

Tanker

Tons

193779

DWT

411508

LOA

362,00

LPP

350,00

Beam

70,00

Dept

28,12

Draft

22,34

Machinery

1ST-15.5

kW

????

ShipDesign

ULCC

Builder

Hitachi

Yard

Ariake

Yard No

4443

Country built

JPN

Keel

25.03.1975

Launch

06.09.1976

Completed

07.11.1977

Subsequent History

1978 WORLD PETROBRAS - Liberian Azalea Transports Inc.

1991 WORLD PETROBRAS - Borsten Co S.A.

1992 MEDIA STAR -Media Tpt Co Ltd.

End

2002

Disposal Data

Scrapped at Chittagong, arrived 08.11.2002.