Auke Visser´s International Super Tankers
|
home




Titus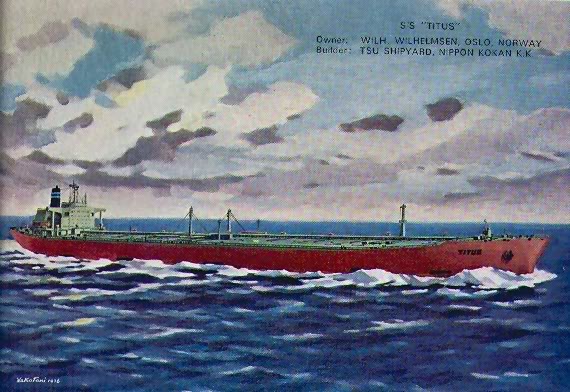 "Titus".
( Collection Bjørn Eddy Engelbrethsen )
"Titus".
( Copyright reserved )
Name: Titus
IMO No: 7374761
Built: 01/1976
Type: Tanker
Status: 1980-Energy Explorer; 1991-New Explorer; Demolished 1999
SubType: Crude
Flag: Norway
DWT: 379,999
Draft: 22.886
Builder: Nippon Kokan K..K., Tsu, Japan (U34)
GT: 163,810
LOA: 373.54/355.05
Owner: Wilh. Wilhlmsen, Tonsberg, Norway
NT: 145,963
Beam: 63.06
Speed/Cons: 15.30/-
Class: NV
Depth: 29.01
Engine Type: Mitsubishi steam turbines, 45000 SHP, 29422 kW
Cubic: -
Bjørn Eddy Engelbrethsen, who sailed on this tanker, wrote ;
*Buildingyard: Nippon Kokan k.k., Tsu/ Japan. Buildingno: 0034
*TDW:380000 GRT:187887 NRT:145233 LOA:373,53M BR:64.06 DR:22.93
*ENGINE: MITSUBISHI TURBINE SHP:45000 SPEED:15.30KN
*11/1975: Launched.
*03/1976: Delivered to Wilh. Wilhlmsen, Tonsberg/ Norway Price: 280.000.000nkr.
*04/1980: "Energy Explorer"/United Overseas Petroleum Carriers inc. (Golden Peak Maritime Agencies Ltd.), Monrovia/Liberia
*1983: Manager:Island Navigation Corp.(ship management)Ltd.
*1986: Latin America Petroleum Carriers Inc. (Orient Overseas Management & Finance Ltd.), Monrovia/Liberia
*1987: Manager: Island Navigation corp. (holdings) inc.
*1987: Island navigation corp. international ltd.
*1988: great beluga shipping inc. (same manager), monrovia/ liberia
*1991: "New Explorer"
*1994: Still in trade
*The company WW ordered two sistervessel's,(bno.39 & 43) which were cancelled. Instead the company placed an order for 6 MPC-
carriers (bno.47-52), and two bulkcarriers (bno.53-54) at the yard.
Additional Information:
The Miramar Ship Index for "TITUS"
ID No: 7374761 Year: 1976
Name: TITUS Launch Date: 08.11.1975
Type: Tanker Date of completion: 30.03.1976
Flag: NOR Keel: -
Tons: 187888 Link: 1455
DWT: 379999 Yard No: 34
Length overall: 373.5 Ship Design: -
LPP: 355.1 Country of build: JPN
Beam: 64.1 Builder: Nippon Kokan
Material of build: - Location of yard: Tsu
Number of screws/Mchy/Speed(kn): 1ST-16
Owner as Completed: Wilh. Wilhelmsen - NO
Subsequent History:
1980 - ENERGY EXPLORER (United Overseas Petroleum, Carriers Inc - LI)
1986 - (Latin America Petroleum Carriers Inc - LI)
1988 - (Great Beluga Sg Inc - LI)
1991 - NEW EXPLORER (s/o)
Disposal Data:
Scrapped at Chittagong 07.06.1999 (Kabir Steel).