Auke Visser´s International Super Tankers
|
home




Mystery - Tankers or Bulkers

When I have a picture of a ship, where I don't know the name of it, or other information, then it will appear here.
If you have information of that ship, then please E-mail to me for that information.
(
aukevisser@gmail.com
)
All solved mysteries will be removed with the next update in January, 2015 !!
PHOTO 1:
"PICO VI", unfortunatel we do have no further info about her. the photograph must be taken in the early 30-ties at the Klybeck Quay in Basel.
Any information greatly welcome. She was maybe a Rosslau built sister of the "PICO III" ? PICO III became later the Lloyd owned BLAUEN.

One of the in Sweden built tankers laid up in a Norwegian Fjord.
Which one ??? Maybe Sea Serenade ?
Thomas Dore, wrote to me :
Dear Auke,
I have just hade my daily visit to you excellent website where i can find several vessels that I have worked on.
30 years at sea on mainly ULCC steam turbines and the last 5 years on LNG steam turbine on the old generation.
LNG Bonny and LNG Finima. I have been sailing on several og the Kockums (Sweden) built ULCC for Swedish
former owner Salen. On the pic 2 of Mystery tankers I belive that this is one of the last series built for Norwegian
owner Simonssen. The vessels were delivered but payment was canceled and the vessels were taken over by
the Swedish state controlled shipping owner Zenit. This must be T/T Vanja or T/T Welma. They had the typical
cockpit bridge design. The only two of 21 built 357 000 Dwt. The later became JUNO and KRAKA.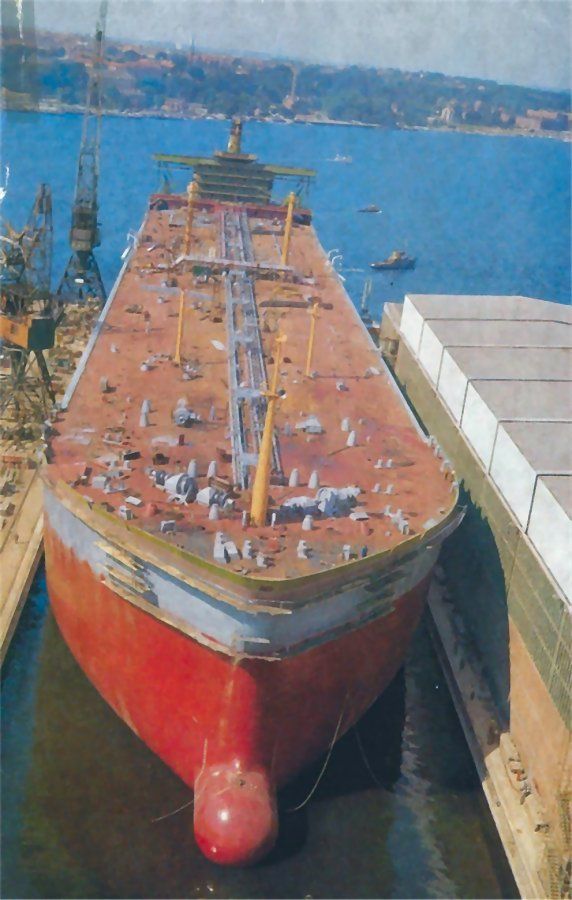 Here another tanker, photo probably taken while she was renamed.
( Photo thanks to Gerald Smrsch )
Mats Saether wrote to me : is one of the 208.000 dwt early VLCCs under construction at HDW in Kiel.
She is seen exiting the dock. I assume the photo is taken from the top of the gantry crane.
I believe it is perhaps "Texaco Europe", "Texaco North America" or a sister. The Shell tankers built there in the
same period did not have the two light towers on the deck between the front mast and the manifold.
Notice the TEXACO name on the hull !
( Photo thanks to Mats Saether )
New Mystery VLCC-Tanker, with no name on the bow.
Ian Thomas wrote to me : This one was really difficult to solve but I may have the answer to Photo 4, the vlcc in the photograph is I believe the CONOCO EUROPE.
Stéphane wrote to me : She could be "Conoco Europe" ex "Svelvik" built in 1975 seen here with the red Conoco funnel color.
Conoco Europe used to be a floating storage unit and your photo could aim to show her during lightering operations with a shuttle tanker.
It is the "Conoco Europe".