Auke Visser's International Super Tankers
|
home
Humboldt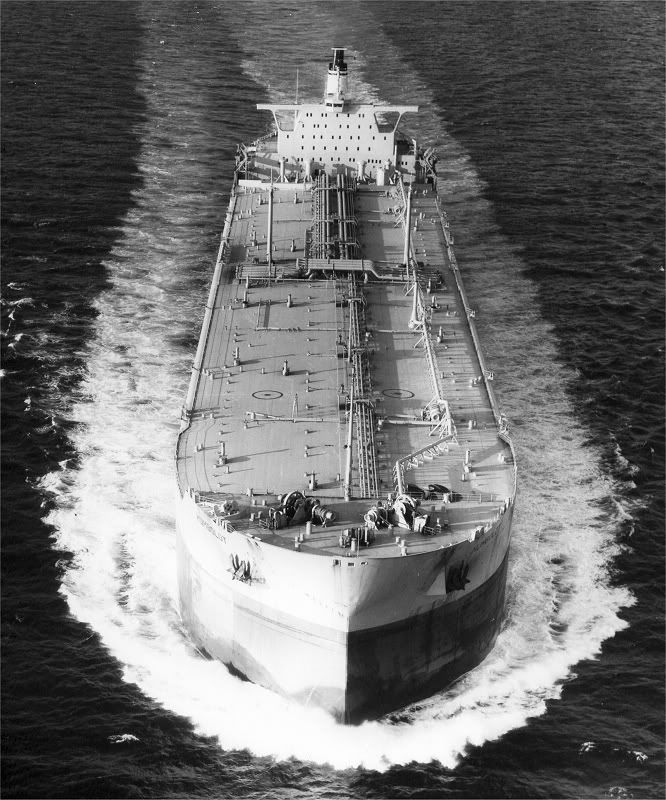 ( Copyright reserved )
( Copyright reserved )
( Photo collection Didier Pincon )
Name: Humboldt
IMO No: 7024342
Built: 9/1970
Type: Tanker
Status: 1980-Fleurtje; Demolished in 1984
SubType: Crude
Flag: German
DWT: 222,590
Draft: 20.422
Builder: Stord Verft A/S, Stord, Noorwegen (665)
GT: 109,633
LOA: 327.72/312.02
Owner: Tankschiff-K.G Petromar Sciffarht GMBH & Co. Friedrichshafen, Bremen, West Germany
NT: 85,539
Beam: 46.44
Speed/Cons: -/-
Class: -
Depth: 26.04
Engine Type: Sulzer, 22678 kW
Cubic: 350,631
Additional Information :
Stord Verft delivered 9 VLCC`s in their own 219 000 tdw standard size between 05/1969 and 06/1972.
The first ship in the series was "Kong Haakon VII". The largest ship buildt in Norway and the largest ship in
the Norwegian fleet at this time.
In december 1969 "Kong Haakon VII" was in ballast from Scotland to PG. An huge explosion rammed the ship
outside the the coast of Dakar, with no loss of life. In the end of november 1970. After replacement of 8000 tons
of steel at the Lisnave shipyard, "Kong Haakon VII" was sailing again. "Kong Haakon VII" was scrapped in
06/1984. The result after the explosion was the "Inert gas" on all new tankers.
Any way, the first ship was "Kong Haakon VII", "Aurelian", "Humboldt", "Nerva", "Raila", "Ranja", "Octavian",
"Hadrian", and the last ship "Beaumaris". All of this ships was simular to the standard type; GE steam turbine
or Stal-Laval, pumps, tanks osv., buildt for norwegian owners, flag and crew . The accomodation building and
the wheel house is almost the same on all this ship. But not "HUMBOLDT", number 3 in the series. The wheel
house on this ship looks like a small freighter or a passanger ship in a north sea trade.
T/T "Humboldt";
Delivered for "Tankschiff-K.G Petromar Sciffarht GMBH & Co. Friedrichshafen, Bremen, West Germany", in
september 1970.
Transferred to Schlussel Reedderiek, Flensburg.
1980 Sold to Scheepvaart Maatschappij, Fleurtje N.V., Willemstad.
Sold for demolition in april 1984, scapping started 04/1984.