Auke Visser's Famous T - Tankers Pages
|
home




Esso Baton Rouge (1)

A "Look A Like" T2-Tanker
You will be escorted to a remote site called Arnold Hague Ports database.
Click the Return button to return to the Esso site.
Thanks to Mike Holdoway webmaster of the Arnold Hague Ports database.

Additional Info by Starke & Schell Registers :
ESSO BATON ROUGE - 1938 USA 1ST (aft)(12)
7,989 Grt for Standard Oil Co. of New Jersey, Wilmington, Del., 445.4 x 64.2
Tanker build by Bethlehem SB. Corp., Ltd., Sparrow's Point, Md., (7), #4306, 237082
Torpedoed and sunk by U 202, 23 Feb 1943, in 31.15N-27.22W,
voyage Swansea & Milford Haven - Curaçao, in ballast.
( See photos below )
The Miramar Ship Index for "ESSO BATON ROUGE"
| | | | |
| --- | --- | --- | --- |
| IDNo: | 2237082 | Year: | 1938 |
| Name: | ESSO BATON ROUGE | Keel: | |
| Type: | Tanker | Launch Date: | 13.11.1937 |
| Flag: | USA | Date of completion: | 07.1938 |

Tons:

7989

Link:

-

DWT:

Yard No:

4306

Length overall:

Ship Design:

LPP:

135.8

Country of build:

USA

Beam:

19.6

Builder:

Bethlehem

Material of build:

Location of yard:

Sparrow's Point

Number of screws/Mchy/Speed(kn):

1ST-12

Subsequent History:
-
Disposal Data:
Torpedoed and sunk at 31.15 N / 27.22 W on 23.02.1943 (3 dead)
History :
| | | | | | | | |
| --- | --- | --- | --- | --- | --- | --- | --- |
| ON | LR/IMO | ID | Year | Name | Tons | Change | Registered Owner |
| 237082 | | 2237082 | 1938 | ESSO BATON ROUGE | 7989 | - | Standard Oil Co (New Jersey) |

Sisterships are R. W. Gallagher, Esso Baltimore, Esso Charleston, and Esso Nashville.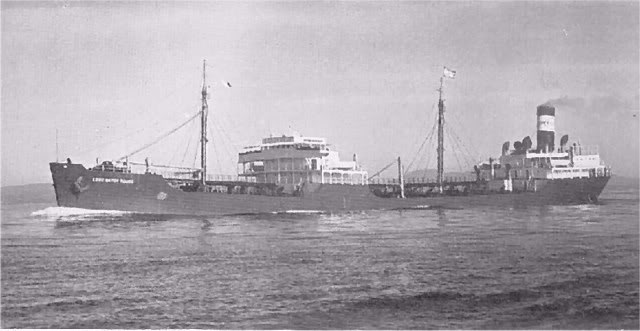 The first "Esso Baton Rouge" as she appeared before the war. During the war she was twice the
victim of torpedo attacks, the last dit sink her.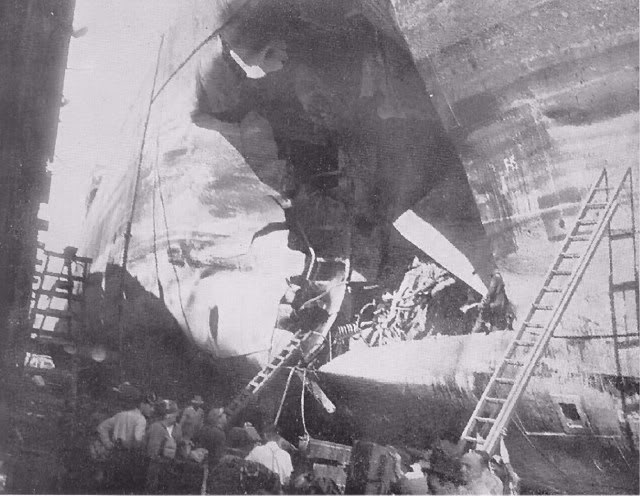 The result of the first attack, hole in Port side of "Esso Baton Rouge", photo taken from aft.
A view of after upper engineroom hatchway.
Gratings and condenser on starboard side.
Engineroom from doorway on main deck.
Additional Information from Uboat.net :
Name: Esso Baton Rouge
Type: Steam tanker
Tonnage: 7.989 tons
Completed: 1938 - Bethlehem Shipbuilding Corp, Sparrow´s Point MD
Owner: Standard Oil Co of New Jersey, New York
Homeport: Wilmington
Date of attack: 23 Feb, 1943
Nationality: American
Fate: Sunk by U-202 (Günter Poser)
Position: 31.15N, 27.22W - Grid DG 5624
- See location on a map -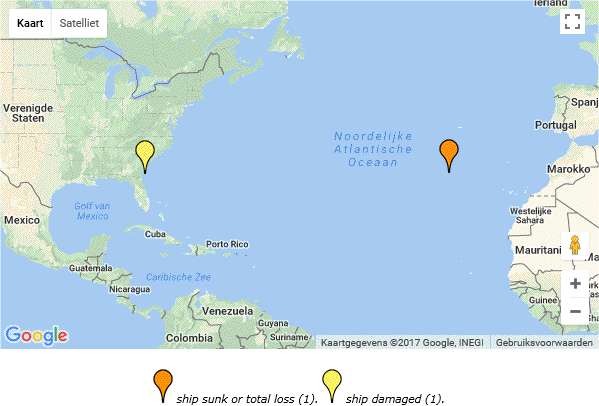 Complement: 68 (3 dead and 65 survivors).
Convoy: UC-1
Route: Swansea, South Wales (16 Feb) - Curaçao
Cargo: Water ballast
History:
At 08.44 hours on 8 Apr, 1942, the unescorted and unarmed Esso Baton Rouge (Master James S. Poche) was torpedoed by U-123 (Hardegen) about 15 miles northeast of St.Simons Island, Georgia, in 31°02N/80°53W (grid DB 6177) while proceeding
zigzagging on an inshore route at 13.5 knots from Baytown, Texas to New York with 89.398 barrels of heating and lubricating oil. The tanker had been spotted in the bright moonlight by U-123, after the U-boat had torpedoed the Oklahoma at 07.52 hours. The torpedo struck the starboard side between the after bunkers and the engine room. A cloud of smoke and flame shot upwards and the engine room and the quarters for the crew flooded immediately. The ship quickly sank by the stern in 40 feet of water and settled with the stern resting on the bottom. Most of the eight offciers and 31 men abandoned ship in two lifeboats. Two men had been killed by the explosion in the engine room. Another jumped overboard and was never seen again. U-123 left the sinking Esso Baton Rouge to finish off the Oklahoma with gunfire. The survivors of both ships headed together for the Georgia coast. The next morning a Coast Guard boat took them in tow and landed them at Brunswick.
The Esso Baton Rouge was floated by the salvage tug Resolute and with the help of the American salvage tug USS Willet (ARS 12) towed to St.Simon Sound. Temporary repairs were made at Brunswick and on 14 May, the tanker was towed by the tugs Kevin Moran and Henry W. Card to Baltimore, Maryland, arriving on 22 May. Permanent repairs were made here and the ship returned to service on 30 November 1942.
Notes on loss:
Between 22.17 and 22.20 hours on 23 Feb, 1943, U-202 fired four bow torpedoes at the convoy UC-1 about 400 miles south of theAzores and damaged the Murena, British Fortitude and Empire Norseman. At 22.21 hours, the stern torpedo was fired, which hit the Esso Baton Rouge.
The Esso Baton Rouge (Master James S. Poche) in station # 43 was struck by the torpedo on the starboard side between the engine room and aft bunkers. The explosion carried away the bulkhead between the tanks and the engine room, filled the latter compartment with burning oil, killed one officer and one man on watch below and stopped the engines. Debris flew over 50 feet in the air and one armed guard was killed. As the ship started to settle by the stern, the eight officers, 35 men and 25 armed guards (the ship was armed with one 4in, one 3in and eight 20mm guns) abandoned ship in three lifeboats, after three rafts were carried away, because the ship still had headway. Within 90 minutes all survivors were picked up by the British sloop HMS Totland (Y 88). The tanker finally sank bythe stern about 04.00 hours the next morning. Two crew members and one armed guard, all seriously burned from flaming oil, were treated on the sloop and put ashore at Antigua on 4 March. The remaining survivors were transferred to the Dutch steam merchant Maaskerk and arrived in Trinidad on 6 March.