Auke Visser's Famous T - Tankers Pages
|
home




Esso Harrisburg

A "Look A Like" T2-Tanker

See also :
Convoy-Routes Esso Harrisburg in WW2
&
VOYAGE BY LIFEBOAT
&
German Records off the Attack on the SS "Esso Harrisburg"
You will be escorted to a remote site called Arnold Hague Ports database.
Click the Return button to return to the Esso site.
Thanks to Mike Holdoway webmaster of the Arnold Hague Ports database.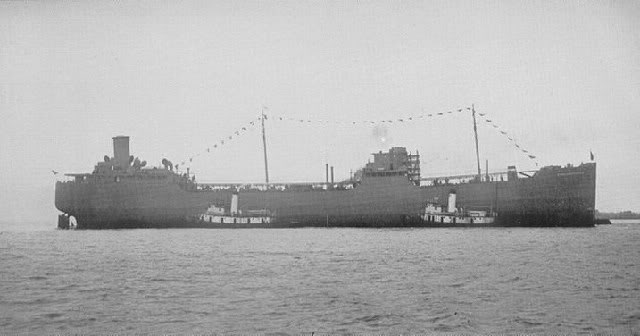 "Esso Harrisburg".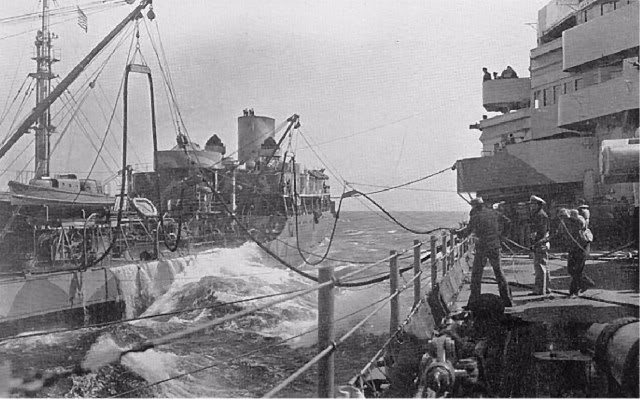 National Defence Features Tanker refeuling Cruiser USS "Nashville".
The Miramar Ship Index for "ESSO HARRISBURG"
| | | | |
| --- | --- | --- | --- |
| IDNo: | 2242356 | Year: | 1942 |
| Name: | ESSO HARRISBURG | Launch Date: | 18.07.1942 |
| Type: | Tanker | Date of completion: | 09.1942 |
| Flag: | USA | Keel: | |

DWT:

16585

Yard No:

4368

Length overall:

152.90

Ship Design:

LPP:

148.59

Country of build:

USA

Beam:

20.73

Builder:

Bethlehem

Material of build:

Location of yard:

Sparrow's Point

Number of screws/Mchy/Speed(kn):

1T/15.0

Subsequent History:
-
Disposal Data:
Torpedoed and sunk 13.20 N / 71.15 W 7.7.44 (8 dead*)
History :
| | | | | | | | |
| --- | --- | --- | --- | --- | --- | --- | --- |
| ON | LR/IMO | ID | Year | Name | Tons | Change | Main Owner |
| 242356 | | 2242356 | 1942 | ESSO HARRISBURG | 9887 | - | Standard Oil Co NJ |

Sisterships are "Esso Annapolis" (II), "Dartmouth" and "Esso Hartford".
From The Canberra Times, Saturday, 15 July 1944.
U-BOAT IN ATLANTIC
BOGOTA (Columbia), Thursday.
The newspaper, "El Timupe," reports that the American tanker Esso Harrisburg was torpedoed by a
German submarine off the Colombian coast on Monday Fifty-six of the crew are missing. Fifteen sur-
vivors arrived at Santa Marta.
Remarks :
Name: Esso Harrisburg
Type: Steam tanker
Tonnage: 9.887 tons
Completed: 1942 - Bethlehem Shipbuilding Corp, Sparrow´s Point MD
Owner: Standard Oil Co of New Jersey, New York
Homeport: Wilmington
Date of attack: 7 Jul, 1944 Nationality: American
Fate: Sunk by U-516 (Hans-Rutger Tillessen)
Position: 13.26N, 72.11W - Grid EC 6741 - See location on a map -
Complement: 72 (8 dead and 64 survivors). :
Route: Cartagena, Colombia (5 Jul) - New York
Cargo: 110.000 barrels of crude oil
Notes on loss: At 02.31 hours on 7 Jul, 1944, the unescorted Esso Harrisburg (Master Ernest Chipman Kelson) was
hit by a Gnat from U-516 about 200 miles northwest of Aruba. The tanker had just stopped zigzagging at 13.5 knots,
when a lookout spotted the torpedo and the helmsman put the helm over hard left. She managed to turn 90. but the acoustic
torpedo followed and struck under the stern. The explosion destroyed the 4in gun on the stern and damaged the rudder and
screw. The ship lost headway and began to settle slightly by the stern. Ten minutes after the hit, the eight officers, 36 men
and 28 armed guards (the ship was armed with one 4in, one 3in and eight 20mm guns) abandoned ship in four lifeboats
and two rafts in the heavy seas. At 02.40 hours, a second torpedo struck in the cross bunkers on the starboard side, aft of the
# 8 tank. 15 minutes later a third torpedo struck the # 6 tank on the starboard side, causing the vessel to sink within one minute.
Five survivors on a raft and 13 others in a boat were picked up by the American submarine chaser USS SC-1299 the next day
and taken to Aruba The same day, the Dutch patrol vessel Queen Wilhelmina RO-1, (the fromer American USS PC- 468) picked up
31 survivors from two lifeboats. Another boat with 15 men made landfall five days later near Santa Marta, Colombia, where the
were picked up by a blimp of the US Navy and tanken to Barranquilla, Colombia. The master, three men and
four armed guards died.
At 06.18 hours on 8 Jul, 1944, U-516 fired a spread of three torpedoes and one Gnat on the American motor tanker Point
Breeze (4756 tons) in grid EC 8263, but all torpedoes were evaded by the tanker.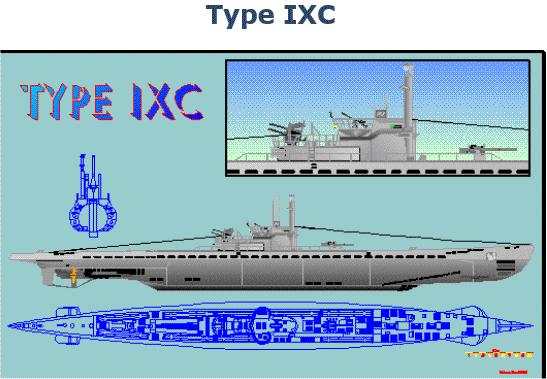 U-516 Type IXC
Laid down 12 May, 1941 Deutsche Werft AG, Hamburg
Commissioned 21 Feb, 1942 Korvkpt. Gerhard Wiebe
Commanders 10 Mar, 1942 - 23 Jun, 1943 Gerhard Wiebe
11 May, 1942 - 27 May, 1942 Hans Pauckstadt
24 Jun, 1943 - 30 Jun, 1943 Kptlt. Herbert Kuppisch (Knights Cross)
1 Jul, 1943 - Dec, 1944 Kptlt. Hans-Rutger Tillessen
Dec, 1944 - 14 May, 1945 Oblt. Friedrich Petran
Career 6 patrols 10 Mar, 1942 - 31 Aug, 1942 4. Flottille (training)
1 Sep, 1942 - 30 Sep, 1944 10. Flottille (front boat)
1 Oct, 1944 - 8 May, 1945 33. Flottille (front boat)
Successes 16 ships sunk for a total of 89.385 tons
1 ship damaged for a total of 9.687 tons
Fate Surrendered at Lough Foyle, Northern Ireland. Transferred to Lisahally 14 May, 1945 for Operation Deadlight.
Operation Deadlight (post-war Allied operation, info)
Sunk on 2 Jan, 1946 in position 56.06N, 09.00W.
Men lost from U-boats
Unlike many other U-boats, which during their service lost men due to accidents and various other causes,
U-516 did not suffer any casualties (we know of) until the time of her loss.
ESSO HARRISBURG
Standard Oil Co. of New Jersey; 1942; Bethlehem Sparrows Point Shipyard; 9,887 tons; 488-3x68-3x36-9; 7,700s.h.p.; 15 knots;
turbine engines.
The tanker Esso Harrisburg, Capt. C. Kelson, left Cartagena, Colombia, with a cargo of 113,342 barrels of crude oil early in July,
1944. She carried a mercantile crew of 44 officers and men and one officer and 27 men U.S. naval gun crew. At 7.25 p.m. on the 6th the
vessel was hit in the stern by a torpedo which damaged her rudder and propeller and stopped her engines. A second torpedo struck her on
the starboard side about 20 minutes later, followed by a third after a short interval. Most of the crew got away safely and were picked up by
the Dutch submarine chaser HNMS Queen Wilhelmina RO-1, but Capt. C. Kelson and three mercantile crew with four U.S. naval ratings
went down with the vessel.
HNMS "Queen Wilhelmina (PO 1)", ex "USS PC-468" - Submarine Chaser.
PC-461 Class Submarine Chaser:
Laid down 1 January 1942 by George Lawley and Sons, Neponset, MA Launched 30 April 1942 Commissioned USS PC-468, 30 June 1942 Transferred to The Netherlands 6 August 1942 and named HNMS Queen Wilhelmina (PO 1). Presented to Queen Wilhelmina of The Netherlands by President Franklin D. Roosevelt, 8 August 1942 Subsequently reclassified RO-1, HE-1, P-14, and P-801 She was assigned to the Carribbean area, operating between Guantanamo Bay, Cuba, Trinidad and Curacao, Dutch West Indies. The ship rescued two American aviatiors 19 June 1944 north of Curaçao. On 8 July 1944 she rescued 31 survivors from the tanker Esso Harrisburg, sunk by U-516 on 6 July 1944. Returned to Miami, FL in October 1944 for maintenance. Maintenance completed in February 1945 and prepared for crossing the Atlantic. Arrival in Plymouth, England in March 1945.
Loaned to the Nigerian Navy 26 July 1963 and renamed HMNS Ogoja Transferred to the Nigerian Navy 16 September 1965 Sunk in October 1969.
Specifications:
Displacement 280 t.(lt), 450 t.(fl) Length 173' 8" Beam 23' Draft 10' 10" Speed 20 kts. Complement 65 Armament: One 3"/50 dual purpose gun mount, one 40mm gun mount, three 20mm guns, two rocket launchers, four depth charge projectors and two depth charge tracks Propulsion: Two 1,440bhp Fairbanks Morse 38D8-1/8 diesel engines (Serial # 832357 and 832360), Westinghouse single reduction gear, two shafts.