Auke Visser's Famous T - Tankers Pages
|
home




Cimarron, T3-S2-A1, Fleet Oiler, some technical details

Those readers who are familiar with the Cimarron, or know about the thirty-two other "T3" oilers that followed
her down the ways, will be surprised to learn that this famous vessel was originally built for the Standard Oil
Company of New Jersey -- a little - known fact that has a large bearing on our story. How this came to pass in-
volves Adm. Emory S. Land and the establishment of the U.S. Maritime Commission's long-range building
program.
The First Twelve National Defense Tankers
On 3 January 1938, an agreement was signed between the maritime commission and Standard Oil of New
Jersey for the construction of twelve high-speed tankers, to include certain national defense features
desired by the navy. On the same day, Standard Oil signed separate construction contracts with four shipyards:
Sun Shipbuilding and Dry Dock Company; Federal Shipbuilding and Dry Dock Company; Bethlehem Steel
Company, Shipbuilding Division, Sparrows Point Plant; and the Newport News Shipbuilding and Dry Dock
Company, each yard to build three twin-screw tankers of 16,300 deadweight tons, at a contract price for each
tanker of $3,129,677.60 Of this total, $880,250 was allocated to cover the cost of the national defense featur-
es, which were to be paid for by the maritime commission. These features included the following:
Speed in excess of commercial requirements
Two-compartment floodability and stability
Magazine spaces
Gun foundations
Oiling at sea gear
Heavy lifting facilities
Paravane gear
Navy searchlights
Extended cruising radius
Flexible piping arrangement
Twin screws
Standard Oil would have exclusive control and supervision of the construction, but no changes were to be made
in the plans and specifications without the written approval of the Navy Department and the maritime commission.
Two weeks after the construction contracts for the twelve national defense tankers subsidized by the maritime
commission were formally signed, Adm. William Leahy wrote the commission to advise that the Navy Department
wanted to acquire the first of these tankers immediately upon its completion. Leahy intended to include the cost
of four large auxiliaries authorized, but not yet funded, in his budget estimates for the coming year (FY 1939), and
it is clear that he intended to acquire one of the subsidized oilers as soon as possible. Four days after Leahy's let-
ter, the House of Representatives, finally awakening to the growing unrest in Europe and now concerned with
the need to strengthen America's defenses, passed its version of the annual naval bill for FY 1939. Exceeding
all previous peacetime appropriations for the navy, this legislation would provide Leahy with the funds needed
to procure the auxiliaries authorized but not funded in the previous year, including the oiler so desperately want-
ed by Leahy.
Construction of the twelve national defense tankers ordered by the maritime commission began on 25 April
1938. On that date the keel for the first of these vessels, Cimarron, was laid at the Chester yards of the Sun
Shipbuilding and Dry Dock Company. The following day, President Roosevelt signed the Naval Appropriation
Act for FY 1939, allocating $140 million for new ship construction. By then, both houses of Congress were
nearing agreement on a billion dollar naval expansion bill, which would become known as the Second
Vinson Act.
Principal Dimensions of Cimarron (T3-S2-A1) as Delivered
| | | |
| --- | --- | --- |
| Length, overall | 553 | feet |
| Length, between perpendiculars | 525 | feet |
| Breadth, molded | 75 | feet |
| Deadweight (approx.) on 30-foot draft | 16,734 | tons |
| Deadweight (approx.) on 31-foot, 71/8-inch summer draft | 18,200 | tons |
| Cargo capacity | 147,150 | bbls |
| Trial speed | 18 | knots |

Specifications for the Construction of Oil Tankers (Basic Design Dimensions and Particulars)
Length between perpendiculars

525

feet

Beam, molded

75

feet

Depth, molded to upper deck

9

feet

Draft, molded

29

feet 101/2 inches

Displacement for molded length between perpendiculars, beam and draft

23,000

tons

Deadweight capacity to molded draft

16,300

tons

Capacity of cargo oil tanks at 98 percent full load

145,000

barrels

Number of screws

2

Shaft horsepower (6,000 per shaft)

12,000

Revolutions per minute

85

Power to shafts furnished by two steam turbines through reduction gears

Sustained sea speed

16 1/2

knots

SOURCE: "Maritime Commission Working on Enlarged Program for Fast Tankers," ME& SR, January 1938, 47.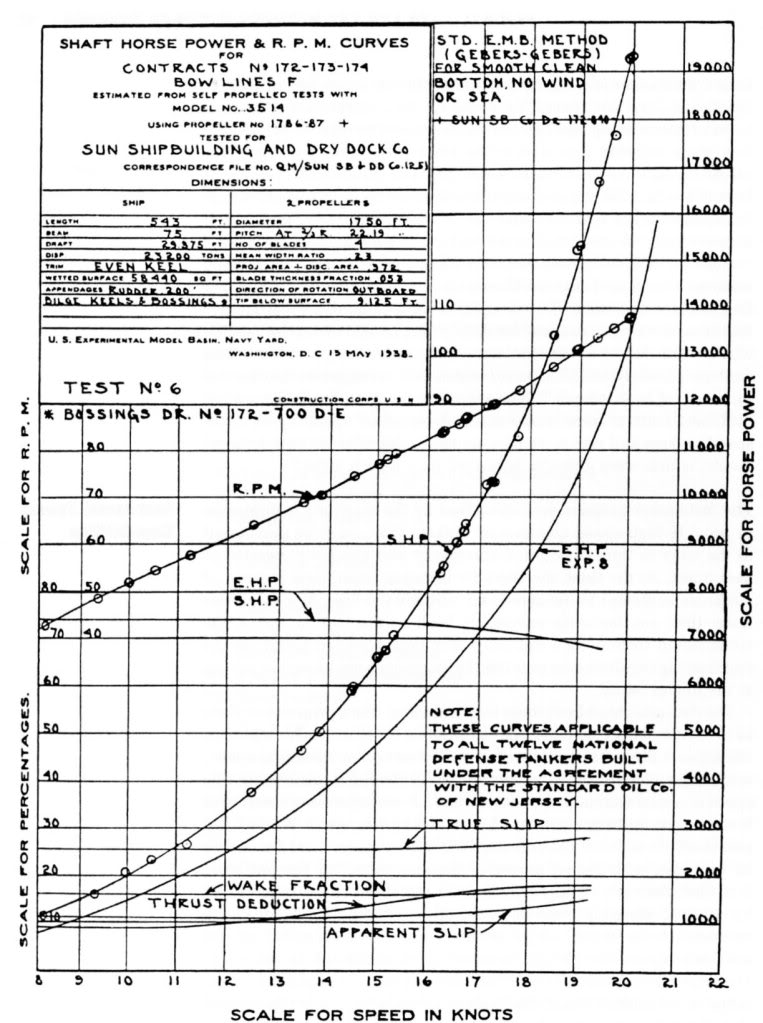 Horsepower curves developed at the Navy's model basin (U.S. Maritime Commission)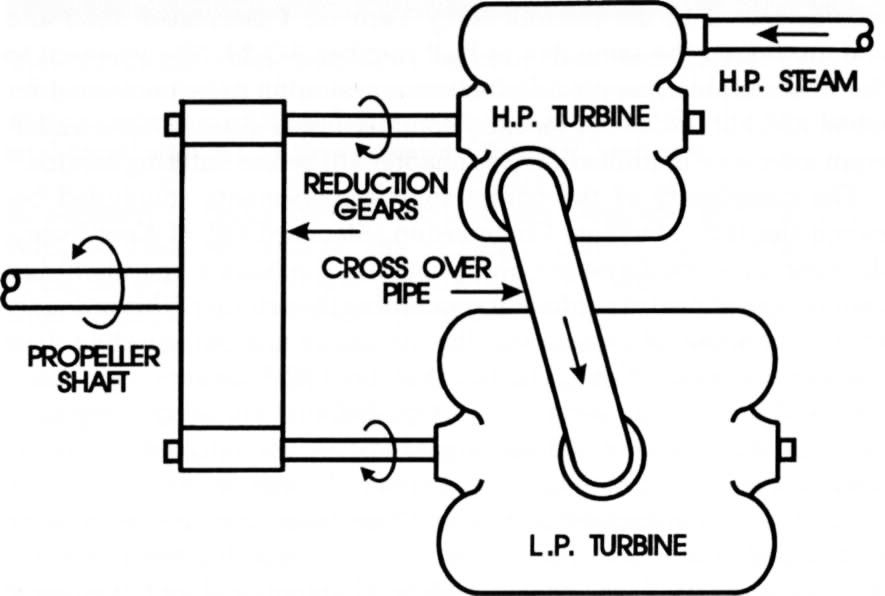 Turbine arrangement of the Cimarron class.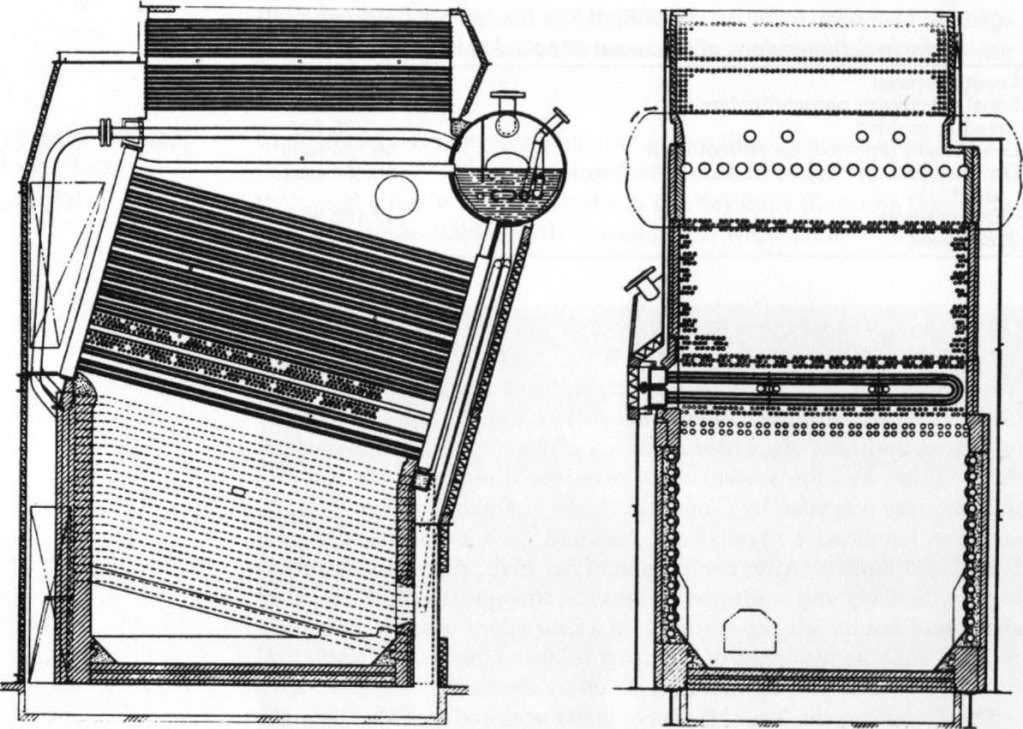 Cutaway drawing of Babcock & Wilcox boiler (U.S. Maritime Commission)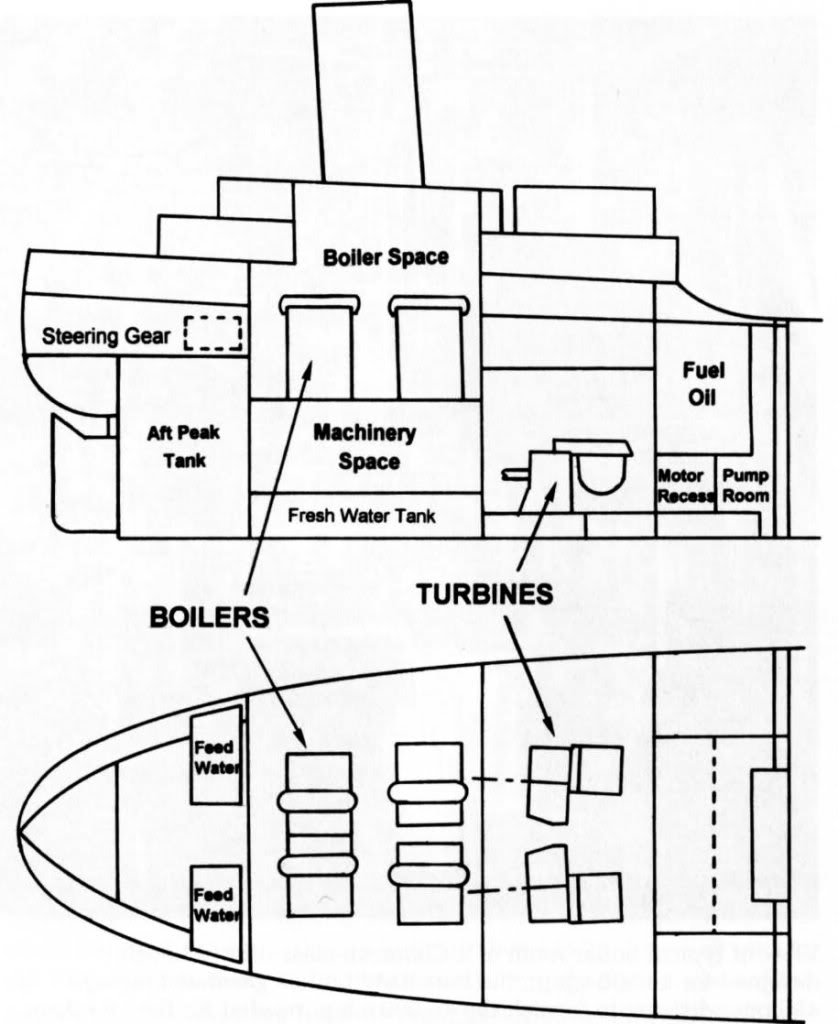 General machinery and boiler arrangement for Cimarron-class oilers.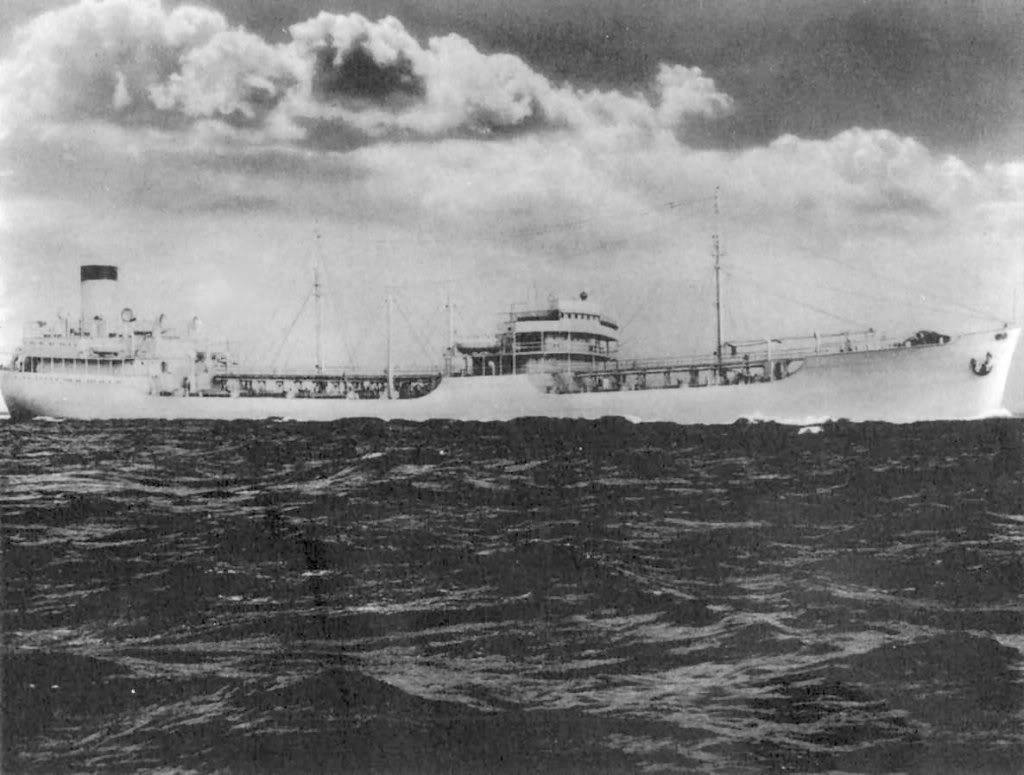 Cimarron, first ship completed for the U.S. Maritime Commission, as she ap-
peared during her trials in February 1939.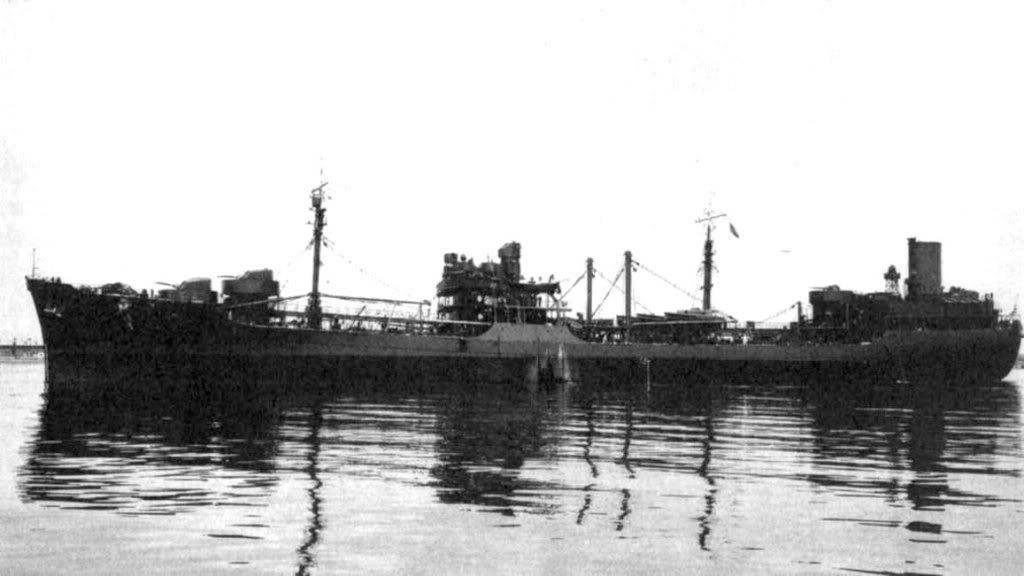 After "final" conversion, Cimarron departs from the Philadelphia Navy Yard on 29 April 1941 enroute to Baton
Rouge, La., to pick up a load of black oil destined for Pearl Harbor. The ship was equipped with one of the first
Mark 37 directors and four 5-inch, 38-caliber, dual-purpose guns--an unusual combination for an oiler.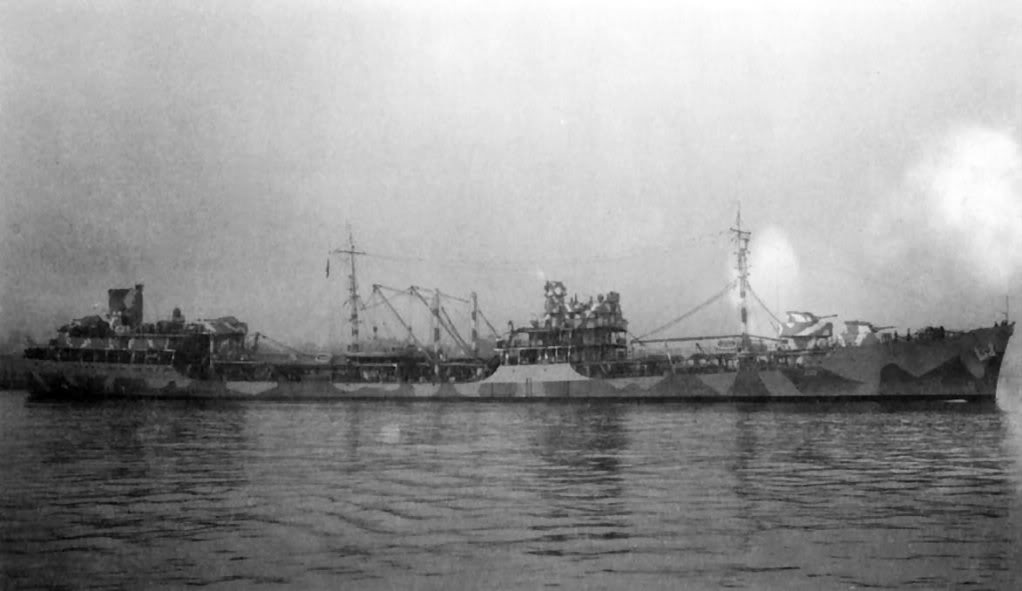 Cimarron.