Auke Visser´s Esso UK Tanker's site
|
home




Brilliant - (1901-1914)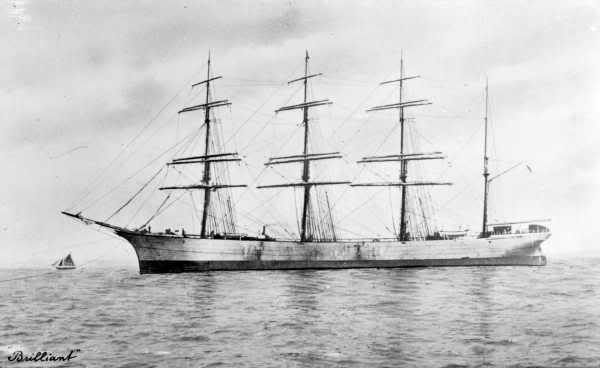 "Brilliant" was build in 1901 and sold to Tank Storage & Carriage Co., Ltd.
The "Brilliant", one of the world's two largest four-masted sailing ships during the early 1900s,
could carry nearly 1.5 million gallons of oil, all in five-gallon cans.
"Brilliant" - 5.1901 - 3,765 GT
Built by Russell & Co., Port Glasgow.
Measurements: 352 feet length X 49 feet breadth.
Four-masted steel barque.
1912: (Tank Storage & Carriage Co. Ltd.)
1914: "Perkeo" (Deutsch-Amerikanischie Petroleum-Gesellshaft).
1915: "Bell" (A. Monsen, Tonsberg). Sold as a prize of war.
30.3.1916: Torpedoed by submarine, sank off Ushant.
When launched, "Brilliant" and her sistership "Daylight" were the largest windjammers under the british flag and the
largest four-masters in the world. They could carry 150,000 cases of oil. Because the water ballast tanks of
2,000 tons were converted to carry cargo, the ships survived the transition to bulk oil carrying, which started in 1910.
The conversion was, indeed, made in that year at New York. The ships were the only Anglo-American conversions
from case oil.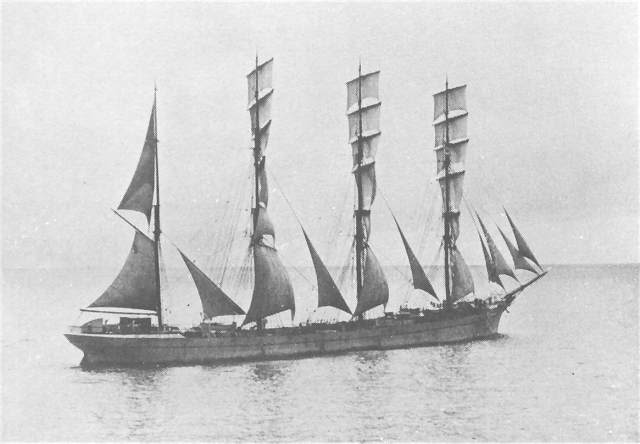 "Brilliant".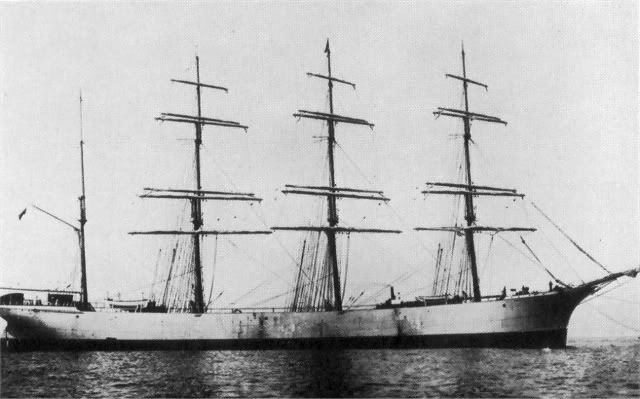 "Brilliant".
Sailing vessel "Brilliant".
Brilliant
A four-masted steel barque built in 1901 by Russell & Co., Port Glasgow.
Dimensions 107,40×14,95×8,58 meters [352'5"×49'1"×28'2"] and tonnage 3765 GRT and 3609 NRT.
Rigged with royals over double top and top-gallant sails.
Together with her sistership Daylight the largest four-masted barque ever built.
1901 May
Launched at the shipyard of Russel & Co., Port Glasgow, for Anglo-American Oil Co., London.
1914 July 16
Sold to F. Laeisz, Hamburg, and renamed Perkeo. Command of the ship was given to Captain Hinrich Nissen.
1914 August 6
Captured by a British cruiser on voyage New York to Hamburg and was confiscated as a prize of war. Was renamed Bell
1915 April
Sold to A/S Bell (Alf Monsen), Tönsberg, Norway, for £ 12.200. Assigned the Official Norwegain signal WKDT.
Captain Thv. Ellingsen.
1916 March 30
Sunk by the German submarine U-44 in postion 48°50' N, 7°40' W, some 70 nm SW Scilly Islands on voyage from Portland, OR, to Britain with wheat.
The entire crew were able to reach Liverpool after having been picked up by the steamer City of Stockholm.