Auke Visser´s Esso UK Tanker's site
|
home




The explosion on the Esso Portsmouth

On 8th July, 1960, the ESSO Portsmouth arrived at Milford Haven dressed overall, for she was the first
ocean-going tanker to berth at the marine terminal of the new Esso refinery. She had 32,000 tons of crude
oil to discharge from Kuwait. Early next morning while the ship was discharging, a structural failure of an
unloading arm on the jetty caused a spillage of oil. This quickly ignited and there was a massive explosion.
Fire and rescue services managed to extinguish the flames but not before the ship's hull structure was heavily
buckled and her midships accommodation completely gutted. Fortunately the bulk of the cargo was saved
and after its discharge the ship was placed on buoys in the harbour for survey. This revealed that the shell
plating was damaged over the whole length of the ship. Deck plating, tanks and bulkheads were ripped open
and the midship superstructure damaged beyond repair; even its aluminium panelling having melted in
the intense heat. Nevertheless, it was decided that the Esso Portsmouth could be repaired and at the
same time modernised and enlarged, reforming her to the modern "bridge and accommodation aft"
configuration.
After temporary repairs to make her seaworthy, the Esso Portsmouth left Milford Haven in tow on 26th July,
arriving in the Tyne on 6th August where she went into Palmers, Hebburn drydock for examination by Swan,
Hunter. Eventually, a new midship section, 200 feet in length, was built by Vickers-Armstrongs, Walker, who
were her builders, and after the damaged centre part of the ship had been cut away, the new midbody was
grafted into the two remaining end sections, this work done by Swan, Hunter. Riveters and welders fitted
new longitudinal frames, stiffeners and shell plating, with the outfitting work carried out by Palmers, Hebburn.
In December, 1961, the ship was ready for service and in the second week of the month, with her new "all
aft" profile, put to sea, bound for the Persian Gulf. It had taken a year, and more than 4,000 tons
of steel, to rebuild a "new" ship from the old casualty.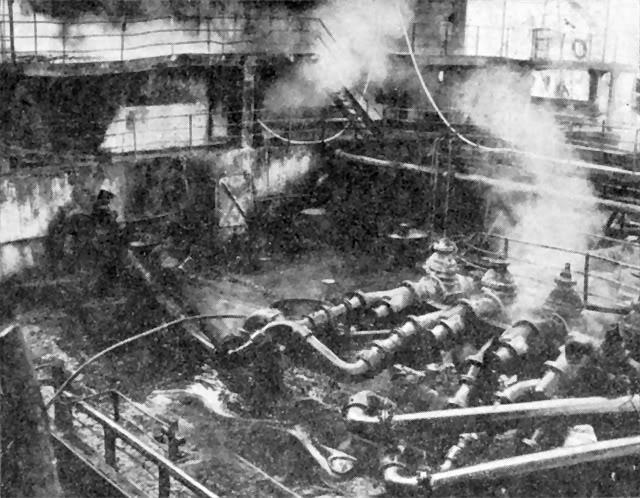 After end of bridge and deck discharges after the fire.
Damage to deck fittings between midship house and aftership.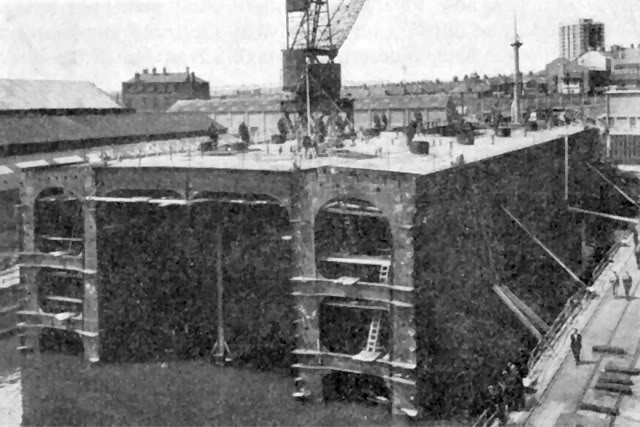 NEW MID-SECTION IN DRY-DOCK PRIOR TO DOCKING AFTER END AND SUBSEQUENT JOINING UP.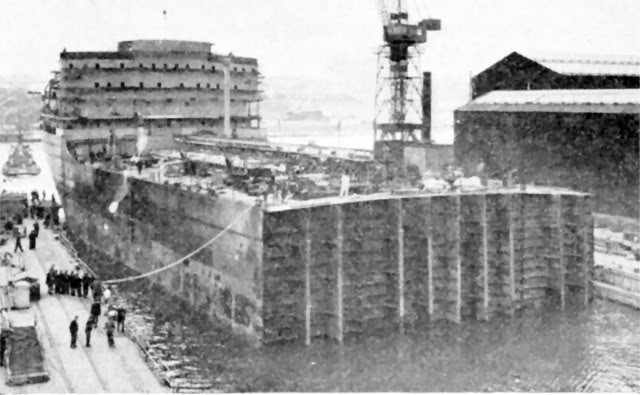 ORIGINAL AFTER SECTION WITH NEW BRIDGE PARTIALLY COMPLETE PROCEEDING INTO DRY-DOCK.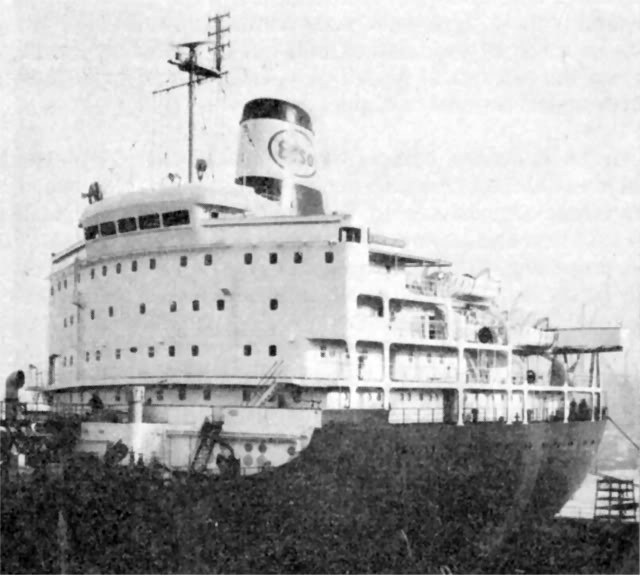 NEW BRIDGE IN AFTER POSITION.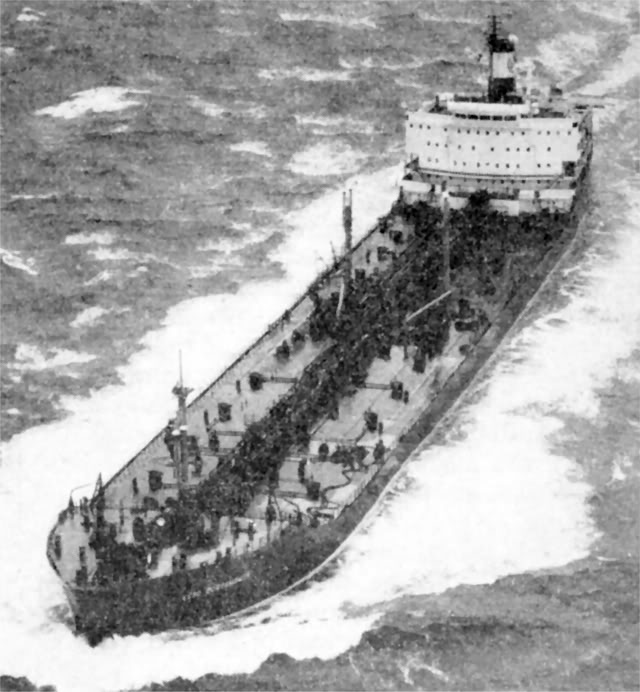 ON SEA TRIALS FOLLOWING COMPLETION OF REPAIRS.