Auke Visser´s Esso UK Tanker's site
|
home




Fine model of the "Esso Lancashire"


A full hull builder's model (scale 1:100) of the oil tanker "Esso Lancashire" (1962, 49,397 GRT).
Built by Barclay Kockums, of Malmö in Sweden, she served in the Esso fleet until 1975.
Creator: Fermo Model Factory.
Date: c.1962
Credit line: National Maritime Museum, London.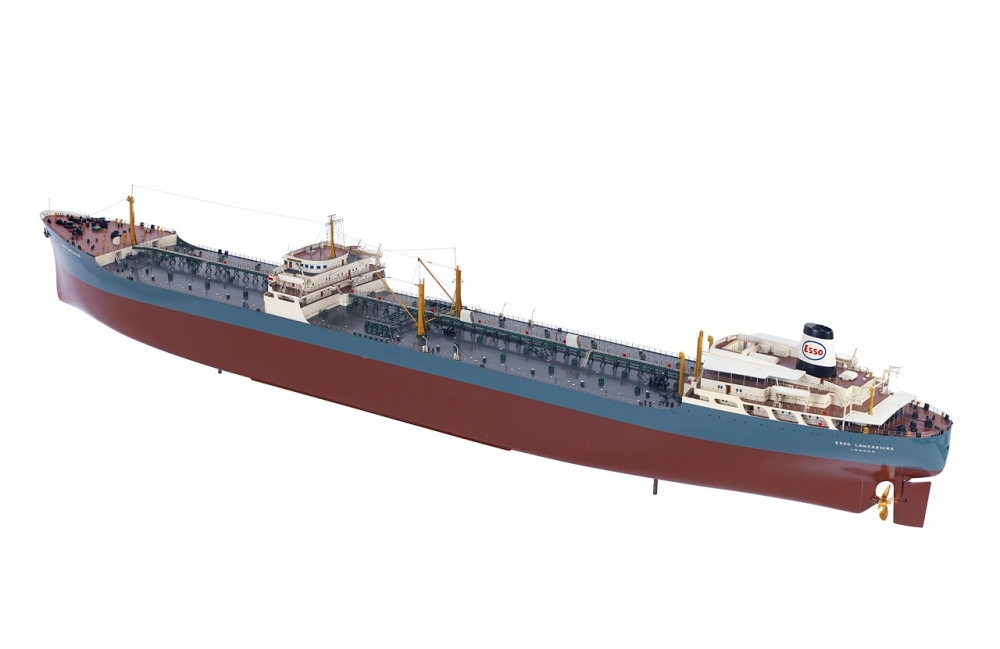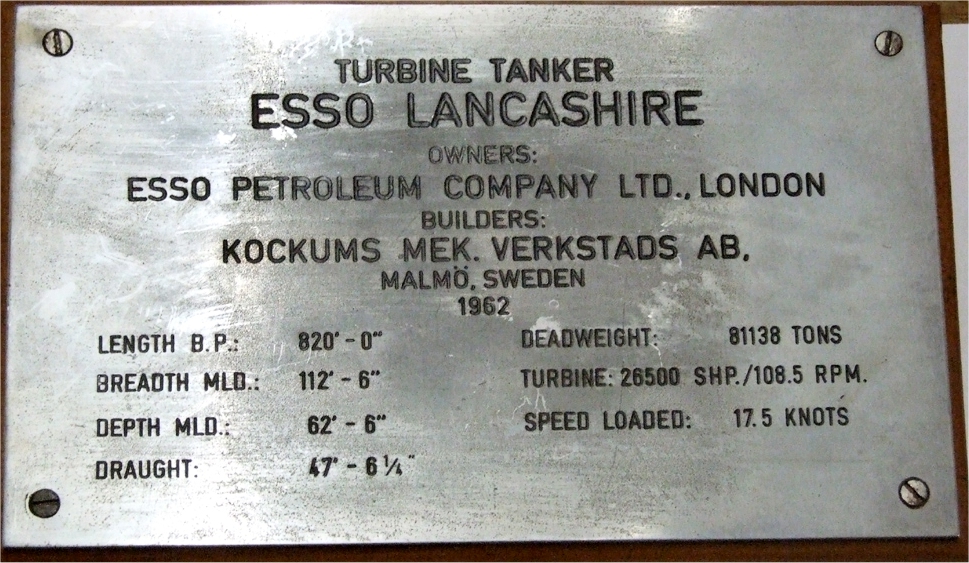 Scale: 1:100. A realistically painted model of Esso Lancashire made in wood with metal and plastic fittings. The hull is painted brick red below the waterline and blue-grey above, the main deck is painted a dark blue, and the forecastle and stern decks are painted a brick red. The hull fittings include two anchors at the bow, bilge keels, and a single three-bladed propeller at the stern. Forecastle fittings include two separate anchor winches, a spare anchor on the starboard side, a small green hatch cover, and a short observation mast. The forward cargo deck is fitted with fuel outlet covers and a raised companionway linking the forecastle with the midships superstructure. The midship superstructure is positioned forward of amidships and contains the bridge and accommodation. Fittings include two lifeboats rigged to davits and a radio mast. The main cargo deck fittings include a pair of derricks painted light brown and a raised companionway linking the midship and stern superstructures. The stern superstructure fittings include a single funnel painted black with a broad white stripe and ESSO logos, two lifeboats rigged to davits, a swimming pool, and a short promenade deck. On the port and starboard bows is: 'Esso Lancashire'. On the stern port and starboard quarters is: 'Esso Lancashire London'. On the front of the stern superstructure is: 'No Smoking'. The model is mounted on four turned pillar supports and displayed in its original mahogany framed display case.