Auke Visser´s German Esso Tanker's site
|
home




Helios - (1897-1914/1918-1919)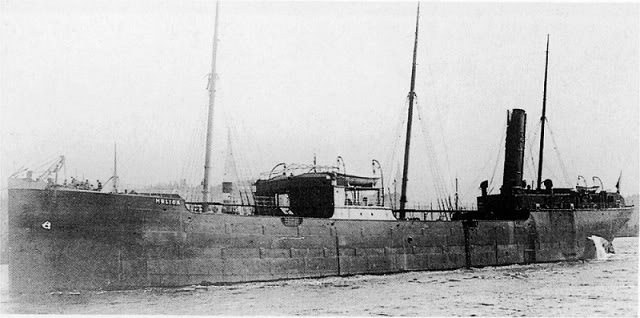 "Helios" was build in 1894 as "A.C.O." for the American Cotton Oil Co. NV., Rotterdam.
An old photo of the "Helios".
Built as the "Aco" in 1894, for the American Cotton Oil Company, to carry 4,800 tons on 23 ft. 4in. of refined
cotton seed oil - a most valuable cargo. This the vessel continued to do for some years,but later she was
transformed into a petroleum - carrying steamer ( "Helios").
Additional Info by Starke & Schell Registers :
A. C. O. - 1894 NE, 1T (aft) (9½)
3,623 GRT for Holland-American Cotton Oil Co., Rotterdam 333.5 x 43.2
Tanker build by D. J. Dunlop & Co., Port Glasgow, (3) #221
1897 - HELIOS Deutsch-Amerik. Petroleum Ges., Hamburg, GE
(WW I - Imperial German Naval service as submarine depot ship at Emden)
1919 - French Government, FR
1920 - Belgian Government - Régie de la Marine, Antwerp, BE
1921 - VAMPA Soc. Anon. di Costruzioni & Imprese Navali "Andora", Genoa, IT 1064
1924 - Janua Soc. Anon. Maritt. Industriale (Soc. Esercizio Navigazione S.p.A.), Genoa
1925 - CLITUNNO, s/o
1927 - Soc. Esercizio Navigazione S.A., Genoa
Wrecked 30 Dec 1927 between Cape Shableh & Cape Kaliakra, Black Sea, bound Batoum, in ballast.