Auke Visser´s German Esso Tanker's site
|
home




Gut Heil - Sunken and Lost in 1913

All photos tanke by L. Hufhorn (?) and from a collection of Scot Longon.
Steam Tank Ship "Gut Heil" a drift in river flood.
"Gut Heil" is in front of the "Bulysses".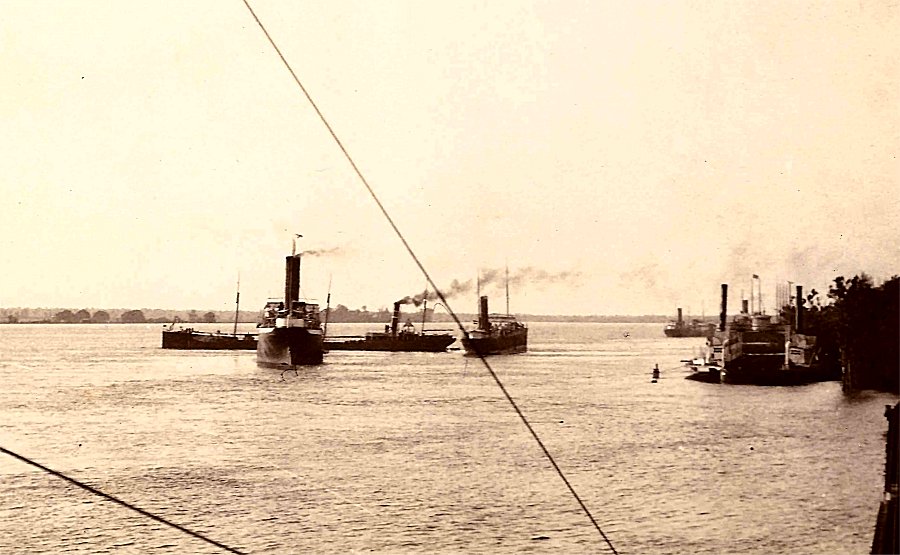 Steam Tank Ship "Gut Heil" a drift and now right across the river, also depper in the water, after the "Bulysses" and
besides the "Wilkommen".
"Gut Heil" sunken in 70 feet of water off the Standard Oil docks at Baton Rouge, La. A train ferry is seen on the right.
Scott Longon wrote to me :
Good afternoon, I have photos in my collection of the Gut Heil when she wrecked and sank near Baton Rouge in 1913.
If you are interested in posting a digital copy of the photos on your website.

On 28.4.1913 during the voyage from Tuxpan to Baton Rouge loaden at 90 miles form new Orleans,
sunk after a collission with the tanker
"
Wilkommen
"
and a British steamship "
Bulysses
".
In 1941 salvaged by the Deutsche Kriegsmarine, Gruppe Sud and taken over.
Wreck sold to J.W. Thompson, New York. 1917 salvaged and repaired.
08.08.1918 to the American navy and renamed "Sara Thompson" (AO 8).