Auke Visser's International Esso Tankers site
|
home




Esso Atlantic - (1977-1990)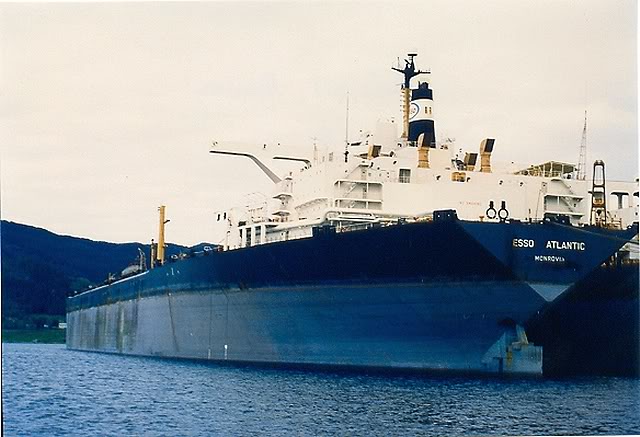 "Esso Atlantic", built 1977.
1983 Transferred to Bahamian flag owned by Esso International Shipping (Bahamas) Co Ltd, Nassau.
1990 - ESSO ATLANTIC; 247,160/19977-s.tanker. By Esso Eastern Marine Ltd., Bermuda, to
Ceres Hellenic Shipping Ent. Ltd., Greece. Renamed KAPETAN GIANNIS.
13.06.2002, from Fujairah-Anchorage bound for LOOP Oilterminal. Sold to Pakistani breakers in 2002.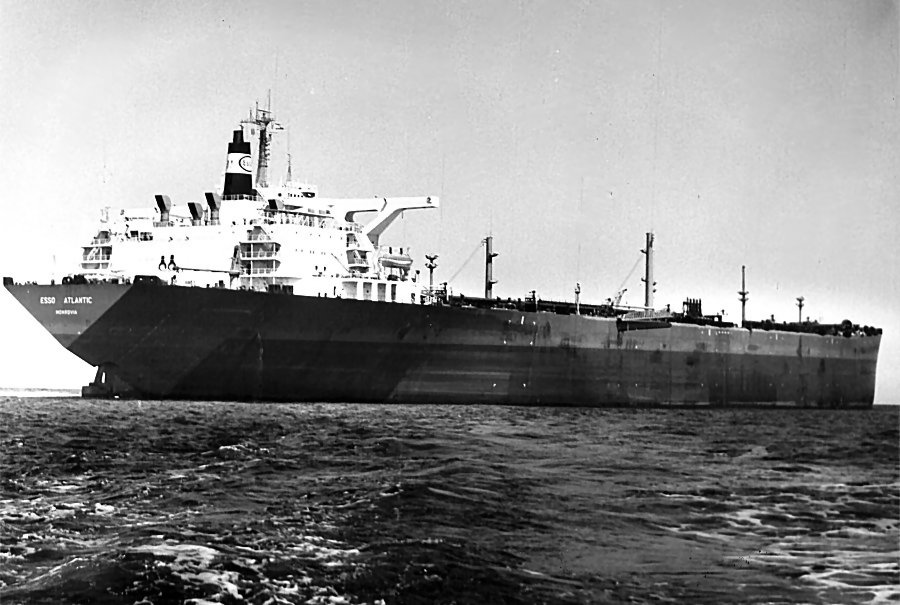 "Esso Atlantic".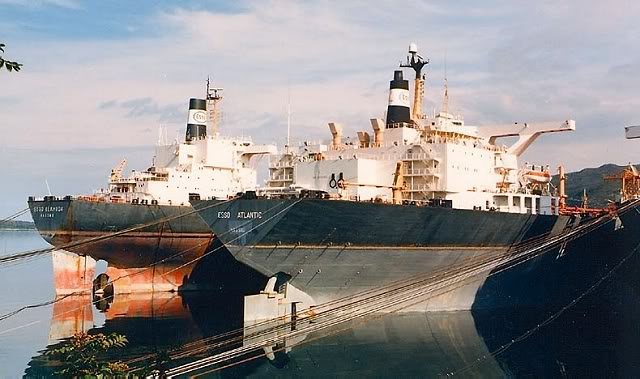 "Esso Atlantic", laid up near Aalesund on 16/8/1986.
( Photo by Mike Ridgard )
"Esso Atlantic".
"Esso Atlantic" leaving after have been layed up.
"Esso Atlantic", performing helicopter operations off Cape Town.
( Photo thanks to Jacopo Flotta )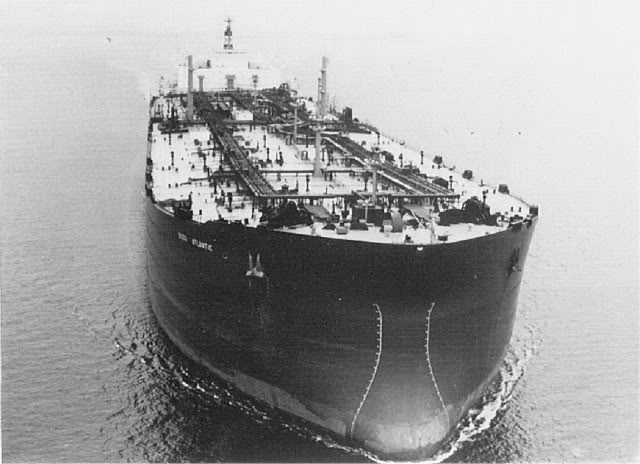 "Esso Atlantic".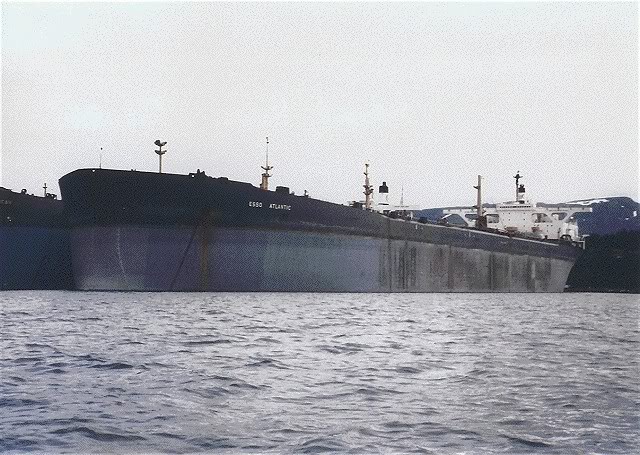 "Esso Atlantic" laid up in Norway.
( Photo by Jochem W.Pein )

PEACE IN THE GULF. During the first Gulf War.
In August the world witnessed an important breakthrough with the announcement of the cease fire between Iraq and Iran. It is begin-
ning to look as if peace is finally coming to the Persian Gulf. If all goes well, we can look forward to smooth sailing in those waters in
the future. In the picture at the right you can see the Esso Atlantic under escort of the British H.M.S.Scylla as part of the Armilla
patrol sailing through the Arabian Gulf before the cease fire was declared. Though we appreciate the protection we receive, we
certainly hope that these pictures will become a thing of the past.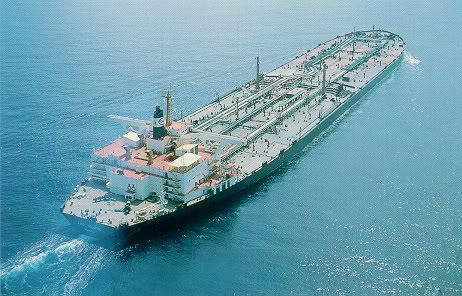 "Esso Atlantic".
"Esso Atlantic".
"Smit Lloyd 120", towing in 1983 together with "Smit Lloyd 015" the "Esso Atlantic" for layup to Aalesund, Norway.
"Kapetan Giannes" ex "Esso Atlantic" seen here with unknown smaller tanker.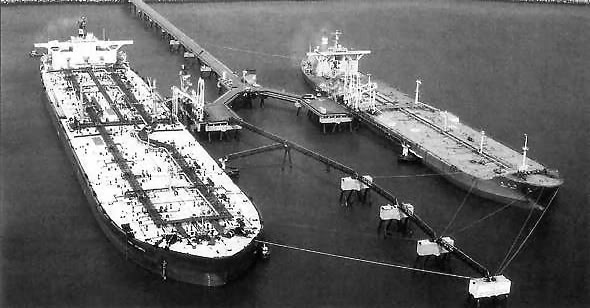 "Esso Atlantic" on the left and the "Meiko Maru" on the right.
"Esso Atlantic", the green pipelines are painted to red.
( Photo Julian Lelliott )
"Esso Atlantic", funnel.
( Photo Julian Lelliott )
"Esso Atlantic".
"Kapitan Giannis" (ex."Esso Atlantic", seen from the "Kapetan Hiotis".
( Photo by Christos Leounakis )
Hitachi Delivers 508,731-DWT Esso Atlantic — Largest Ship Ever Built In Japan
The 508,731-dwt ultra large crude carrier (ULCC) supertanker Esso Atlantic, the largest ship built in Japan to date, was delivered to her owner, Esso Tankers, Inc. of Liberia, on August 11, 1977, at Hitachi Zosen's Ariake Shipyard.
Besides being the largest ship ever built in Japan, she is also the third largest ship in the world behind a pair of 550,000-dwt ULCC sisterships built in France. Like the two French-built ships, she will be used primarily for service between the Middle East and Europe.
The Esso Atlantic boasts impressive dimensions. For example, her length of approximately 1,384 feet makes her just about 33 feet shorter than the Empire State Building is tall. Her crude oil capacity of 611,200 cubic meters could meet Japan's oil needs for one-half day. Even her propeller is large—as high as a three story building.
The Esso Atlantic is built with the following special features to improve operation.
Optimum Hull Shape Design Designed by Hitachi Zosendeveloped hull form calculation programs, the Esso Atlantic features a highly efficient hull shape which gives her excellent course stability, maneuverability, and reduced resistance. She is also the world's largest single-screw vessel, and is equipped with a nozzle propeller.
Unmanned Engine Room Operation Highly sophisticated automatic and monitoring systems are adopted to bring a substantial reduction in labor. The main engine is remote-controllable from the wheelhouse, and the engine room can be operated unmanned around the clock.
Reduced Fuel Consumption After extensive research, more than 10 fuel conservation systems or equipment units were incorporated to lower fuel consumption (198.4 grams/hp/hr at sea trials).
These include:
(1) Improved main condenser vacuum (723.5 mmHg) ;
(2) Adoption of five-stage steam bleeding and five-stage feedwater heating system, and
(3) Improved boiler efficiency.
Inert Gas Explosion Prevention System Whether loaded or empty, the ship's crude oil tanks are filled with inert gas to reduce oxygen concentrations and thus prevent explosion.
Crude Oil Washing System A crude oil washing system for tank cleaning is adopted to provide improved cleaning and cargohandling performance.
Lifeboats And Sprinkler Systems Two 60-passenger FRP fireresistant lifeboats are provided as lifesaving equipment. The ship is also equipped with sprinklers to spray seawater on the lifeboats onboard the ship and during lowering to the sea to protect the crew and lifeboats from fire. Automatic Navigation System An automatic navigation system is provided to improve safety, reduce operation costs and minimize onboard work.
Elevators The engine room, living quarters and main pump room are equipped with elevators to facilitate vertical traffic.
The living quarters are also extraordinarily comfortable, with vibration and noise reduced to about 1/3 the levels of other large ships.
The approximate measurements and main particulars of the Esso Atlantic are as follows: length overall, 1,334 feet; length between perpendiculars, 1,280 feet; molded breadth, 233 feet; molded depth 102 feet; designed full-load molded draft, 82 feet; deadweight tonnage, 508,731, and gross tonnage, 234,626.8. The main engine is a Hitachi UC-450-type steam turbine (one set) with a continuous maximum output of 45,000 hp at 80 rpm producing a trial speed (maximum) of 16.051 knots. The ship carries ABS classification and is registered under the Liberian flag.

Original Name

Esso Atlantic

Type

ULCC

Delivered

11-08-1977

IMO No

7376525

Builder & Yard

Hitachi Zosen, Ariake Yard, Japan

Yard No

4484

Engine

Steam

KW

33570

GRT

234627

NTR

201698

DWT

516893

LOA

406,59

LBP

390,03

Beam

71,07

Draft

25,29

Depth

31,22

Other names and history

1990 Kapetan Giannis

2002 Scrapped in Pakistan

Scrapped

12-09-2002

The Miramar Ship Index for "ESSO ATLANTIC"
| | | | |
| --- | --- | --- | --- |
| IDNo: | 7376525 | Year: | 1977 |
| Name: | ESSO ATLANTIC | Keel: | |
| Type: | Tanker | Launch Date: | 10.02.1977 |
| Flag: | LBR | Date of completion: | 11.08.1977 |

Tons:

234638

Link:

-

DWT:

516893

Yard No:

4484

Length overall:

406.6

Ship Design:

LPP:

390.0

Country of build:

JPN

Beam:

71.1

Builder:

Hitachi

Material of build:

Location of yard:

Ariake

Number of screws/Mchy/Speed(kn):

1ST-15.5

Subsequent History:
1984 - (Esso Intnl Sg (Bahamas) Co Ltd - BS) : 259532gt
1987 - (Esso Eastern Marine Ltd - BS) : 247160gt
1990 - KAPETAN GIANNIS (Elmare Inc - GR)
Disposal Data:
Scrapped 2002 in Pakistan.
History :
| | | | | | | | |
| --- | --- | --- | --- | --- | --- | --- | --- |
| ON | LR/IMO | ID | Year | Name | Tons | Change | Registered Owner |
| | 7376525 | 7376525 | 1977 | ESSO ATLANTIC | 234638 | | Esso Intnl Sg (Bahamas) Co., Ltd. |
| | 7376525 | 7376525 | 1977 | ESSO ATLANTIC | 234638 | 1987 | Esso Eastern Marine Ltd. |
| | 7376525 | 7376525 | 1977 | KAPETAN GIANNIS | 247160 | 1990 | Elmare Inc. |