"KATE MAERSK", CAUGHT FIRE IN ACCOMMODATION AFTER BEING STRUCK BY MISSILE 130 MILES W. OF DUBAI, IN LAT. 26 N., LONG. 53 E., ON 12/02/1988. FIRE EXTINGUISHED, VESSEL TOWED TO OFF FUJAIRAH; ARRIVED ROTTERDAM 05/04/1988 FOR REPAIRS. SAILED 23/04/1988.
( Associated Press )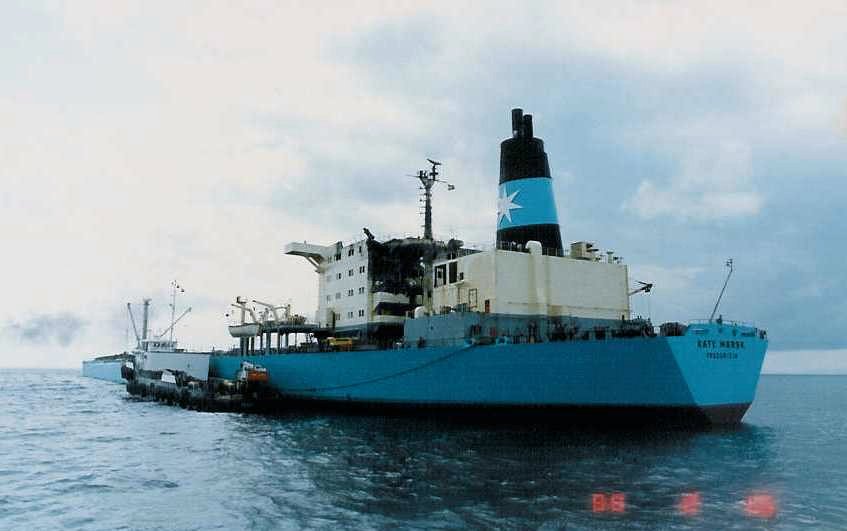 A crippled "Kate Maersk".
( Copyright reserved )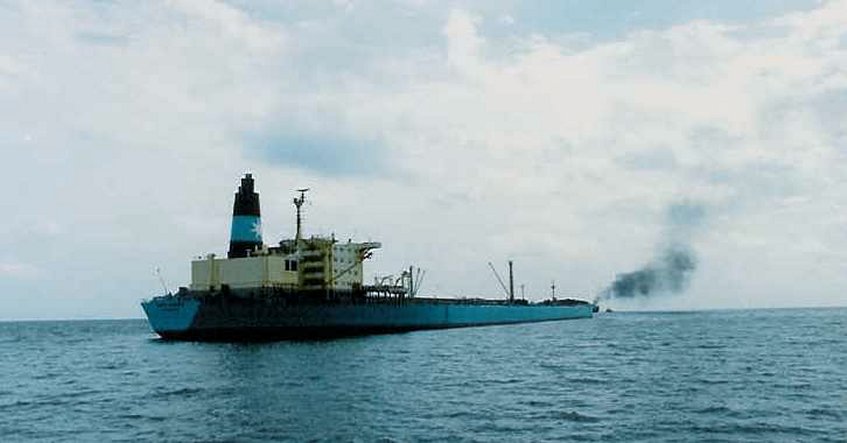 A crippled "Kate Maersk".
( Copyright reserved )
Iranians Hit Tanker -- 1 Killed, Speedboats Strike Near Oil Facility U.S. Shelled
MANAMA, BAHRAIN — Iranian speedboats on Friday attacked and set ablaze a Danish supertanker. One crew member was killed and three were injured, shipping officials said.
The attack on the 339,206-ton Kate Maersk occurred near the Rostam oil platform that U.S. warships shelled in October to avenge a missile attack on a Kuwaiti tanker flying the American flag. U.S. officials said at the time the strike eliminated an important staging point and listening post for Iranian attacks on Persian Gulf shipping.
''Our last reports indicated the thing was still on fire,'' a U.S. military official said Friday. ''We think it's still too hot to touch.''
But a senior gulf shipping official said the platform was used as a staging area for the Kate Maersk attack.
''They have a frigate there,'' the official said. ''They have speedboats there and they have helicopters there. It would be very easy for them to resume attacks from Rostam.''
The Iranian speedboats fired machine gun bullets and rocket grenades into the Danish tanker, hitting the bridge and crew quarters.
The Kate Maersk's 26-year-old radio officer was killed while he was sleeping, said a spokesman for the owner of the vessel.
The second mate, the junior engineer and a seaman were seriously wounded and were flown by helicopter to Dubai for treatment.
All the casualties were Danish nationals.
The other 24 crewmen -- all Danes except for an Austrian and a Filipino -- were unhurt.
The attack, which ignited a fire that burned out of control for several hours, appeared to be in retaliation for an Iraqi attack on a supertanker Thursday night. A spokesman for the Iraqi military said warplanes attacked the supertanker at 11:05, scoring ''direct hits'', state-run Baghdad radio reported. The radio officer is the second Danish merchant mariner killed by Iranian fire in the gulf since December. A Danish seaman died in an attack on the Danish tanker Estelle Maersk Dec. 6.
The strike apparently occurred near a U.S.-escorted convoy of four Kuwaiti tankers steaming northward through the gulf for Kuwait. The convoy entered the gulf Thursday and was believed to be in the center of the waterway Friday morning.
( February 13, 1988|By United Press International )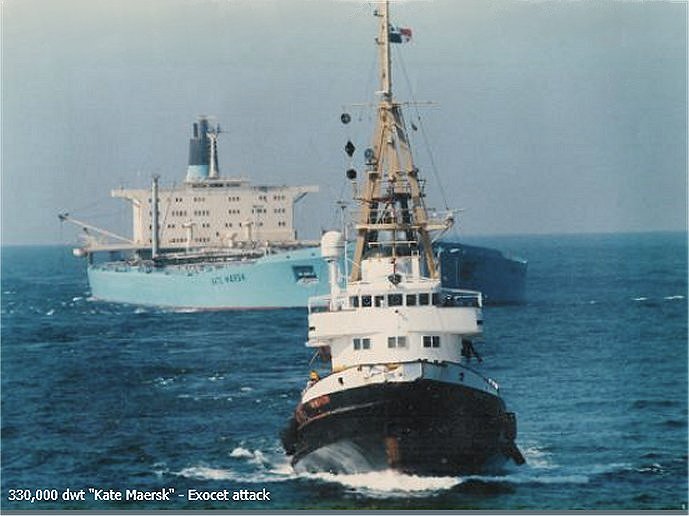 A crippled "Kate Maersk", under tow.
( Copyright reserved )