Auke Visser´s Esso Belgium Tanker's site
|
home




La Campine - (1892-1917)


Painting by A. Jacobsen of the "La Campina" under Belgium Flag.
13.03.1917: during the voyage from Rotterdam to New York on the Noordsea,
sunk by gunfire of German U-boat.
In position (56.00 N.B. - 04.57 O.L.)

The Miramar Ship Index for

LA CAMPINE

IDNo / IMO

5600099

Year

1890

Name

LA CAMPINE

Flag

BEL

Owner

F. Speth & Co., Antwerpen

Type

Steam tanker

Tons

2595

DWT

3500

LOA

94.40

LPP

94.36

Beam

11.89

Dept

8.00

Draft

??

Machinery

1T-8.5

kW

218 nHP

ShipDesign

1492

Builder

Palmer's Ship Building & Iron Co., Ltd.

Yard

Jarrow

Yard No

632

Country built

GBR

Keel

????

Launch

24.12.1889

Completed

02.1890

Subsequent History

1881 - American Petroleum Co.

End

1917

Disposal Data

Aangehouden., beschoten en tot zinken gebracht door (UC-50) 56.00 N / 4.57 E op 13.3.1917 [ door Rotterdam-New York, ballast ]




Captured, shelled and sunk by (UC-50) 56.00 N / 4.57 E on 13.3.1917 [ by Rotterdam-New York, ballast ]

Op reis in ballast van Rotterdam naar New York werd de LA CAMPINE op 13 maart 1917 des morgens te 8.45 uur op de Noordzee in positie 56°00'NB en 04°57'OL door de Duitse onderzeeboot 'UC.50' aangehouden. Men moest het schip verlaten omdat men zogenaamd in het blokkadegebied voer, hetgeen niet waar was. De 32 opvarenden van de LA CAMPINE gingen in de boten en de Duitse onderzeeboot begon het schip te beschieten. De LA CAMPINE zonk ten gevolge van dit geschutvuur om 13.45 uur op 13 maart 1917 en ging verloren. De 32 opvarenden werden later door een Britse onderzeeboot opgemerkt, die de sloepen op sleeptouw nam tot men hen kon overgeven aan het Noorse stoomschip Norden.

SS La Campine
De La Campine uit 1891 was één van de eerste drie Belgische reservoirschepen (tankschepen) met een laadvermogen 3.400 brt.
van de American Petroleum Compagny (later Esso Belgium N.V.).
Het motorzeilschip bezat twee tanks voor het vervoer van petroleum. Het reservoirschip (tankschip) bezat drie masten, waarvan de eerste en het middenmast met fok- en grootzeilen was voorzien. De achterste mast had geen zeilen, daar de lange schoorsteen
ervoor stond en dit voor eventueel brandgevaar. Op het voor-middenschip was de opbouw met een open stuurbak, waar de stuurman en kapitein in weer en wind stonden. Een erfenis van de vroegere zeilvaart. Achteraan was er opbouw met de schoorsteen waar vier reddingssloepen met davits waren.
De La Campine werd in maart 1917 in de Noordzee, tijdens de Eerste Wereldoorlog, door de Duitsers in brand geschoten en tot
zinken gebracht. De bemanning kon zich nog redden in de sloepen, terwijl het schip brandend ten onder ging.
SS La Campine
SS La Campine (2,595 GRT), was built by Palmers' SB. & Iron Co., Ltd., Newcastle for F. Speth & Co., Antwerp and sailing for the American Petroleum Company. It was a steamship with auxiliary sails, an early oil tanker that was launched in 1890, and was sunk by U-boat UC 50 in North Sea waters (Doggersbank, 56.00 North - 04.57 East) on March 13, 1917, on its way from Rotterdam to New York.
Painter Antonio Nicolo Gasparo Jacobsen (1850-1921).
N.B. ;
De tanker ss. 'La Campine' (1890) (G. Claudé) van de American Petroleum Company, op weg van Rotterdam naar New York, wordt ter hoogte van de Doggersbank ( 56 N.B. en 04.57 O.L. ) door de Duitse onderzeeboot "UC 50" met kanonvuur tot zinken gebracht. De bemanning kan hierbij worden gered.
Bron: 'De Zee' (1917)

Location where the "La Campine" was lost.
Plaats waar de "La Campine" ten onder ging.
U-boat attacks on Tanker La Campine
| | | | | | | | |
| --- | --- | --- | --- | --- | --- | --- | --- |
| Date | U-boat | Loss type | Position | Location | Route | Cargo | Casualties |
| 13 Mar 1917 | UC 50 (Rudolf Seuffer) | Sunk | North Sea | 56.00 N, 04.57 E | Rotterdam - New York | in ballast | 0 |

Another painting showing the 'La Campine" running the Dutch flag.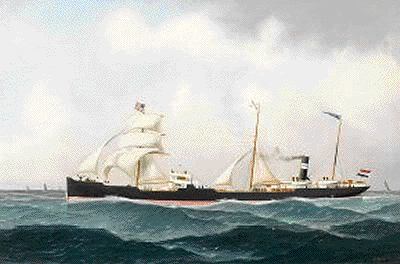 Painter : John Henry Mohrmann (1857 - 1916).
THE DUTCH SAIL AND STEAMSHIP "LA CAMPINE", Oil on canvas,
23 3/4 x 36 inches. Signed l.r.
Estimated price : $9,000-12,000.

Silhouette-La Campine-1890
Another painting of the "La Campine" also made by Painter : John Henry Mohrmann (1857 - 1916).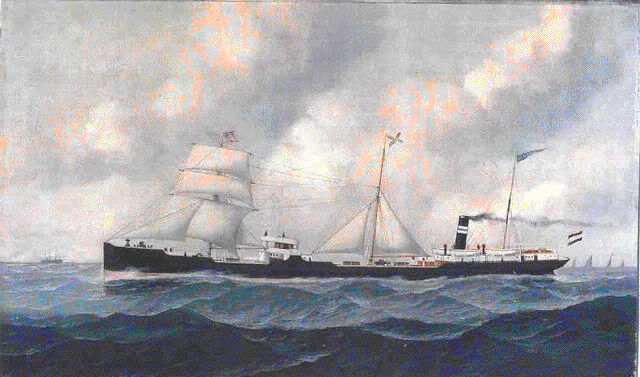 ( Photo thanks to Leah Joys, granddaughter of John Henry Mohrman )
Leah Joys wrote :
My grandfather John Henry Mohrmann must have done three different paintings of the "La Campine", one in 1899 (which is the
one I have included a scan of), another in 1901 which is likely in a private collection in Germany and another in 1908 . I don't know
whether it is the 1901 painting or the 1908 one which you can view at
www.askart.com
by typing in my grandfather's name.
Actually from the time of his father's naturalization in San Francisco, he always kept his American citizenship - born in Germany,
went to San Francisco when very young, ran off to sea at 13, settled in Antwerp in 1884 after having met his future wife in Uruguay in
1884 (returned to Uruguay and married her there in 1886 and brought her back to Belgium), remained in Belgium where he painted,
raised his family of seven until emigrating to Canada in 1913. All of his seven children but for his oldest daughter emigrated to Canada;
she had married a Dutchman then working in Belgium but in the early 1920's they were to move to Vlissingen. So I have cousins, etc.
living in Holland today. My grandfather was to die in Canada after having been there less than three years .
Another painting by A. Jacobsen, of the "La Campine".