Auke Visser's Exxon- & S/R Vessels Site
|
home




Exxon Valdez - (1986 -1990)

"Exxon Valdez" built by National Steel & Shipbuilding Co., San Diego; 1986.
"Exxon Valdez" was the original name of an Oil tanker owned by the former Exxon Shipping Company,
a division of the former Exxon Corporation. It was later called "Exxon Mediterranean", "SeaRiver Mediterranean",
"S/R Mediterranean", "Mediterranean", and currently "Dong Fang Ocean".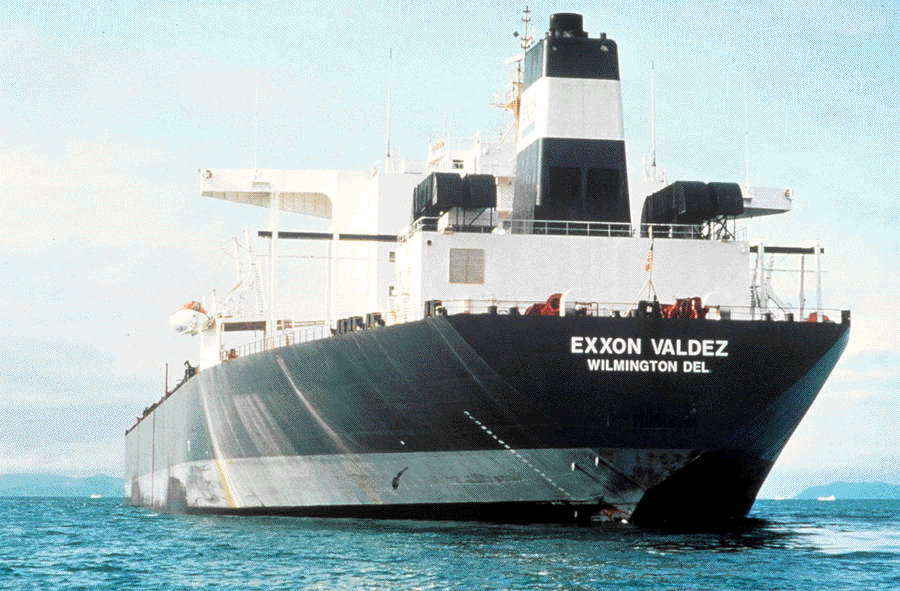 "Exxon Valdez".
"Exxon Valdez".
The Tanker / Vessel Exxon Valdez (EV) is a typical modern tankship of all welded steel construction. The EV was delivered to Exxon on December 11,
1986 and was the largest ship ever built on the West Coast of the United States. It was the first of two Alaska-class tankships designed and built for the
Exxon Shipping Company by the National Steel and Shipbuilding Company in its San Diego shipyard. The vessel was designed to meet standards of the
International Convention for the Prevention of Pollution from ships of 1978. These standards provided for protectively located ballast tanks, maximum tank
compartment length, and damage stability. The EV was certified by the US Coast Guard for the transportation of crude oil products and combustible liquids
Grade B or lower.
The EV measured 987 feet long, 166 feet wide, and 88 feet deep from the main deck to the flat keel. The tankship had a maximum draft (loaded draft) of 64.5 feet.
At maximum draft the ship could transport about 1.48 million barrels (25238.1 gallons) of crude oil per voyage.
The ship was propelled by an eight-cylinder, reversible, slow-speed Sulzer marine diesel engine. The main engine was rated at 31,650 brake horsepower
which sustained a sea speed of 16.25 knots (18.7 mph) at the engines maximum continuous rating of 79 rpm. The main engine was designed to operate on
No. 2 diesel oil or heavy fuel oil. The main engine crankshaft was directly coupled to the propeller shaft driving a single, five-bladed propeller.
(NTSB Marine Accident Report)
"Exxon Valdez" escorted by Exxon tugs, such as "Exxon Golden State".
The disaster !
"Exxon Valdez".
This photo was taken on June the 4th, 1989.
Oil from the "Exxon Valdez" is tranferred to the "Exxon Baton Rouge".
Vessel Damage
An inspection of the vessel in dry-dock at the National Steel and Shipbuilding Company shipyard in San Diego was conducted on August 29, 30, and
31 and September 1 of 1989. (see pictures at bottom) The inspection revealed that the forepeak tank was severely holed and that center cargo tanks
1, 2, 3, and 4 were ripped open over almost their entire lengths. Although holed, center cargo tank 5 sustained the least damage. Starboard tanks 1, 3,
and 5 were also severely holed, as was starboard ballast tank 2. Starboard ballast tank 4 sustained minor damage, resulting in a small opening at the
bottom of the forward bulkhead. The double bottom below the starboard slop tank was also ripped open. (see diagram at top)
Most of the loss of cargo from the EV occurred during the first 8 hours. Initial measurements by the chief mate (James Kunkel) about 30 minutes after
the grounding indicated that 115,000 barrels of the 1,263,000 barrels loaded had been lost. These calculations were based on the gauge readings
made in the cargo control room. By 0600, gauge readings indicated about 215,000 barrels had been lost.
(NTSB Marine Accident Report)
Oil from the "Exxon Valdez" is tranferred to the "Exxon Baton Rouge".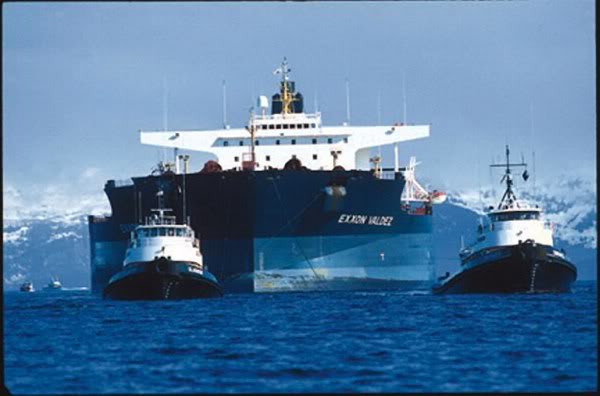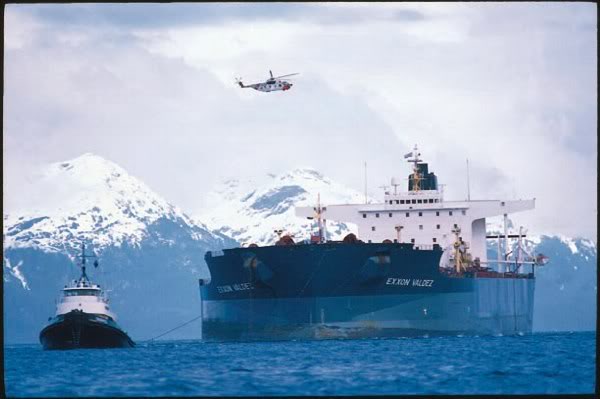 "Exxon Valdez" towed away for repairs.
"Exxon Valdez" towed away for repairs.
"Exxon Valdez" towed away for repairs.
"Exxon Valdez" towed away for repairs.
Additional Information ;
Exxon Valdez.
(later Exxon Mediterranean) Tanker. L/B/D: 987 × 166 × 38.2 (88 dph) (300.8m × 50.6m × 38.2m (26.8m). Tons: 95,169 grt. Hull: steel.
Comp.: 19. Mach.: diesel, 31,650 hp; 16 kts. Built: National Steel & Shipbuilding Co., San Diego; 1986.
Exxon Valdez was a very large crude oil carrier (VLCC) owned by the Exxon Shipping Company that plied between the Alyeska Marine Terminal
of the TransAlaska Pipeline at Valdez and West Coast ports. At 2112 on March 23, 1989, she was under way from Valdez under Captain Joseph
Hazelwood with a cargo of 1,264,155 barrels of crude oil. (A barrel of oil is equal to 42 gallons.) After dropping her pilot, she left the outbound shipping
lane to avoid ice. Owing to poor navigation, at 0004 on March 24, the supertanker ran aground on Bligh Reef in Prince William Sound, just 25
miles from Valdez. The grounding punctured eight of eleven cargo tanks, and within four hours 5.8 million gallons had been lost. By the time the
tanker was refloated on April 5, about 260,000 barrels had been lost and 2,600 square miles of the country's greatest fishing grounds and the
surrounding virgin shoreline were sheathed in oil. Captain Hazelwood, who had a record of drunk driving arrests, was charged with criminal mischief,
driving a watercraft while intoxicated, reckless endangerment, and negligent discharge of oil. He was found guilty of the last count, fined $ 51,000,
and sentenced to 1,000 hours of community service in lieu of six months in prison. Following repairs, Exxon Valdez reentered service in 1990 as
Exxon Mediterranean, loading oil in the Persian Gulf.
Sold as "SeaRiver Mediterranean" in the early 1990s, when Exxon transferred their shipping business to a new subsidiary company, SeaRiver Maritime Inc.
The name was later shortened to "S/R Mediterranean", then to simply "Mediterranean" in 2005. Although Exxon tried briefly to return the ship to its North
American fleet, it was prohibited by law from returning to Prince William Sound. It then served in Europe, the Middle East and Asia. In 2002, the ship was
again removed from service. In 2005, it began operating under the Marshall Islands flag of convenience Since then, European Union regulations
have also prevented vessels with single-hull designs such as the Valdez from entering European ports. It is currently in service in East Asia.
In early 2008, SeaRiver Maritime, an ExxonMobil subsidiary, sold the "Mediterranean" to a Hong Kong based shipping company named Hong
Kong Bloom Shipping Ltd., which renamed the ship once again as "Dong Fang Ocean", now under Panama registry. During 2008, the ship was
refitted, converting it from an oil tanker to an ore carrier. Dong Fang Ocean remains in service as of 2009 in this new configuration.
Original Name

Exxon Valdez

Type

VLCC

Delivered

10-12-1986

IMO No

8414520

Builder & Yard

National Steel & Shipbuilding Co., San Diego, United States

Yard No

438

Engine

Diesel.

KW

23279

GRT

110831

NTR

71330

DWT

214853

LOA

300,84

LBP

288,04

Beam

50,60

Draft

19,66

Depth

26,83

Other names and history

1990 Exxon Mediterranean

1993 S/R Mediterranean

2005 Mediterranean

2008 Dong Fang Ocean

2011 Oriental Nicety

2012 Oriental N.

2012 Scrapped at Alang

Scrapped

29-06-2012

The Miramar Ship Index for "EXXON VALDEZ"
| | | | |
| --- | --- | --- | --- |
| IDNo: | 8414520 | Year: | 1986 |
| Name: | EXXON VALDEZ | Keel: | |
| Type: | Tanker | Launch Date: | 06.1986 |
| Flag: | USA | Date of completion: | 10.12.1986 |

Tons:

94999

Link:

-

DWT:

214861

Yard No:

438

Length overall:

300.9

Ship Design:

LPP:

288.0

Country of build:

USA

Beam:

50.7

Builder:

National Steel

Material of build:

Location of yard:

San Diego

Number ofscrews/Mchy/Speed(kn):

1D-16

Subsequent History:
1990 EXXON MEDITERRANEAN -
1993 S/R MEDITERRANEAN - 2005 MEDITERRANEAN -
[ 2009 converted to ore carrier, 110000 grt ] -
2008 DONG FANG OCEAN - 2011 ORIENTAL NICETY - 2012 ORIENTAL N.
Disposal Data:
Layed up for breaking up at Dalian China. Reported sold for scrap 16th March 2012.
Scrapped at Alang 29.06.2012. [ By Priya Blue Industries ]
History :
| | | | | | | | |
| --- | --- | --- | --- | --- | --- | --- | --- |
| ON | LR/IMO | ID | Year | Name | Tons | Change | Registered Owner |
| | 8414520 | 8414520 | 1986 | EXXON VALDEZ | 94999 | | Exxon Sg. Co. |
| | 8414520 | 8414520 | 1986 | EXXON MEDITERRANEAN | 94999 | 1990 | Exxon Sg. Co. |
| | 8414520 | 8414520 | 1986 | S/R MEDITERRANEAN | 94999 | 1993 | Seariver Mar. Inc. |
| | 8414520 | 8414520 | 1986 | MEDITERRANEAN | 94999 | 2005 | Seariver Mar. Inc. |
| | 8414520 | 8414520 | 1986 | DONG FANG OCEAN | 110000 | 2008 | Hong Kong Bloom Sh. Co., Ltd. |
| | 8414520 | 8414520 | 1986 | ORIENTAL NICETY | 110000 | 2011 | Hong Kong Bloom Sh. Co., Ltd. |
| | 8414520 | 8414520 | 1988 | ORIENTAL N. | 110000 | 2012 | ????? |

Maritime Administration Cards: