Auke Visser's MOBIL Tankers & Tugs Site
|
home

Mobil Transporter - (1964-1977)
Renamed as "Mobil Transporter" in 1964. New forebody & converted to an OBO : 818 / 775 feet : 37781 grt : 63835 dwt.
Scrapped in Taiwan 1977.
( Photo Copyright Skyfotos )
Mobil Transporter, ex. Stanvac Mariner 1962, ex Mobil Mariner 1964
37,724SDWT LOA 690' Beam 90'5" Draught 37' 03/8"
Built 1957 by Mitsubishi Zosen, Nagasaki, Japan, powered by a Mitsubishi Eischer-Wyss turbine developing 16.000 HP.
From 1957 to 1962 she traded as Stanvac Mariner, before being renamed MOBIL MARINER.
After a mutiny by her Zulu crew in 1964, she was transferred from the South African flag to the British flag and re-named Mobil Transporter.
In 1966 she grounded off Sete, France, while fully laden. She was refloated without any pollution and with relatively slight damage.
She traded as a conventional oil tanker until November 1968 when she was converted into an oil/coal carrier at Yo-kohama, Japan, and returned to service in March 1969 with a SDWT of 63,385.
Laid up at Labuan, Indonesia, between July and September 1976 when the coal contract expired. She was reacti-vated in September 1976 and resumed trading in oil only. Owned by Mobil Transport (Bahamas) Limited, she was sold for scrap and delivered to Taiwanese breakers in June 1977.
"Mobil Transporter".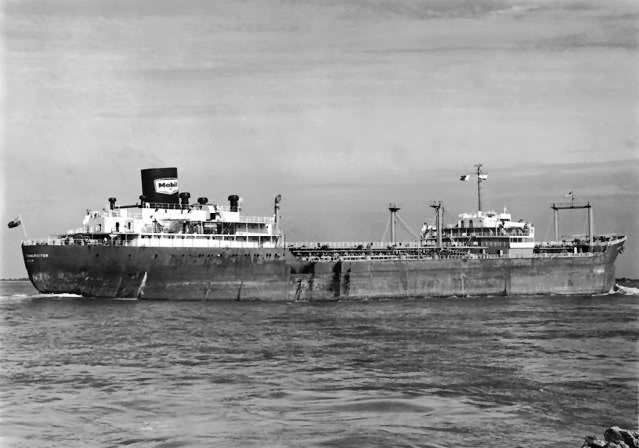 "Mobil Transporter", ex. "Stanvac Mariner", back under the British Flag and before conversion.
This is an A. Duncan, Gravesend, Kent photo.
( Photo thanks to Frank Holden )
"Mobil Transporter" after conversion to OBO.
"Mobil Transporter" after conversion to OBO.
"Mobil Transporter" after conversion to OBO.
The Miramar Ship Index for "STANVAC MARINER"
| | | | |
| --- | --- | --- | --- |
| IDNo: | 5238250 | Year: | 1957 |
| Name: | STANVAC MARINER | Keel: | 08.12.1956 |
| Type: | Tanker | Launch Date: | 02.04.1957 |
| Flag: | GBR | Date of completion: | 15.07.1957 |
DWT:

37724

Yard No:

1472

Length overall:

210.3

Ship Design:

LPP:

200.2

Country of build:

JPN

Beam:

27.6

Builder:

Mitsubishi

Material of build:

Location of yard:

Nagasaki

Number of screws/Mchy/Speed(kn):

1ST-15.5
Subsequent History:
1962 MOBIL MARINER - 1964 MOBIL TRANSPORTER -
[ 1969 Lg with new fore & cargo sections, 249.3 / 236.2 mtr, 37781grt / 64859 dwt, converted to OBO carrier ]
Disposal Data:
Scrapped at Kaohsiung 12.06.1978 [ By Sing Cheng Yung Iron & Steel Co. ]
History:
| | | | | | | | |
| --- | --- | --- | --- | --- | --- | --- | --- |
| ON | LR/IMO | ID | Year | Name | Tons | Change | Registered Owner |
| 187602 | | 5238250 | 1957 | STANVAC MARINER | 23547 | | Standard-Vacuum Tankers Ltd. |
| 187602 | | 5238250 | 1957 | STANVAC MARINER | 23547 | 1961 | Petroleum Tpt International Pty Ltd. |
| 187602 | 5238250 | 5238250 | 1957 | MOBIL MARINER | 23547 | 1962 | Petroleum Tpt International Pty Ltd. |
| 187602 | 5238250 | 5238250 | 1957 | MOBIL TRANSPORTER | 23547 | 1964 | Mobil Tpt (Bahamas) Ltd. |
| 187602 | 5238250 | 5238250 | 1957 | MOBIL TRANSPORTER | 37781 | 1968 | Mobil Sg Co., Ltd. |